I have the impression, after looking at the aftermath of the Trump win, Duterte win and Marcos burial in the Libingan ng mga Bayani (LNMB) that people really just hate other; and it's a natural thing in any society. For example, some people voted for Trump or Duterte because they wanted to piss off other people who they believe are the cause of their difficulties in life (they might call such people Libtards and Yellows). Votes these days are not a vote for something, they are a vote against what they hate. Then, on the other side, there are people who scream in anger at Marcos' burial. They might be saying, "this shouldn't happen in MY Philippines." Then they might even blast people who don't protest the Marcos LNMB burial or who are not outraged by Donald Trump becoming president, and call them "apathetic," "they don't care" and even "trolls."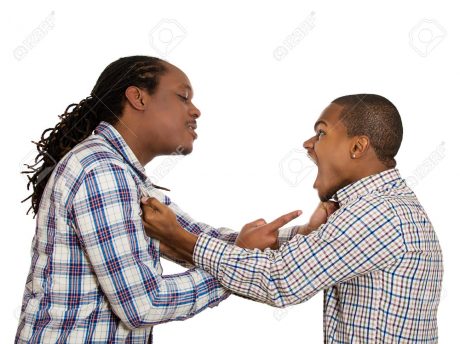 If that's how someone really thinks, is it right to think that way? This is MY society and I must be followed? That's something I called Bratty Conyo Idealism.
They are aghast at President Duterte's behavior. So his actions and words may indeed be brutish, sexist and crude. But here's the shocking news: he's not the only one like that! Someone I talked to who claimed to have worked at the Region 8 governor's office says that's how prosecutors in the provinces are. Thus, people in the provinces can be this rancid and foul-mouthed. "Savages!" says the Manila-bred conyo. They probably can't accept that someone so savage is part of the same country as them. But that's the start of peaceful living: accepting that someone like that is out there, existing, and is part of the same society.
We hear of Filipinos wanting to "oust Duterte." But when you go through the layers of motives and causes, it will boil down to this: What they really want is to oust other Filipinos whose lifestyle doesn't agree with theirs.
The Bratty Conyo might say, I cannot accept that such a person exists in MY society. Then they fool themselves with thoughts like, if I don't do something to remove that kind of person, then I am a fence-sitter, not concerned for the world. Really, there goes that silly feeling that they own the world again, along with that false sense of control that social media and the Internet bring.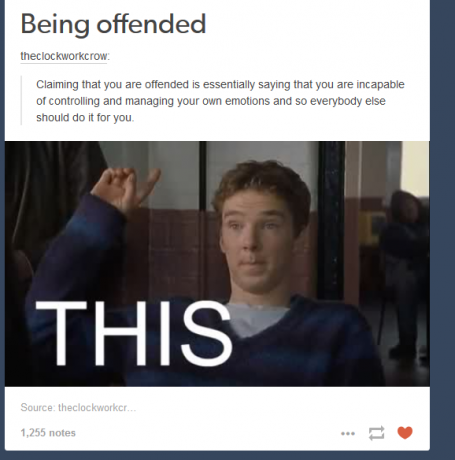 Let's say two tribes in a society oppose each other on arranged marriages. One tribe says, we let our children choose their partners because it is immoral to control your children's choices. One tribe says, arranged marriages are our right way for keeping our family and societal pillars stable. What if the non-arranged marriage tribe says, we don't like your way! Abolish your arranged marriages because we fear that your arranged marriage culture will seep into ours! It is immoral! The other side will say, how dare you call our tradition immoral! You are only jealous of our stable society and want to sabotage it! We also want to force on you our tradition so you will learn and we will be free from that stupid culture that says children can choose their own partners! Either way, it will lead to a messy conflict, even war.
What if the two tribes decided to accept each others' ways and not bother each other? No compulsion to make the other follow their way as the only right one? That for me would be a major step towards world peace.
I'm of the mind that world peace is achievable only if people leave each other alone. It could mean accepting differences and letting everyone else go. Let everyone else have their own ways and means for their own lives, even if it is "offensive" to us.
However, initiatives going under the names globalization and pluralism, and perhaps even the United Nations, have not delivered on the promise of letting everyone be equal with equal voice. Instead, they became the interests of a few being imposed on the others. One of these is the arrangement wherein globalized media controls portrayal of the world. Anything not in agreement with the culture of the media companies' countries (usually western countries) has a negative portrayal. For example, these companies bring to us shocking news of things like female circumcision in Africa and tribal mutilations (and they pick these for their shock value while ignoring the good news). We would be shocked and want something done about these. But can it? Wouldn't it be better if we didn't hear about these things anymore? No wonder many people are up in arms against these things.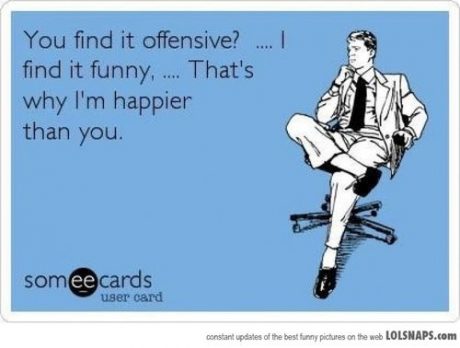 Social media and the Internet give us the illusion that we are able to influence the rest of the world. To protest those horrifying cultural practices mentioned above, we scream on the Internet. But when some realize the illusion, they let themselves get depressed over something that they really have no control over. But with one's feet planted on the ground, one should accept that there are things that are not under our control, and we should be OK with that. The more we try to control others and other things that are actually beyond our control, we not only make ourselves more unhappy, but we contribute to the confusion that makes the world a mess. I would say, trying to control others is an act of hate, because it implies that you hate others' freedom. People with who place emotional dependence on external loci of control tend to have greater tendency to violate human rights than others. Also, think of it this way; isn't placing your loci of control on others a violation of human rights?
I believe it is necessary to let other people thrive and go on with their traditions and beliefs despite how horrifying they can sometimes be to you. That is the true essence of peaceful coexistence, considered a goal of democracy. If you want your way of life imposed on society and want everyone to follow it, it's not democracy. It's dictatorship. In fact, it may be called religion.
That is the challenge we call face. Are you willing to let someone who believes in the anti-thesis of your way of life alone, or are you dead-set in removing that "offending" way of life? I guess, as I said in another article, the problem is how much tolerance are you willing to have.
It's a difficult thing, isn't it? But I for one believe in this solution. If you believe in tolerance, go the whole bit. Well, maybe most of the whole bit. As long as they're not trying kill you or kidnap you, let them have their "offensive" way of life. Just tune out of it if you don't like seeing it.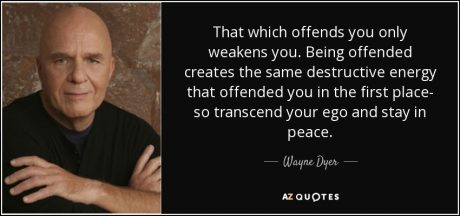 This is also why I believe one role of any governing body is to keep people away from each other. Perhaps we should certainly keep away from each other and not bother each other, since the reason for such is likely to compel the other to follow our will. That will not lead to anything good. But there, I do understand that there are times when laws have to be enforced. Some laws are made to inhibit disrespect for others, such as anti-bullying and anti-harassment laws. It's because these actions are damaging, and not just offensive. Also, think about it; aren't some laws (or the rights of others) violated because the violators simply feel "offended" and want their way with others?
Since we live in a world where humans tend to desire the elimination of things that "offend" them, we will still see a lot of wars. So the solution, stop being offended. And, accept that we can't control the world.
I am of the conviction that we all have the right to not be on the same page or go with the same program as everyone else and not be bothered about it… but we can still get along. If someone comes in and tells me to go with their program, they're the ones who want to force their thing on me. If such people tell me, we number more than you, so that means we have the right to dictate you, then that's not democracy; that's tyranny of the majority.
To borrow the words of Paul Dabdoub, we should "get over ourselves," "stop being offended" and leave the world be.
(This qualifies as my Christmas message, too, I guess)
I believe, as my cohorts here do, that what Filipinos embrace as their culture is what actually pulls the country down. And those who seem to be anti-dictators, who may also believe themselves to be "heroes," are the real dictators.