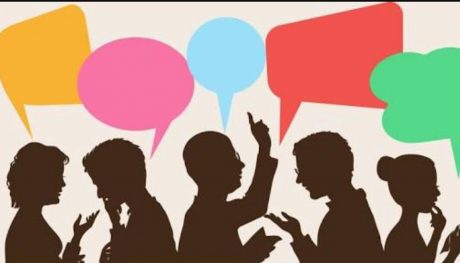 "A major danger in using highly abstractive methods in political philosophy is that one will succeed merely in generalizing one's own local prejudices and repackaging them as demands of reason. The study of history can help to counteract this natural human bias."— Raymond Geuss
We all have our own fair share of biases and prejudices in work, life, love, war, and especially in politics. Our opinions are formed by incessant exposure to media, school, work, peers, and our diverse socio-cultural backgrounds. There are no rules on how best to properly manage our biases and prejudices, which are a given in all human interaction. After all, it is human nature to think and a human right to develop personal opinions, although others may find these biased and prejudiced, deserve to be respected by others. It is in the nature of civilized human beings to agree to disagree.
Having a political opinion is a human right. Attempts to quash and suppress the expressions of diverse political opinions are against our fundamental right to freedom of speech. We cannot categorically say your opinion is wrong because such judgment goes against the very essence of the definition of opinion. When the mind decides in favor of one of two contradictory judgments, having as a reason to do so the conviction that such conforms to the truth the mind is in the state of opinion.1
I possess a bias for the performance of President Duterte. It is my opinion that he is doing a better job vis-à-vis previous Presidents, on the basis of common sense solutions, swift action and implementation. A new political phenomenon is gaining ground worldwide: anti-establishment politics.2 Why? Because more and more people are discovering that traditional bureaucratic political methods do not work anymore. Or, the democratic experiment is finally opening the eyes and minds of people that too much democracy is not necessarily a good thing. As the majority in the Philippines, the U.K., and the U.S. have realized, traditional politicians with their traditional politics are no worse than the corrupt and dictatorial monarchs the first "democrats" dethroned, beheaded or exiled centuries ago.
My biases
I personally have a strong bias for people who work hard; I hate people who are lazy. For me, no amount of reasoning can change my prejudice against lazy people. I believe this opinion is universal too, except to the lazy people who continue to justify their laziness with flimsy excuses. I likewise believe that people who work hard do a better job. I often profess that it is easy to outdo a person who is lazy and does little to get his job done. It's a simple: between one who, works and another who doesn't, who do you think succeeds? Of course, the one who works succeeds.
To me, President Duterte is a hard working President; he promised change, he achieved change. A lot. He's about to end his first six months as President, and most Filipinos I know (and, I think, the world at large) think he has been in office for far longer. In his first 100 days alone, his key accomplishments include the executive order on freedom of information (FOI), the intensified campaign against illegal drugs, the revival of peace talks with communist and Muslim rebels, a one-stop shop for overseas Filipino workers, and the crafting of a comprehensive tax reform plan. 3
I likewise have a strong bias for a President who simplifies the bureaucracy; by insisting that government inefficiencies do not deprive Filipinos of the service they truly deserve. Bureaucratic red tape impedes government efficiency and breeds corruption, poverty, social inequalities, social injustices, unemployment, underemployment, inadequate housing, lousy infrastructure (roads and bridges), low foreign direct investments, poor educational institutions, and mismatched skills training.
President Duterte declared an all-out war against red tape. The common complaint of businessmen is the delayed release and approval of permits that could take months, if not years. "That's what investors don't like. I'll just give you 60 days. Act on the papers, 60 days. If you complete action on the papers in 72 days, you cannot release the paper anymore just like [in] Davao [City]. You have to forward it to the executive secretary and he will ask you why it took several days," Duterte said. 4
More surprising is the NAIA airport "Laglag bala" or "Tanim bala" scams that were left unsolved by the previous administration, but which was solved in less than a week after President Duterte took office. The alleged bullet-planting scheme in Philippine airports may now be a thing of the past after President Rodrigo Duterte prohibited authorities from arresting passengers with bullets in their luggage. 5
Actions speak louder than words. It's as simple as that.
My Prejudices
I have strong prejudices against lazy government officials who are paid to serve us. We have suffered long enough in long queues just to get a piece of government document. The anti-red tape act of 2007 (Republic Act No. 9485) has been around for years, yet not much has been done to enforce the law.6 Laziness, the major defect of corrupt bureaucrats, is the main reason for red tape in government.
According to a report in the New York Times, former President Aquino was "(e)lected in 2010 on promises to support the rule of law and human rights, failed to fix the Philippines' corrupt and ineffective justice system. His administration also faced a series of security-related scandals, including a hostage crisis in Manila in 2010. And, perhaps most critical, Mr. Aquino was perceived as lazy and soft, unwilling to take the necessary steps to solve the country's problems."7
In an interview conducted by Inquirer.net, University of the Philippines professor and political analyst Clarita Carlos told Radyo Inquirer 990am of then President Aquino:"I think offhand, from what we have seen thus far, I think ineptitude and incompetence might be the more appropriate description." Carlos stressed that he (Aquino) should work harder, and talk less,"At the moment, he opens his mouth, he adds up to the lies that he had already piled on earlier. So just don't. He should just shut up and just do his work."8
The way the previous administration handled the "laglag bala" or "tanim-bala" (bullet planting scheme) was so convoluted, roundabout, complicated, as if the bureaucratic process was more important than the results of the effort. President Aquino orders an investigation, then Presidential spokesman Edwin Lacierda said both Aquino and Transportation Secretary Joseph Emilio Abaya had instructed airport authorities to look into the report, and then Abaya said additional closed circuit television (CCTV) cameras were placed inside the airport premises to better monitor the situation.
To add insult to injury, Lacierda added "We should make sure that we pack our belongings…(to) rule out any proof that the passenger is responsible (for existence of bullets if ever)" 9 . This is passing on the responsibility to the passengers. What lack of common sense! So insensitive to the plight of the poor passengers who are clamoring for reform and justice. Lacierda inadvertently told the passengers to protect themselves from the NAIA personnel. What a daft and ludicrous solution!
All these bullet planting scams disappeared a week after Duterte took office. All he did was to order that passengers would not be detained or charged in court if an ammunition is confiscated from them.
Enough rhetoric, a noumenon that only works in the mind, as the people are sick of theoretical and textbook solutions (well, what could we expect from the bunch of inexperienced amateurs who ran our country for six years?). Common sense and action that works are better. The phenomenon of a working solution is so much better than simple talk that only "sounds" like a solution.
Talk is cheap. It's that simple. And millions of Filipinos suffered at the hands of the man who called the Filipinos his boss…
My Opinion
Biases and prejudices truly rule our lives. Now, grounded on the observations I made about President Duterte, I am convinced that his ways are practical, easy to implement and full of practical reason and common sense.
Another personal opinion: President Duterte's crass, tough-talking, and foul-mouthed behavior that he dishes out on a daily basis may not sit well with many people, but I find this trivial compared to the energetic, robust, pragmatic executive prowess he exudes. I, and the millions who voted for him, want a decisive leader, one who is willing to risk everything—his life, his honor, and the presidency—to give the people what he promised.
Other Filipinos may prefer a decent and traditional but ineffective leader belonging to the elite as long as the status quo is preserved, even though more and more Filipinos will continue to suffer from an insensitive, bureaucratic President beholden to the elite, the oligarchs and our colonial masters, including the self-proclaimed masters of the universe who dominate international groups such as the UN, ICC, IMF and World Bank. That is their opinion, and I also respect that.
As a matter of fact, I've been respecting their opinion since February 1986. Now, I hope you respect mine. We'll know in six years (or less) if my opinion is as wrong as yours.
Biases and prejudices rule our lives; diversity of opinions is a hallmark of a healthy democracy. So is learning to live and work together, with respect, even if we disagree. We can defend our opinions, biased and all, without resorting to hysterics. I suggest we get used to them and know how to live with them. Paraphrasing Churchill, having diverse opinions (democracy) may not be the best way, but the alternatives (groupthink, or everyone thinking the same way, or not learning how to think intelligently) are even worse.
C'est la vie.
Citations:
1. Glenn, Paul J. (1933) Criteriology: A Class Manual in Major Logic. Binghampton & New York. B. Herder Book Co. p.117.
2. Chouglay, R., (2016, Sept. 26). The growth of the anti-establishment movement outside the West. Global Risks Insights.
3. Valente, C.S..(2016, Oct. 8). First 100 days yield significant accomplishments. The Manila Times.
4. Ranada, P. (2016, Jan. 15). Duterte to businessmen: Davao City is my Exhibit A. Rappler.
5. Esperas, R.. (2016, July 7). Duterte orders end to 'tanim-bala'. ABS-CBN News.
6. Abrugar, V. (2016, May 4). The Anti-red Tape Law in the Philippines: What You Should Know. BusinessTips.ph.
7. Taub, A..(2016, Sept. 11). How Countries Like the Philippines Fall Into Vigilante Violence. The New York Times.
8. Sabillo, K.A..(2015, March 20). The Aquino leadership marked by ineptitude, incompetence, says analyst. Inquirer.net.
9. Calica, A..(2015, Nov. 2). Palace vows to stop 'laglag-bala' scam. The Philippine Star.
I am a marketing consultant, entrepreneur and executive director of an NGO. I have extensive experience in advertising, product management, media, and general management.
I love art, graphic design, philosophy, theology, and history. I continue to study these subjects to enjoy my intellectual and artistic pursuits.