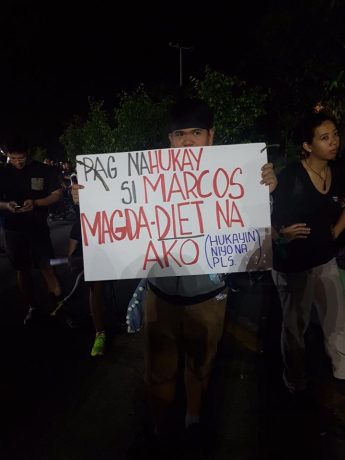 The other day president Rodrigo Duterte (Du30) said that "yellow" rallyists want him out because they cannot accept defeat. Du30, of course, was referring to the folks who claim to be protesting against the burial of former president Ferdinand E. Marcos at the Libingan ng mga Bayani (Cemetery of Heroes) as allowed by president Du30 with the blessing of the Philippine Supreme Court. A good childhood friend of mine, who is passionately anti-Marcos, pointed out that not all rallyists at EDSA are "yellows". He said that some of them are even former allies of Du30. Another Facebook friend of mine has posted arguments on his Facebook wall numerous times against the folly of generalizations since there will be exceptions to a group who don't fall into a label such as in this case. You know what? They are both correct! President Du30 cannot just paint these rallyists with a broad brush and call them yellows! Technically speaking not all of the current rallyists are yellows because we shouldn't forget the other portion that make up the group of rallyists. There are yellows and there are of course – the useful idiots, although it sure is awfully difficult to tell them apart.
First let us look at the objection of generalization. Sure, I recognize that in all likelihood not all of the rallyists at EDSA are yellows. There has been no empirical study or data that shows that ALL of the protesters at EDSA have identified themselves as yellows. But this is really more about political correctness. It sure is not politically correct to paint all protesters to be labelled as yellows because it might be offensive to some of the protesters who don't necessarily agree with the Cojuanco-Aquino clique and partisans. But is this really important? What is the value of being too pedantic just for the sake of political correctness or to avoid offending the feelings of "non-yellows" at EDSA? So many people (including myself) are getting sick of this political correctness thing because it is one extra step to worry about in a discussion where more important points about the issue need to be discussed other than the already obvious fact that not all protesters at EDSA are yellows. Aren't there more important and fundamental things to discuss? For instance, the merits and flaws of the Supreme Court decision? Perhaps even an intelligent and honest discussion about historical perspectives on Marcos (both the good and the bad). We can even delve into a religious and spiritual discussion if one believes in God or subscribes to a religion like Christianity. What does God or the Bible say about forgiveness? Do people share authority with God with regards to putting conditions on forgiveness or are we supposed to forgive others and it is God's sole role to judge who is deserving of forgiveness and who is beyond redemption? For the atheists among the rallyists, what is their process of forgiveness or coming to terms with an "offender"? So aren't there a lot more substantive discussions that people can tackle other than splitting hairs on what politically correct term or qualification terms to use?
Next, who are these non-yellows amongst the rallyists and why do they object to the Marcos burial despite the Supreme Court ruling?
There are, of course, the leftists, communists and other insurgents. Now these people have a huge axe to grind against Marcos. During the late 60s, throughout the 70s and up to the early 80s they fought against the government of Marcos and a lot of them even resorted to armed struggle. However a lot of these folks made the choice to take up arms and pushed an ideology that called for a revolution that would overthrow the feudal and capitalist system. Although Marcos didn't create such a system, he was the target of the communist ideologues at that time because he was the president. Marcos, being the president at that time, had the duty to protect the country against rebellion and violence. He had the duty to protect the State. Sure there may have been innocent victims and casualties during that period of ideological war but to blame all the atrocities and violence during that period solely on Marcos is oversimplifying the complexities of that era. The insurgents at that time had blood on their hands as well and Marcos was not even the administrator of martial law. Even prominent figures of the anti-Marcos insurgents have acknowledged that it was communist leader Jose Ma. Sison who was responsible for the Plaza Miranda bombing that led to the declaration of martial law and that the real end game of the communists was to overthrow and take over the government. If Marcos ought to answer for his alleged crimes then shouldn't the insurgents be made to suffer for their crimes as well? I can understand why the insurgents hold a grudge against Marcos because their war against Marcos was long and bitter. But to paint Marcos as the devil incarnate and be sympathetic to these communists and so-called victims of Marcosian martial law is being oblivious to the fact that many of the people they sympathize with were also responsible for so many crimes like murder and extortion.
Then we have these millennials. I have to give credit to these kids for having creative and hilarious placards. Other than that, these kids really have a very incoherent message and inept logic to even be taken seriously. In fact, all these kids spew out are the same washed up talking points from the left and the jaundiced partisans but only mixed with juvenile flavor as evidenced in their protest signs and banners. They point to Marcos' alleged human rights abuses yet they seem to be so quiet against the same allegations against the yellow gods of Tarlac. They point to Marcos' alleged large scale theft of the country's treasury yet none of them seem to have any placards against the kleptocrats of the post-Marcos era. They make noise about having to pay for the debt that the Philippines incurred under Marcos yet these ingrates fail to show appreciation for the infrastructure built under Marcos' government that they use and benefit from up to this day. They even seem oblivious to the fact that post-Marcos presidents have continued the policy of debt dependence and that Noynoy Aquino is the biggest borrower amongst post-Marcos presidents with a total borrowings of Php4.24 Trillion merely from 2010-2014. What does Noynoy have to show for out of those borrowings in terms of infrastructure and inclusive tangible benefits? Not much, yet these millennials seem to be helping efforts to bring back the failed policies of the post-Marcos administrations, particularly the last Aquino government that placed more debt burden on them and their children in the future.
It is rather funny how clueless these leftists and millennials are with regards to the implications of their rally against Du30 (using the Marcos burial issue). So if the end game is the removal of Du30 with Vice President Leni Robredo of the jaundiced political party replacing him, then the good old days of the failed yellow governance where more debt was incurred and where drugs, crime and incompetence proliferated will be back. No other president in the history of the Philippines has been so accommodating to the left's and the communists' causes as Du30, yet they are so willing to help the yellows topple Du30 just because of their gripes against a 27 year old frozen stiff who was recently buried? No other president has been so sincere and action-oriented with regards to protecting the youth against crime and drugs, yet the hipster millennials are so willing to amplify the noise of the party under which debt, crime, drugs, and incompetence flourished? Good grief! These people are not even useful idiots anymore, they are now just idiots!
(Photo taken from The Summit Express)
Calling a spade, a spade…