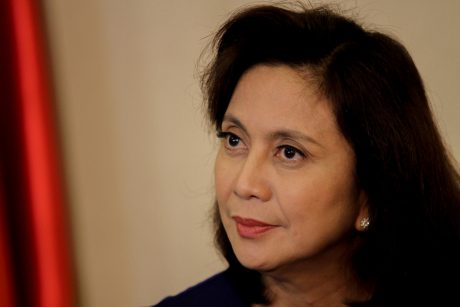 To observe someone's true colors, especially leaders, it is best done when they are in situations they cannot plan for, or cannot entirely control. An easy example, of course, would be to see how one takes charge in the aftermath of natural calamities. That in itself is a crisis situation that can easily go awry.
During the relief operations of Typhoon Haiyan (local name Yolanda), Filipinos were exposed to the true colors of then president Benigno Simeon "BS" Aquino, and future Liberal Party (LP) presidential candidate Mar Roxas. BS Aquino will forever be remembered for, "You did not die, right?", and Roxas for, "You must remember that you are a Romualdez, and that the president is an Aquino."
A third LP member is being put through the storm (pun intended). Presumptuous, I mean presumptive, Vice-president Leni Robredo is feeling the heat from her critics as Typhoon Nock-Ten (local name Nina) came and went through parts of southern Luzon, including the Bicol region.
On one hand, Robredo's critics are scrutinizing her decision to go to the United States, not in an official function, but as a personal trip, despite Nock-Ten's date of impact being predicted and its trajectory plotted several days in advance.
On the other hand, Robredo's defenders are insisting that despite being in the US, she is still in a position to help by coordinating relief with various agencies. They also claim that the trip was planned already way in advance, a year ago, so it seems. They are also trying to deflect criticism of Robredo by asking the same question of president Duterte: where is he while the storm was hitting? Where was he during other "similar" situations, like the Davao bombings?
As a colleague points out, drawing parallels between the Davao bombings and Typhoon Nina is mostly incorrect. President Duterte cancelled a state visit to Brunei to be in Davao, his hometown. Plus, as mentioned above, Nina's trajectory was plotted in advance; the bombing was sudden. So, to make an apples to apples comparison, perhaps it is fair to ask, why hasn't Leni rushed to Naga yet in the aftermath of the storm?
It was easy to be skeptical when Leni said "she was coordinating". Sounds familiar, much like what BS Aquino said when his absence during the southwest monsoon and typhoon Maring was criticized.
President Duterte was reported, on December 25, as visiting the hospital where victims of a bombing in Midsayap, North Cotabato, were brought. Supposedly, he is also on his way to Bicol, if he hasn't already arrived. Meanwhile, relief operations in Bicol are underway, Department of Social Welfare and Development (DSWD) Secretary Judy Taguiwalo is already present at the site.
What many seem to miss is that there is a very good reason Leni Robredo attracts scrutiny the way she does. People are more critical about those who are more "vocal". She is perceived as an empty rattling can, who talks more than she should, has no idea what "quiet achievement" means, and whose idea of accomplishments is things still in process. Duterte and the rest of his cabinet, on the other hand, have a big load of credit on their side. Duterte's swift presence at the Davao bombing site, the DSWD's swift response to Typhoon Lawin – his cabinet is proving capable at doing its job with minimal fanfare. And their status updates are devoid of any fluff or self-aggrandizement – a far cry from the perceived buhat ng sariling bangko exemplified by BS Aquino's administration.
There is something to be asked, however, of those calling for Leni Robredo to cut her trip short and take a more active role in relief operations:
What value does Leni's presence bring to the crisis site?
It is up to her, ultimately, if she is satisfied with the perception of being a spare tire, or if she wants to show how she can add value to a cabinet that has, so far, shown that it can respond to crises on its own.
А вы, друзья, как ни садитесь, все в музыканты не годитесь. – But you, my friends, however you sit, not all as musicians fit.