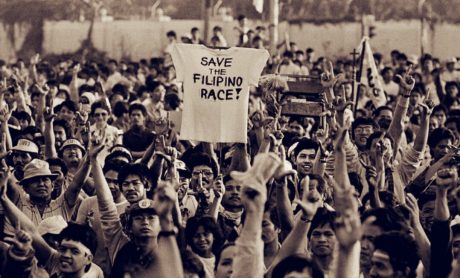 I am for educating our youth about history. To be effective, it has to be a COMPLETE education, and not a politicized spoon-feeding. Teach them about the Cold War and how Asia was carved into spheres of influence. Teach them about the Oil Crisis and hyperinflation of the 1970's. Teach them about Marcos, but also about Suharto, Mahathir and Park Chung-hee.
I am a Martial Law baby. As a child, I remember seeing the almost daily riots of the First Quarter Storm. The first corpse I saw was the body of a student demonstrator lying face down on the road after Fidel Ramos's PC Metrocom clashed with a huge red phalanx of them shouting "Marcos, Hitler, Diktador, Tuta!"
I lived through the economic crisis when my family could not afford meat everyday even if we were solidly in the middle class. I can sing you the propaganda jingles of Kit Tatad. The songs and slogans. The New Society. Pulong-pulong sa Kaunlaran. Masagana 99. The metro aides. I remember riding the Love Bus to Escolta. There was no traffic then.
I was at EDSA in 1986. There was Chito Gascon and Rissa Hontiveros, then just student activists from UP and Ateneo, with megaphones giving instructions. We followed them, the leaders of our student government.
My history teacher told us that Marcos, like any other president, had some good points and bad points. She left it at that. So we had to decide for ourselves. This being the Ateneo, we sniggered and thought, "Marcos loyalist pala si Ms. A."
Later on, after much reading and studying, travelling and living, I still remember what that history teacher said. I just hope my children can make up their own minds, not be slaves to politicians' purposes, think critically and be able to use different lenses to view the world.
Follow or send me an invite on Facebook to keep updated on commentary and new blogposts.