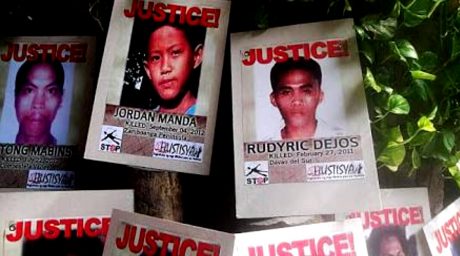 "It was the best of times, it was the worst of times, it was the age of wisdom, it was the age of foolishness, it was the epoch of belief, it was the epoch of incredulity, it was the season of Light, it was the season of Darkness, it was the spring of hope, it was the winter of despair, we had everything before us, we had nothing before us, we were all going direct to Heaven, we were all going direct the other way…" —Charles Dickens, A Tale of Two Cities(1859)
The way media reports it, the Philippines is now a massive kill zone.
Ever since President Duterte started delivering on his campaign promise to wage a war against drugs, reported drug-related deaths have increased. Hugely. Reports of unsolved alleged extrajudicial killings or EJK has become a daily staple of the news, triggering hysterics and indignation among the "so-called" guardians of human rights—best known by the acronyms US, EU and UN.
Place yourself in the shoes of a killer, or anyone with deep-seated grudges against another, whether in business, inheritance issues, or passionate affairs of the heart. Now is the best time to eliminate the enemy and get away scot-free.
Hire Killer. Eliminate enemy. Attach a sign "I'm a drug pusher…Don't imitate me…". Repeat.
Problem solved. This crime is automatically labelled as an EJK. The yellow media jump gleefully and hysterically, like rabid dogs, and blame the ongoing war on drugs.
Murderers are finally (and literally) getting away with murder. As a scholarly article argued: collective quarrel, honor killing, emotional dissatisfaction, lack of control of anger, and burglaries are the main reasons to commit murder. Therefore, it is essential to consider these factors while designing preventive interventions at social levels to improve security levels.1
Blame it on Duterte
Opportunists are having a ball. Businessmen, lenders and borrowers, lovers… They know most EJK are left unsolved, so it's easier to mix and muddle "normal" criminal motives into state-sanctioned EJK, in one of the greatest misnomers of crime reporting. Every crime victim the media unquestioningly (and contrary to their nature) add to the heap of carcasses laid at Duterte's feet.
As The Guardian reporter Kate Lamb wrote on October 4, 2016:
"In the Philippines, they have a term for it: "salvage" victim. Someone killed and dumped in the street or thrown in the river. A corpse that is later salvaged. There have been many killings lately, the officer jokes, that these days you can easily get away with any kind of murder: "You can kill him, put masking tape on him and everybody is going to think that guy is a drug pusher."
Although she finds the allegations shocking, coming from a police officer, she asserts that "The Guardian can verify the policeman's rank and his service history…there is no independent, official confirmation for the allegations of state complicity and police coordination in mass murder."2
The real culprits are silently laughing as Duterte's detractors bite and swallow the hook, line and sinker of fabricated EJK. Labelling each death as an EJK is the best thing that ever happened to them.
Extrajudicial Killing Defined
Atty. Al Perraño, a lawyer who has represented human rights legal cases, clarified the contextual framework of EJK:
"Extrajudicial killings is defined by law as killings due to the political affiliation of the victims; having a specific method of attack; and where there are reports of involvement or acquiescence of state agents in the commission of the killings. As the term is used in international instruments, extrajudicial killings are killings committed without due process of law, i.e. without legal safeguards or judicial proceedings. Enforced disappearance on the other hand is defined as deprivation of liberty for political reasons committed by or with the authorization, support or acquiescence of the State. These are disappearances or abductions attended by an arrest, abduction, or detention of a person by a government official or organized groups or private individuals acting with the direct or indirect acquiescence of the government. It involves the refusal of the State to disclose the fate or whereabouts of the person concerned or a refusal to acknowledge the deprivation of liberty which places such persons outside of the protection of law.

In this jurisdiction, extrajudicial killings are almost synonymous to political killings. It would appear that all extrajudicial killings are impelled by some form of political motive or agenda. Further, the usual victims of extrajudicial killings and enforced disappearances are political activists, journalists, or media persons."3
Labelling each unsolved murder, riding-in-tandem killing or death under investigation as extrajudicial killings or EJK does not seem to be included in the above definition, where the usual victims are political activists, journalists or media persons. This is why classifying the killing of drug lords and pushers as EJK is a really serious Freudian slip of the media, the modern age's purveyors of "intellectual" opium for the information-hungry (and "uneducated") masses.
Clickbaits and social media
Social media thrives on clickbaits. Sensational and provocative headlines and photos are published to attract more attention than worthy news stories. Magnified way out of proportion with the cunning use of words and images, hoping to cause maximum damage against their targets, clickbait articles can reach the heights of cyberbullying frenzy and excitement (especially from cowardly trolls hiding behind legitimate-sounding, but non-existent, human rights groups…)
The excessive distortion of news items leaves readers in doubt, especially when clickbait headlines don't jive with the article's contents. What these paid hacks and trolls don't realize is that clickbait affects the quality and credibility of the news source, them included. The use of EJK (an acronym with a powerful ring to it, don't you agree?) has become an example of clickbait to generate interest in stories against President Duterte's war on drugs. People are getting tired of media sensationalism, which is why, as a Manila Times article recently reported, the House committee on Public Order and Safety proposed to drop the use of "extrajudicial killings" for the spate in deaths and, instead, refer to them as "deaths under investigation".4
While most media and websites have not dropped the use of "extrajudicial killings" or its acronym "EJK", real murderers will continue to pounce on their targets with impunity and have Duterte blamed for it. It is not the President and his administration at fault here.
Who is to blame? Duterte's detractors. Their irrational hysteria, twisted emotions, political naiveté and lack of common sense, and their deep-seated indifference to the fates of those who suffer the consequences of the drug scourge merely created the perfect climate for true criminals to satisfy their twisted motives, animalistic survival instincts, and their astute sophistication in the affairs of the world.
As a consequence, we can only predict that non-drug-related killings of innocent victims would also (if not yet) be on the rise.
Citations:
1. Alavijeh, et al. (2015). Murder and Motivation: A Qualitative Study. Avicenna Journal of Neuro Psych Physiology.
2. Lamb, K.. (2016, October 4). Philippines secret death squads: officer claims police teams behind wave of killings. The Guardian.
3. Parreño, A.A..(2011). Report on Philippine Extrajudicial Killings from 2001-August 2010. The Asia Foundation. p.33.
4. Why drop the term 'Extrajudicial Killings'?. (2016, September 19). The Manila Times.
I am a marketing consultant, entrepreneur and executive director of an NGO. I have extensive experience in advertising, product management, media, and general management.
I love art, graphic design, philosophy, theology, and history. I continue to study these subjects to enjoy my intellectual and artistic pursuits.