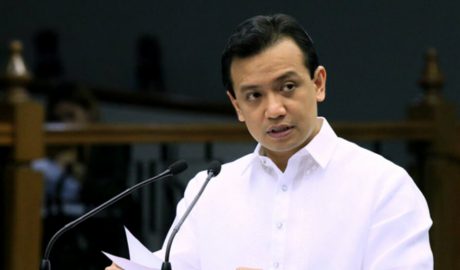 Convicted mutineer and now Senator Antonio Trillanes is appealing to the public not to turn a blind eye to current President Rodrigo Duterte's habit of breaking his promises. According to Trillanes "there's something wrong with the Filipino people when support for the President remains strong despite his frequent turnarounds from official pronouncements." He cited Duterte's recent failure to deliver his promise not to swear in public anymore.
I can't help but be reminded of the times when I thought the same thing during the first few years of the previous President – how I found it baffling that despite strong evidence that BS Aquino was incompetent and lacking in empathy, his popularity remained strong. Maybe not as strong as Duterte's, but strong enough for his allies in congress to turn a blind eye to his blunders. As a matter of fact, BS Aquino was also guilty of breaking his promises to the public. He fooled the public with his campaign slogan "Kung walang kurap, walang mahirap" (When there is no poverty, there is no corruption). It turned out he wasn't planning on even reducing corruption.
BS Aquino actually perpetuated corruption when he increased the budget for pork barrel funds and when he allegedly bribed the senators into convicting the late former Supreme Court Chief Justice Renato Corona using public funds via a mechanism they dubbed the "Disbursement Acceleration Program" or DAP, which the Supreme Court eventually found illegal. BS Aquino's habit of letting his allies "off the hook" also promoted impunity, which helped corrupt activities become acceptable in Philippine society.
BS Aquino also promised to prioritise the passing of the Freedom of Information (FOI) bill to promote transparency in government once politicians are elected to office, but alas, it languished at the bottom of his list of priorities until he conveniently forgot about it.
BS Aquino even became the butt of jokes after he failed to keep his promise that he and his Department of Transport and Communications Secretary Jun Abaya would be willing to get run over by a train if the Light Rail Transit Line 1 (LRT-1) Cavite Extension is not completed by the end of 2015. His communications Secretary's only excuse then was that the public should not have taken BS Aquino's statements literally. Why the heck would a President make official pronouncement like that during a speech anyway?
We can also say that there is something wrong with Trillanes and the people who turned a blind eye to BS Aquino's broken promises back then. We did not hear Trillanes complain about BS Aquino's inconsistencies during his term. Trillanes is being inconsistent himself specially when he favours one liar to another; that is, if you consider what Duterte is doing as lying. Duterte can easily say that Trillanes should not take him too literally as well. Two or more public officials can play the game thanks to BS Aquino setting the precedent for simply shrugging off broken promises.
Besides, only a gullible person would believe that a septuagenarian like Duterte, who is so used to swearing could stop swearing just like that. Most of his supporters have learned to take him with a grain of salt when trivial matters are concerned. They did not mind him swearing to begin with so it makes sense that they don't care if he breaks his promise not to swear again. Some even laud him for trying to be good.
On Trillanes's claim that Duterte promised not to run for the Presidency, Duterte's supporters would admit that they forced him to run so that's not an issue to them either. It's funny how Trillanes is pointing out what he thinks was Duterte's flip-flopping now considering he even wanted to be Duterte's vice president at some point until Duterte chose Senator Alan Peter Cayetano. Trillanes is proving to be a sore loser, indeed. He would be singing a different tune had Duterte chosen him as his running mate.
Trillanes won't succeed in convincing Duterte's supporters that he is bad for the country since they can see that he is serious and works hard in tackling important issues. His critics may not like his policies but they cannot deny that he is addressing the problems unlike his predecessor who neglected a lot of the problems plaguing the country. Some of Duterte's cabinet secretaries are delivering results especially the Department of Social Welfare and Development and Agriculture. Duterte also impressed the public when he passed the executive version of the Freedom of Information law in less than 100 days in office. It's too bad mainstream media doesn't highlight them. They only highlight his "war on drugs" and his swearing.
Trillanes said he firmly believes "that President Duterte was behind the DDS (Davao Death Squad) in Davao City and the extrajudicial killings now happening in our country." For a lawmaker, it's disturbing that Trillanes wants the public to throw away due process and blame all the murders to Duterte even when investigation hasn't been concluded and in the absence of court ruling, say that he is accountable for the deaths. That's the problem when a person like Trillanes gets voted into a powerful position just because he was backed by the Liberal Party – back when they were popular with the public. Nowadays, a lot of voters are regretting putting him in a position that has access to the media. His irrational statements showing his bias against people he considers his political enemies has certainly revealed his true character.
It's a shame the media keeps giving Trillanes air time. He just sows discord in Philippine society. He also insulted his colleagues in the Senate when he insinuated that some senators are behaving like Duterte's apologists. As if Trillanes did not behave like BS Aquino's apologist himself in the last six years. We all know that he owes his freedom from incarceration to the former President. Trillanes and BS Aquino both hated former President Gloria Arroyo so it was not surprising BS Aquino set Trillanes free. Now Trillanes is free to wreak havoc with his mouth. We can only hope that the voters will not elect him again in the next election. Otherwise, Trillanes could be right in saying there is something wrong with the Filipino people especially if he gets voted in again.
In life, things are not always what they seem.