Administrators of two elite Philippine schools seem to prove what some have been suspecting all along – that the teachers in the country are teaching students what to think instead of how to think. Before the first encounter between the Ateneo de Manila University (AdMU) and De La Salle University (DLSU) in this year's UAAP basketball season held recently, the heads of the adminstrations of both schools issued memorandums asking students and spectators alike to wear black during the game "to express [their] solidarity with victims of human rights violations and with all others struggling to uphold human rights in the country."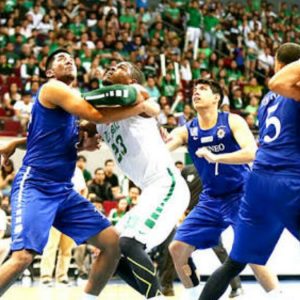 The directive was an epic fail. Only a handful of spectators wore black. This is also a failure on the part of the administrators to read the sentiments of the public, which includes their own students. Worse of all, they were trying to inject politics in a basketball game that's supposed to foster first and foremost, sportsmanship. It's such a shame the faculty members were promoting partisanship instead. It's a good thing most people saw through the agenda of these faculty members.
The administrations of the two schools also complicated matters for themselves when they suggested that wearing black also meant that the wearer is opposed to the possible burial of former President Ferdinand Marcos at the Libingan ng mga Bayani. The school administrators were including too many issues in one protest. Some critics said these school administrators looked desperate because they were trying to use a captive audience to rally their causes. They probably knew that organising a street rally would be difficult nowadays seeing that rallies have become passé thanks to the embarrassing failures of previous people power revolts that did not bring about real change in the country.
What is so baffling is the fact that there were so many victims of human rights abuses during former President BS Aquino's term, but the Ateneo and La Salle administrators did not ask basketball fans to wear black during games in the past to express solidarity with victims of human rights violations and with all others struggling to uphold human rights in the country. No wonder some people find their request so lame and lacking in conviction.
If these school administrators were really serious about upholding human rights, they would have spoken out during BS Aquino's term too when the Lumads, indigenous people of Mindanao, were being massacred in their own lands. There was also the Kidapawan farmers who were gunned down during a protest against a lack of government help during a prolonged drought. Incidences of murders perpetrated by "riding-in-tandem" assassins were already rampant during BS Aquino's term too. It's not like they only started happening when Duterte took over the Presidency. But some people make it look like "extra-judicial killings" only started in the last few months.
As a matter of fact, BS Aquino's human rights record was considered a failure by Human Rights Watch in a report published January 2016:
An international watchdog condemned the human rights record of President Benigno Aquino III, saying he has failed to make the reforms needed for a lasting legacy.

In its World Report 2016 released on Thursday, January 28, Human Rights Watch said there has been "no real progress on justice for serious abuses" committed under the Aquino administration.

It added that with just 5 months left in the President's 6-year term, his performance when it comes to human rights has been "disappointing."

"Since his election, President Aquino held out the promise of a rights-respecting Philippines for which he has sadly been unable to deliver," Phelim Kine, deputy Asia director of Human Rights Watch, said in a statement.

[…]

Human Rights Watch said 65 leftist activists, human rights defenders, and alleged supporters of communist rebels were killed in the first 10 months of 2015 alone, according to data from local groups.

Since Aquino rose to power in 2010, nearly 300 have been killed.

Justice remains elusive as well, said the global watchdog, because "killings implicating the military and paramilitary groups almost never result in prosecutions."
Academics from elite schools like the Ateneo and La Salle should be smart enough to realise that protests about issues should not be forced upon others. If people want to wear black and make a statement, they can do it on their own and if others want to join them, that is well and good. How the respective administrations of the AdMU and DLSU did it was a bit pathetic. It was akin to begging people to join their cause. But the timing was bad. They should have known not to mess with basketball fans and their basketball game. As they say, sports and politics don't mix.
[Photo courtesy Manila Bulletin.]
In life, things are not always what they seem.