De Lima's EJK Witness Testimony Discredited
Senator Leila De Lima, yet again, walked out of the Senate's inquiry on extra judicial killings.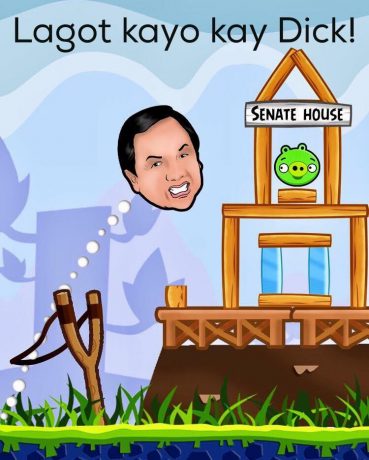 Trailing her teary exit were words from Senate Committee Justice Chairman Dick Gordon pointing out that it was cowardice to walk out of the senate inquiry.
Prior to the dramatic turn in the senate inquiry, it was discovered that the witness Edgar Matobato disobeyed the senate committee's order to attend the inquiry and that De Lima failed to properly notify the committee that Matobato had charged by the National Bureau of Investigation for the 2002 kidnapping with ransom of Pakistani national Sali Makdum.
Previously, Matobato had claimed that he and other members of the Davao Death Squad had abducted Makdum, a Pakistani national, on Samal Island and killed him for being a terrorist.
Not being a lawyer, it appears to me as if Matobato was coached into making false allegations that President Rodrigo Duterte had ordered the kidnapping and eventual killing of Makdum.
Could he have been offered to go scot free from the kidnap for ransom case filed by the NBI against him in exchange for falsely accusing Duterte?
And while I'm speculating here, let me also mention another news article titled "Davao cop claims De Lima offered to help him in admin case, suspects Nograles-Duterte rift tied to it" could possibly indicate how a witness like Matobato could be motivated to appear at a senate inquiry.
Testifying before the Senate justice committee, SPO3 Enrique "Jun" Delos Reyes Ayao raised an incident in May 2009 wherein he was approached by a male staff of De Lima after attending a public inquiry in Davao on the so-called Davao Death Squad (DDS).

The inquiry was held by the Commission on Human Rights (CHR), which De Lima chaired then.

"Sinabi niya sa'kin na gusto niya i-discuss namin yung development sa pagka-tanggal ko…Kinuha yung cellphone number ko at in-advise niya ako na mag-expect ng call from her in a few days," Ayao narrated.

Ayao said days later, he recevied a call from De Lima, telling him that "she wanted to talk to me confidentially in a discreet place."

(Source: http://www.gmanetwork.com/news/story/583641/news/nation/davao-cop-claims-de-lima-offered-to-help-him-in-admin-case-suspects-nograles-duterte-rift-tied-to-it)
The thing with testimonial evidence is that these are not only tested in so many ways, but they must at times be corroborated or supported by other evidence.
The whole thing with Matobato's testimony as I previously pointed out was that it is eerily similar to a negative publicity ploy where someone files a complaint at the Ombudsman's office against a public official and with unusual speed, stories are published in newspapers that are almost completely based on the still unexamined complaint.
This is a case of an unfair journalism where bare allegations are given the appearance of evidence of wrongdoing even before the proper judicial body rules on the merits of the allegations.
During the hearing, Senator Allan Peter Cayetano explained the damage done by Matobato's inconsistent and uncorroborated testimony.
I think the committee can forgive, the PNP can forgive, the Filipino people can forgive, that we were taken for a ride here. But mister chair, your self, senator Lacson, in public some of us in private, have told the president, "Sir any statement you made is amplified worldwide".

But the problem mister chair, let me put on record, because that mister Matobato was allowed here without vetting him and without disclosing that case, BBC, CNN, New York Times, Washington Post… put on their front page, on their TV show that the Philippine president is a mass murderer and put on their front page that the Philippine president fed his enemies to the crocodiles.

That is, may I quote senator Lacson statement, that is toothpaste out of the tube that you cannot put back in. And I am not saying this because the president was my running mate, but because he represents the country.

I don't know how but I challenge this foreign media, now put on your front page that this witness took you for a ride because you printed it without checking first and cross examining this witness. In fact, some of these publications came out before mister Matobato testified here.