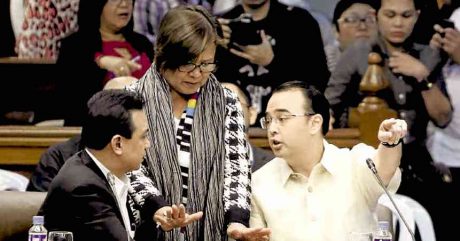 Schadenfreude: Substantiv, feminin – boshafte Freude über das Missgeschick, Unglück eines andern.
(Translation: Noun, feminine – malicious pleasure over the misfortune, mishap of someone else.)*
An elite class that is free to operate without limits – whether limits imposed by the rule of law or fear of the responses from those harmed by their behavior – is an elite class that will plunder, degrade, and cheat at will, and act endlessly to fortify its own power.– Glenn Greenwald
Our country can achieve a bright economic future only after the powerful elites relinquish their feudal privileges. Under a feudal system, wealth and power are inherited and not earned. They remain protected by the government that "rent-seekers"1 have been corrupting for decades. This is what President Duterte wants to destroy: the oligarchs, the ruling elite, the rent-seekers.
These people want Duterte to fail.
In the Philippine political economy, rent-seekers bribe government for protection, exclusivity and monopoly of public services. Citizens are forced to use their services because nobody else is allowed to offer them, and because the laws make sure that happens. Rent-seekers fear competition, because deep in their core, without protection they are fragile. They want it so easy, that they piss in their pants when budding entrepreneurs and businessmen threaten them with game-changing innovations.
Enemies of change
Anti-Duterte issues like misplaced calls to respect human rights, his trash-talking and rudeness; superficial or trivial observations of his behavior: all smoke screens to hide the true intention of the oligarchs. The powerful elite, under the guise of concern for the common good and human rights, just want to defend their privileges and entitlements that are under threat from Duterte's economic and political reforms. The elite are showing their true colors. They are clearly against social justice, solidarity, and true economic progress for all in our fledging nation.
The elites work under the guise of preserving democracy, upholding the rule of law, protecting human rights, strengthening moral order, practicing decency in political leadership, and improving diplomacy in foreign relations.
These oligarchs use these weapons for Duterte destruction with only one selfish end in mind: preserve the status quo. Leveraging every detail of his crass and vulgar speech, employing popular human-rights-for-hire groups to achieve their objectives, the oligarchic elites are desperately hanging on to the last vestiges of entitlements. While they trumpet that the golden geese are fleeing (stupidly forgetting that when the going gets tough, the weak flee while the strong ones stay), they use all the means to preserve as much of what they are about to lose.
Quo vadis, Elites and Oligarchs?
Sadly, for the moneyed and oligarchic elites, failure is not an option. They want to preserve the status quo at all costs. For Duterte's detractors, take note: 91% of the Filipinos like what he is doing.2 Their gut feel could not be wrong, these same people who have been excessively taxed, whose incomes and businesses have been raped, pillaged and sacked by indifferent and insensitive governments of the past, poor victims of "Tax the Ripper" and the "Signature Industry"3
And for these spoiled brats, their weapons-of-destruction of choice should be easy to sniff (they have been using these for years!):
1. Reserve good governance exclusively for the elite.
2. Let words speak louder than actions. The complete opposite of the adage "actions speak louder than words".
3. Use "human-rights-for-hire" groups to support their views.4
4. Use Congress to investigate Duterte's war against drugs.
5. Feed false information to foreign media so Duterte's leadership looks bad.
6. Use social media trolls to destroy the reputation of Duterte and his supporters.
7. Insult Duterte supporters by saying they are blind and stupid (Dutertards).
I'm sure you can easily add a few more weapons of destruction to this list.
Gallery of Rogues
Who exactly are these people? Everyone knows them. They control the power industry, giving the Philippines the most expensive electricity in the whole of Asia5 and the 5th highest cost of electricity in the world!6 This is one of the biggest hurdles to business growth in the country, making me wonder why businessmen continue to invest in our country. The answer, I learned, is that they simply pass on the cost to their customers. Boo!
As there are power moguls, so too there are the emperors of water, where two conglomerates control the supply of the precious liquid in Metro Manila. These same groups control our telecommunications industry, and their rotten services make me cringe every time I connect to the Internet (slow or no signal), have voice calls (choppy), and pay my bills (expensive).
We know them. You know them. When they appear in glossy magazines parading their arrogance, aloofness, and disdainful smugness, we feel that strong sense of entitlement and privilege handed down from generation to generation. Notice too their sharp eyes focused keenly on the bottom line. "Ka-Ching! Ka-Ching! Ka-Ching!" Note their finely shaped ears, listening like demons possessed by the music of the cash register. They want your money. Greed is good, their tentacles gripping the upper echelons of business and political power, including members of the academe who deliberately justify the elite's birthright to own and control our world.
Like the Makati Business Club, legends in their own minds, who continue to raise the flag of righteous indignation by claiming to be civil society's annointed one. Using economic and business gobbledygook to make them look smart, they excessively distort the business and economic narratives to further their own agenda: continued protection (and funding) of and by the elites and oligarchs.
Filipinos deprived of economic privileges cannot understand the elites. All they want are jobs, better infrastructure, cheaper food, water and electricity, less red tape, and honest government servants whom we pay to work for (and not steal from) us.
Rent Seekers
For years, I have wondered why families and oligarchs continue to mix business and politics as their path to wealth and power, despite the experience that doing so leads to their eventual downfall. If we learn from history, we can realize that business empires built on the soft sand of political influence carry with them the seeds of their own destruction.
Perhaps, the formula is truly diabolical in its ability to captivate the collective ambitions of political and business families as the fastest route to wealth; so they use it, relentlessly, shamefully, the nation and its people be damned.
This formula also explains why businessmen become politicians and why politicians become businessmen. They mix business and politics to accumulate and preserve wealth and power. What they don't realize is that doing so condemns them, and their descendants, to a vicious cycle of corrupt behavior detrimental to themselves, their families, and eventually, to their country. Such behavior is known in academic circles as "rent seeking"8, down which path lies perdition, immorality, and corruption.
Rent seeking behavior is the affliction of the rich and the poor, but regardless of income and social class, it is guided by the same twisted logic and moral hazards. Rent seeking perpetuates the image that one need not work hard to earn a living, and that by currying favors and privileges, one can live the life most people only dream about.
Unwittingly, a life of comfortable rent seeking would remain an illusion for the majority. Only those willing to enter into a Faustian bargain, ready to sacrifice their reputation and that of their descendants and relegate them to a future life of sleaze and immorality, would remain securely on top of the dung heap.
Fortunately, like any other aspect of unenlightened laissez faire capitalism, rent seeking sows the seeds of its own inevitable destruction. That humiliation and disgrace will come is certain. It would only be a matter of when, and when it does, it would do so with the greatest bang for the buck.
And the next set of rent seekers takes the stage…
Recent developments
An all out war against Duterte has been launched by neophyte Senator Leila de Lima and Senator Antonio Trillanes IV during a Senate hearing, where Senators Panfilo Lacson and Allan Peter Cayetano demolished the credibility of witness Edgar Matobato.
The Senate hearing, which ended in a clash of words between Senators Trillanes and Cayetano, showed the ex-military man as a devious, self-righteous, and pompous character, engaging in an asinine stunt that did more harm than good in their efforts to make President Duterte look bad.
A few days after the incident, Senator Trillanes (to his credit) apologized to Senator Cayetano, which only proves that…
Until my next article.
Citations:
* http://www.duden.de/suchen/dudenonline/schadenfreude
1.Krueger, A. O., (1974), "The Political Economy of the Rent-Seeking Society," The American Economic Review.
2.Adel, Rosette. (2016, July 20). 91% of Filipinos trust Duterte-Pulse Asia. The Philippine Star. Retrieved from http://www.philstar.com/headlines/2016/07/20/1604814/91-filipinos-trust-duterte-pulse-asia
3.De Leon, C.. (2016, Sept. 4). Human rights for hire. Manila Times. Retrieved from http://www.manilatimes.net/human-rights-for-hire/283828/
4.De Leon, C.. (2016, June 14). Government Service: A "signature Industry" Duterte will change. Manila Times. Retrieved from http://www.manilatimes.net/government-service-a-signature-industry-duterte-will-change/267893/
5.INFOGRAPHIC: Top power players in the Philippines. (2014, July 31). Rappler. Retrieved from http://www.rappler.com/rich-media/14729-infographic-top-power-players-in-the-philippines
6.Gonzales, I.C.. (2013, Oct. 7). Phl power rates among highest in Asia. The Philippine Star. Retrieved from http://www.philstar.com/business/2013/10/07/1242233/phl-power-rates-among-highest-asia
7.DeWall, D.. (2016, April 9). Philippines has the 5th highest cost of electricity in the world. The Philippines plus. Retrived from http://www.philippinesplus.com/2016/04/09/philippines-5th-highest-cost-electricity-world/
8.Tullock, G. (1998), "The Fundamentals of Rent-Seeking," The Locke Luminary
[Photo courtesy Inquirer.net]
I am a marketing consultant, entrepreneur and executive director of an NGO. I have extensive experience in advertising, product management, media, and general management.
I love art, graphic design, philosophy, theology, and history. I continue to study these subjects to enjoy my intellectual and artistic pursuits.