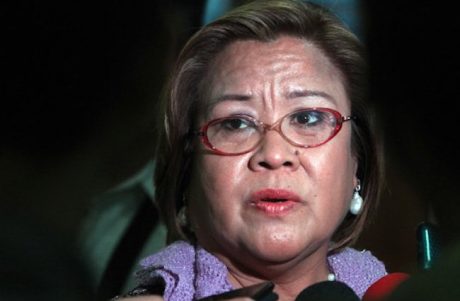 Senator Leila De Lima is finding out the hard way that, in politics, it is better to be likeable than to be "right". This is after sixteen of her colleagues voted to remove her from the chairmanship of the Senate Justice Committee. De Lima, after all, is a newbie, yet her demeanour of late outsizes her tenure.
Consider the way she disrespected Senator Alan Peter Cayetano today by walking out as he delivered his privilege speech…
In a privilege speech, Cayetano said: "Senator De Lima, in her desire to destroy the President, is destroying the integrity and reputation of the Senate."

"Worse, damaging the image of our country and people worldwide," Cayetano, a close ally of Duterte, said. Cayetano was the vice-presidential candidate of Duterte in the 2016 national elections.
Her excuse? She "could no longer stand" Cayetano's speech.
It is behaviour unbecoming of a Philippine Senator whose job it is to keep a steady head on her shoulders while under fire during heated Senate sessions — par for the course in any legislative assembly. Rather than follow procedure to address Cayetano's statements, de Lima chose to make her own rules saying during a brief interview following the incident, "I'm gonna deliver a privilege speech tomorrow instead of confronting him…"
Cayetano, of course, is a veteran Philippine senator having served in the Senate since 2007. Thus it is quite rich that De Lima the Newbie would not accord the senior senator a bit more deference.
Interestingly enough, it was another newbie, Senator Manny Pacquiao who instigated De Lima's ouster from the Justice Committee and successfully saw it through…
Sixteen senators voted in favor of Pacquiao's motion, four were against it while two abstained.

The four who voted against the motion were Drilon, Hontiveros and Senators Bam Aquino and Francis "Kiko" Pangilinan.

Drilon, Aquino and Pangilinan are members of the Liberal Party, while Hontiveros belongs to the Akbayan partylist group but she ran under the LP-led slate during the last May 2016 elections.
Perhaps because of his more extensive experience in the Senate compared to De Lima's, "senator" Antonio Trillanes exhibited a bit of foresight earlier when he apologised to Cayetano for his behaviour during last Thursday's Justice Committee session. In that session Trillanes threatened to block whatever "move" Cayetano was planning to make during the session to interpolate star witness Edgar Matobato.
During a Senate hearing on extrajudicial killings on Thursday, Trillanes told Cayetano, "hindi kita papopormahin," [I won't let you make your move] angering the latter. Cayetano retaliated and said "Senador ako ah… Binoto ako ng taumbayan." [I'm a Senator, voters elected me.]
De Lima, however, remains unapologetic with regard to her un-senatorial behaviour and, instead, went on to suggest that President Rodrigo Duterte was squarely behind her ouster from the Justice Committee. This further adds insult to the already serious injury to her stature as a senator. Rather than take accountability for her schoolgirl-level political posturing and her astounding lack of self-awareness as she went about running roughshod over her colleagues' sensibilities during the committee sessions she led, De Lima plays that all-too-familiar victim card.
It is a noteworthy development that good behaviour now seems to be winning in the Senate now that the Liberal Party is no longer in power. Where, previously, Trillanes's style of bullying and De Lima's shameless using of the Senate as a grandstand for her vendetta against her enemies was regarded as normal, these developments prove that change is indeed coming.
benign0 is the Webmaster of GetRealPhilippines.com.