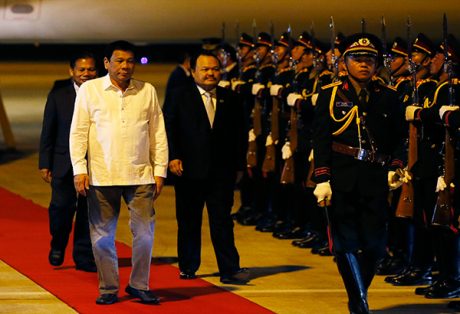 One could reasonably expect Philippine President Rodrigo Duterte to cause an uproar even before he gets on a plane. And he did; the issue, however, should be framed less around what he said about the United States and its president Barack Obama, as the source of uproar, and more around the people interpreting what he said, and the context.
President Duterte is practically incorrigible when it comes to injecting invective and curses into his statements. While this may endear him to more and more Filipinos, those who are tired of the politically correct, but two-faced, pretentious, pandering, flowery speech of conventional Filipino politicians, suffice to say, this could get him into quite a bit of trouble in the arena of international relations (IR).
Part of me thinks that president Duterte has just "tested the waters" on the limits of acceptable behavior and demeanor in international relations, if only too well. As the tone in IR is invariably set by the West, however, inordinate emphasis is placed on strong but still diplomatic and respectful language, a lot of back patting, back scratching, and oftentimes a lot of double-speak. Cussing and invective do not belong in this environment, and neither does bringing up sins and wounds of bygone eras; whether he can successfully adjust to such a situation remains to be seen.
If he can successfully control his tendency to go on unscripted tirades and ramblings, president Duterte can be decent and courteous. What he won't be, however, is meek and docile. These two combinations, need we remind Filipinos, are not two ends of an on-and-off switch. There is a whole gray area, lots of allowable space for decency and courtesy, where strong, assertive, and succinct statements can be made while maintaining them.
This brings up a confronting question for Filipinos:
What sort of image do Filipinos want to project in the international community, anyway?
Filipinos want nothing but praise from the international community; most of the time, they don't deserve it. If they don't get it, they say, "p*tangina mo Joe, go home." They couple this with a perpetual dole-out mentality, where not only do they merely open wide for foreign aid and donations, they feel entitled to it, perpetually.
Perhaps, most striking of all, internationally, the Philippines defines itself primarily around the United States. The long shared history between the two countries cannot be ignored, but the Philippines is no longer a colony; Filipinos seem to have forgotten that. They regard the US, and most of the West, with inordinate deference and subservience.
It seems, then, that president Duterte's vision of a Philippines more independent from the United States is held back primarily by its own people. At this point, asserting an overtly critical stance is something president Duterte cannot rush into. Unlike, say, in China or Russia, two emerging counter-balance economies, the Philippine mainstream press is needlessly antagonistic to Duterte, and thus, cannot be trusted to convey his message accurately and realistically, and to present the Philippines truthfully to international observers.
Let's talk a bit more about the summit of the Association of Southeast Asian Nations (ASEAN). President Duterte mentioned in the address, delivered just before he left, that the Philippines will assume chairmanship of ASEAN in 2017. The biggest peculiarity of ASEAN as a body is that it governs and makes decisions by consensus. This could pose a challenge to president Duterte, as he has spent most of his political career in an environment where he can be quickly decisive. Aside from stark cultural differences and language barriers with most of the other members, president Duterte will also have to deal with differing stances towards China, as well as several issues with individual states (such as Sabah, with Malaysia, for example).
To help president Duterte succeed in the international arena, I offer to Malacañang two pieces of advice for future overseas trips:
First, to prepare for the unlikely event that president Duterte "runs out of English", bring a Bisaya translator. President Duterte will think best in Bisaya, his native tongue. His translator has to be familiar with all his quirks, mannerisms, and speech peculiarities. President Duterte should have to avoid speaking and thinking in Filipino; nakakabobo mag-isip sa wikang Filipino, aminin!
And second, learn patience and level-headedness. Lots of it. Foreign media will endlessly grill him on issues such as the war on drugs, extrajudicial killings, terrorism in the Philippines, and his foul mouth. But it is not the foreign press's fault; because the Palace has an inept communications infrastructure, the Philippine mainstream media controls the narrative and the sources of information that the foreign press use for their reports. Control the narrative. And control Duterte's mouth. ASAP.
To end on a lighter note, leaders normally wear full Western-style formal attire in international summits. Will president Duterte follow suit? Pun intended.
А вы, друзья, как ни садитесь, все в музыканты не годитесь. – But you, my friends, however you sit, not all as musicians fit.