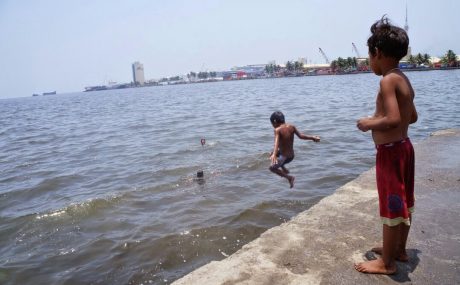 Tourism is an important sector for the Philippine economy. In 2015, the travel and tourism industry contributed 10.6% to the country's GDP (wiki). It is as important a pillar as our OFW remittances and BPO industry for keeping our economy humming and ensuring hot pan de sal stays served on Juan's breakfast table.
With all the damaging publicity that some squealing pigs in the slaughterhouse are generating with all the focus on EJKs, something's got to be done to salvage our country's image and suffering sidelined tourism industry. Now here's some welcome news – the Department of Tourism (DOT) will be changing its marketing slogan next year as a reflection of the new administration's thrusts.
Why? What was wrong with "It's more fun in the Philippines"? Well, many foreign tourists around the world actually did bite the bait, only to discover the appalling reality that "It's more dysfunctional in the Philippines."
Now if you stare at the word "DYSFUNCTIONAL" long enough, you will easily recognize the 3-letter word in the middle which tells a lot about the root cause of the miserable state of this happy-go-lucky laughter-filled nation with its people caught in mental hypnosis by its mind-dumbing mesmerizing clowning-around local media. Many foreign visitors get shortchanged and feel bad about being tricked into a scam in trying out this so-called "fun" country.
It's time to move on. Having such dysfunctional infrastructure, communication, and transport systems turns out to be not so funny after all. The idea of focusing on seeking one's own delight at the expense of placing priority on the general welfare and safety of the people no longer sits well with the current administration as well as the 90% of Filipinos who approve of the Du30 brand of management. It's time for a cool change, but a change to what?
What Attracts Tourists?
When I go about traveling abroad, one of the best tests and surest signs of a functional country is a tourist's ability to navigate from point A to B without the need to ask anybody questions. Is there an information bulletin map on display when you walk out of the station or airport? Are there color-coded arrows and signboards all around? How easy is it to find the toilet?
The last thing tourists want after a long-haul body-stiffening plane ride is to go out of the airport puzzled about what to do while being swarmed by flies offering all sorts of scams when all he really wants is to simply first relax at the hotel. There's just a soothing feeling to get out into a new world with the warm assurance things will be working out smoothly as you anticipate the adventure that awaits you.
Each visiting tourist creates jobs for Filipinos. Every hotel room constructed creates two direct and two indirect jobs. We need to make sure they are stress-free and satisfied, or better yet come back hauling a bunch of relatives and friends along. Their positive experience will be our free marketing arm when they get back to their home countries. A friend of mine overheard a tourist on the plane flying back to their first-world country saying that their trip to the Philippines was the worst experience ever.  Another set of visiting friends from abroad said that they were so happy every time they stumbled across Jollibee while travelling around the country, as they can all finally get to go to a decent toilet. What does that say about our public utilities?
Rapid Response, Relentless Improvement
First impressions last. That's why the international gateway into the country should be at its best.
The past condition of NAIA (aka MIA) hit rock bottom during the BS Aquino administration with fellow incompetent bozos running the show. In the recent article Aviation black hole no more :
Apparently, we are known in aviation circles as a black hole in the region. All our neighbors have sophisticated satellite based communication and navigation systems while we relief on an outdated and often non-operational land-based radar system.  …

Mar, and later Jun Abaya, sat on the project for two years. They claimed they were reviewing the contracts for the Communications, Navigation, Surveillance and Air Traffic Management (CNS/ATM) system that Sec Ping (who Noynoy fired) already cleared for implementation. In the meantime the old system they were using was always "dying" and if working, some of its monitors were blinking.
Thankfully, Someone up above must have had some mercy reserved for the Filipino people and its many visitors – in squeezing out much of the sickening putrid yellow pus out of our institutions. Under the new Duterte administration, the new navigation system is finally almost done at over 90 percent completion.
This brings us to some vital lines of code in the Creed of Winners: Time is gold. Relentless improvement drives success.
President Duterte is a man of lightning-speed action who has zero tolerance for sluggards in government content on the status quo, or even having his customers made to wait in lines. Acting fast to accelerate progress in this country will work wonders. In fact, teaming up with fellow fast-growing China (Duterte's strategy) can turn the tide around by bringing in functionality into our national culture/psyche and much needed infrastructural investments.
For sure, Filipinos will again come up with some catchy slogan to market our should-have-been attractive country to potential tourists around the world. Let's just hope it lives up to the claim this time.
Zealous revolutionary advocate of bringing back common sense for the common good in a land of dysfunctional and delusional zombies.