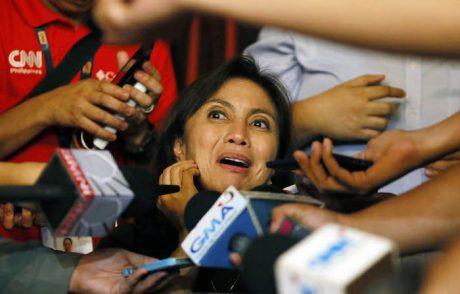 To be fair to "vice president" Leni Robredo, she's got a few ideas that are worth looking at, like her suggestion that a rehab programme be set up to support President Rodrigo Duterte's war on drugs. According to Robredo, this is the "missing" component in Duterte's campaign to rid the country of the drug scourge…
"For me, we need a more holistic solution to drugs rather than be reactive all the time," Robredo said Tuesday in an interview in Bocaue, Bulacan, where she visited a housing project.
Robredo has spoken out against the spate of extrajudicial killings of suspected drug dealers or users but maintains that the Office of the Vice President is "very supportive" of the government's anti-drug campaign.

"In fact, we were talking about it in the office: What role can we perform to show our support to the President? What we saw that's missing is rehabilitation. That's where the gap is," said Robredo, who was a human rights lawyer before entering politics.
One wonders, however, why Robredo is talking to the media instead of tabling her proposal at the next Cabinet meeting. A high-ranking member of the government such as Robredo pitching her proposal at the media not only comes across as an exercise in barking up the wrong tree, it also provides some insight on which side of Duterte's Circle of Trust the current "vice president" is situated. Indeed, perhaps Robredo remains an outsider and not the insider that one would expect the second most powerful official in the Philippine Government to be.
The explanation for this bizarre behaviour is likely to be quite simple. Robredo, it seems, would rather be a media whore than a team player in Duterte's administration. It makes sense of course. As I write this, speculation is rife, thanks to her non-stop self-promotion, that Robredo is itching for her turn to become president. As our GRP commenter observed much is at stake and hinges on a Robredo presidency…
It seems she really cannot wait for something to happen to the current president. If Duterte makes it past the first half of 2019, the yellows will be in an even weaker position than they are in today. A number of yellow senators up for re-election in 2019 will have a hard time winning if the present anti-yellow climate continues and they have no more access to Smartmagic. Time is of the essence.
Politics in a "democracy", after all, is all about being seen to be doing good in aid of ultimately winning elections. Robredo, true to this politician archetype, still seems to be in election campaign mode rather than getting down to the job of, well, doing her job as "vice president" and being a team player. The vice president, after all, is just a heartbeat away from the presidency. Yet, a chasm seems to separate Robredo from the incumbent president!
For many Filipinos, the traditional politician (trapo) persona that Robredo had morphed into over the last several months stands in stark contrast to the quiet vice presidency that her predecessor, former Vice President Jejomar Binay, maintained in the first few years of the previous administration.
The problem with Robredo grandstanding about her ideas before the media is that these ideas haven't been vetted, peer-reviewed, nor deliberated at the right levels. In a sense, there is no substance backing whatever Robredo is telling the young hipster "reporters" who scramble to lap up every factoid they could get their hands on to make their deadlines.
In the case of Robredo's rehab programme idea, questions have been raised as to how much such an initiative will cost the hapless Filipino taxpayer. Already, prisons are bursting at the seams with an overpopulation of Filipino crooks scraped off the streets by the police. The Philippine government does not have the resources to even just house and feed them, much more "rehabilitate" these poor sods.
The lesson? Key to keeping Filipino politicians honest is in ensuring that, at the very least, their words are regarded with a critical mind and not with the gullible sensibilities Philippine corporate news media apply to their business of "informing" their audience on important issues.
[Photo courtesy Japan Times.]
benign0 is the Webmaster of GetRealPhilippines.com.