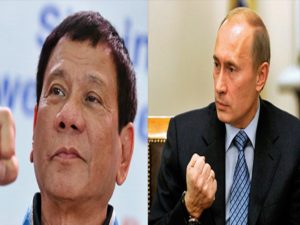 In the upcoming ASEAN (Association of Southeast Asian Nations) Summit in Laos, President Rodrigo Duterte has an opportunity to meet other heads of state. Reportedly, the prospect of meeting Russian president Vladimir Putin is something Duterte looks forward to:
Duterte, after meeting repatriated overseas Filipino workers (OFWs) at the Ninoy Aquino International Airport (NAIA) Terminal 2, confirmed that he was meeting Putin when world leaders meet in Laos next week.

"That I look forward to. Gusto ko si Putin (I like Putin)," Duterte told reporters with a grin.

Duterte also acknowledged that he was also like Putin: "Pareho kami… Baka sa girls. (We're similar…maybe with girls)"

Like Duterte, Putin is known for being outspoken and for making firm but controversial decisions.
Though western media, mostly American, has made comparisons between Duterte and Republican presidential candidate Donald Trump in the past, some outfits, like Morning News USA, have compared Duterte to Putin. They cite similarities, aside from making contentious statements, such as perceived anti-American sentiment, and supposedly questionable psychological profiles and well-beings. Though their backgrounds in law also indicate another common area, their career paths to the highest offices in their respective governments have been markedly different.
Though he began his professional career as part of the City Prosecution Office in Davao City, majority of Duterte's career has been spent in politics. He had spent more than 20 years as Davao City Mayor, and the rest of his career was as Davao City Vice-mayor, and as Congressman. Duterte is held in high regard by Davaoeños for the work he has done in making their city safe, livable, and largely crime-free. In the 2016 elections, Duterte was elected 16th President of the Republic of the Philippines.
Putin, on the other hand, had spent 16 years in the KGB (in English, Committee for State Security), and had been assigned to the East German office from 1985 until the Berlin Wall fell down. After that, he returned to his home town of Leningrad (now St. Petersburg) and worked under several local government offices until his former professor, Anatoly Sobchak, lost his reelection bid for mayor. In 1996, Putin started working in Moscow as part of the Presidential Property Management Department. He had also served as part of the Presidential Staff under Boris Yeltsin. In August 1999, Putin was appointed, first as Deputy Prime Minister, then as Prime Minister. On 31 December 1999, Yeltsin stepped down, and according to Russia's constitution, Putin was to be the Acting President of the Russian Federation until elections could be called. Vladimir Putin first officially became president in 2000. He is currently serving his third term as president, after also being elected in 2004, and serving as Prime Minister from 2008-2012.
What Putin has over Duterte is almost two decades of experience in both the highest government office and the international arenas. If the two do get a chance to meet, it is perhaps a once-in-a-lifetime opportunity for Duterte to exchange insights with a leader who can be best described as a pragmatist – one who exists outside the Western sphere of influence. Putin can also be described as a leader who has cemented his political future at home, and thus gives much less importance to outside perception, Western in particular, of his leadership and Russia's place in global affairs.
Though Duterte and his Philippines will never, not in this lifetime at least, achieve the position that Putin and his Russia have – one as counter-balance to dominant US global influence – it will do him well to establish relations with a world leader, one whom the West has, inadvertently or not, mistakenly alienated, and get a more holistic view of global affairs not yet "poisoned" by incompatible Western "values", idealism, and ways of thinking. As the world slowly but surely moves away from the domination of US influence, and other players like China, India, and Russia come into the picture, Duterte, for the ultimate benefit of the Philippines, will have to learn how to play along, and move away from the tradition of putting all the Philippines's eggs in the American basket.
[NB: Parts of this article were lifted from the Wikipedia.org articles, "Vladimir Putin", and "Rodrigo Duterte", in a manner compliant to the terms stipulated in the Creative Commons Attribution-ShareAlike 3.0 Unported License that govern usage of content made available in this site. Photo courtesy: newsfeed.ph]
А вы, друзья, как ни садитесь, все в музыканты не годитесь. – But you, my friends, however you sit, not all as musicians fit.