Last July 2016, both political parties in the United States had their respective National Conventions. The Republican National Convention (RNC) was from 18-21 July, while the Democratic National Convention (DNC) was a week later, 25-28 July. The Republican nominee for President is Donald Trump, while for the Democrats it is Hillary Clinton.
Donald Trump is often perceived as the anti-establishment candidate. He is the guy who is trying to be perceived as relating with the plight of ordinary Americans. And yet he has made a lot of enemies out of minority and immigrant communities for his perceived racism, bigotry, and lack of political correctness.
Hillary Clinton, to many, represents the traditional politician that Americans have seemingly grown tired of; she has been tied to numerous scandals, and has been painted by her enemies as not being all that truthful with the American public.
SUPPORT INDEPENDENT SOCIAL COMMENTARY!
Subscribe to our Substack community GRP Insider to receive by email our in-depth free weekly newsletter. Opt into a paid subscription and you'll get premium insider briefs and insights from us daily.
Subscribe to our Substack newsletter, GRP Insider!
Learn more
The overall tone for each of the national conventions couldn't have been more different. Observers noted that in the RNC, the overriding tone was fear; in the DNC, the overriding message was one of hope.
The RNC speakers were making their points that America is no longer safe. America is getting the short end of the stick and is no longer respected in the international community. Illegal immigrants are taking away jobs and are connected to violence and crime in neighborhoods. Donald Trump will "make America great again."
The DNC, on the other hand, had speakers making their points that the type of racist and inward-looking mentality espoused by Trump and the Republicans does not belong in America. America is already great, so they said.
In the Philippines, the two-month old presidency of Rodrigo Duterte has had him also make a few major speeches. In particular, his inauguration speech and his first State of the Nation address (SONA) are highlights, the former delivered last 30 June, the latter last 25 July.
Watching the speeches, one would get the impression that president Duterte would rather go do actual work than make those speeches. Despite having a prepared address, president Duterte had ad-libbed parts of his addresses. Depending on one's perspective, the impression one would get is that he is either: speaking from the heart, or going on pointless ramblings and tirades.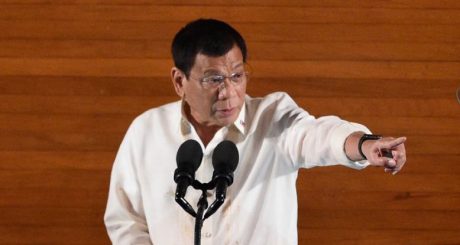 Similar to the US, the two moods of hope and fear also characterize the Philippine political scene. Hope is festered among not only supporters of Duterte from way back, but also the groups who have been longing for a different kind of politician, one that Duterte's predecessor, Benigno Simeon "BS" Aquino, embodied quintessentially.
Fear dominates among the people who are afraid that Duterte's campaign against illegal drugs will descend into anarchy and chaos. Fear is also expressed among the classes who are ultra-sensitive to any impending signs of despotism, dictatorship, and threats to their so-called freedom and democracy.
Native Americans, the Cherokee, in particular, have a legend called The Two Wolves which, I think, fits aptly in the current climates of the US and the Philippines:
An old Cherokee is teaching his grandson about life. "A fight is going on inside me," he said to the boy.

"It is a terrible fight and it is between two wolves. One is evil – he is anger, envy, sorrow, regret, greed, arrogance, self-pity, guilt, resentment, inferiority, lies, false pride, superiority, and ego." He continued, "The other is good – he is joy, peace, love, hope, serenity, humility, kindness, benevolence, empathy, generosity, truth, compassion, and faith. The same fight is going on inside you – and inside every other person, too."

The grandson thought about it for a minute and then asked his grandfather, "Which wolf will win?"

The old Cherokee simply replied, "The one you feed."
In both the US and the Philippine scenes, fear is represented by one wolf, hope by the other.
Which one will Americans and Filipinos feed?
Whoever wins, it will definitely make for an interesting show.
А вы, друзья, как ни садитесь, все в музыканты не годитесь. – But you, my friends, however you sit, not all as musicians fit.