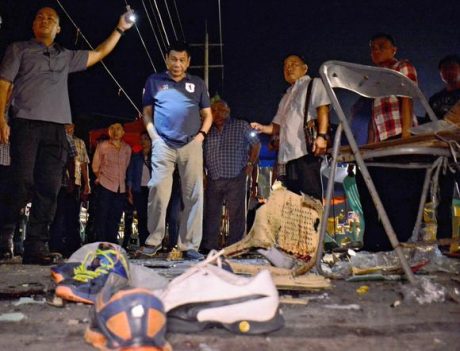 It was as if the mayor never really left. Following the explosion that occurred in Davao city, last Friday night, September 2, which left more than a dozen dead and many injured, President Rodrigo Duterte was on the ground only after a few hours. Duterte went along when the crime scene was surveyed, visited the injured in the hospital, and condoled with the families of the dead at the funeral homes.
On a more personal note, news of the incident had broken out almost immediately on social media after it happened. Almost as quick were the posts of certain individuals who seemed to take delight in what happened in Davao.
"Akala ko ba safest city ang Davao." (I thought Davao was the safest city.)
"No, Davao City is not crime free."
"You can resign now, Duterte."
Really, what kind of human being takes delight when his/her countrymen go through suffering and loss?
Before writing this article, I was following two pieces of life advice which had served me well in the past: Don't go to bed angry, and Don't speak/write when you're angry. I tried sleeping off how pissed off I was at how certain people regarded the Davao incident with schadenfreude. It didn't work.
As I write this, I'm considerably less pissed off than I was 24 hours ago, though still rather annoyed. But I digress…
In what can be considered the first real test of his mettle as president, Duterte seems to have passed with flying colors. To be fair, however, his predecessor, Benigno Simeon "BS" Aquino III, set such a LOW standard for being "present" that the impact of Duterte's contrast is magnified. Whatever his critics may say about Duterte's management of this incident "like a mayor", it serves as a stark contrast to what BS Aquino did. When it came to matters that didn't affect him or his allies' interests personally, BS Aquino ran things primarily one way – he ran away from danger instead of towards it.
Dispassionate observers have given the same benefit of the doubt to both BS Aquino and Rody Duterte; the difference lies in what each of them has persisted in.
We must credit, not only president Duterte for his immediate presence and decisiveness, but also the excellent rapid response system/infrastructure that Davao and its residents have built and maintained even after the mayor had been elected to Malacañang.
Consistent with Duterte's forward-looking approach to the presidency, we must look at three issues that come into play, as a result of this incident.
The first one involves Duterte's communications team. I mentioned in a previous article that this is one of the fundamental weaknesses of his administration. While I do believe that the safety and security of the affected parties takes precedence over dealing with the overreaction to, and exaggerated fears of, his declaration of a state of lawlessness, the Duterte administration will be more effective if its communications infrastructure does its job more clearly, more concisely, more controlled (i.e., fewer mouths talking), and in fewer iterations. And in the coming period, they are going to need to step up their game, particularly in the international arena, where media sympathetic to the Liberal Party (LP) controls the narrative.
Second, how will crime scene investigations be done differently from here on? Observers have noted the lack of updates in the investigations of bombing incidents from previous years. It also remains a big question mark whether the police gathered all the evidence and samples they needed before the crater in the crime scene was cemented over.
Lastly, and this is also tied to the character of Filipinos as a collective, how will we, in the future, choose to react to incidents like this, considered a terrorist attack? An editorial from Business Mirror, written in light of the bombing incident in France last July, spells out the difference between the ways Western and Eastern societies react to terrorism:
In the West, they want to understand the motivation for a terrorist attack. Asians are less inclined to worry about that and are more interested in making sure the perpetrators are unable to do bad things again.

The West may take more comfort from feeling they are standing on the moral high ground. In the East, the inevitability of deserved punishment may make more sense. However, there are clearly different reactions to the same type of event.
As someone who isn't from Davao, I was a bit pleasantly surprised that Davaoeños refer to Duterte as "Eagle", in reference to the monkey-eating eagle found within the region. It would only be fitting to say that we must give the Eagle room to spread his wings, in order to help him catch his prey.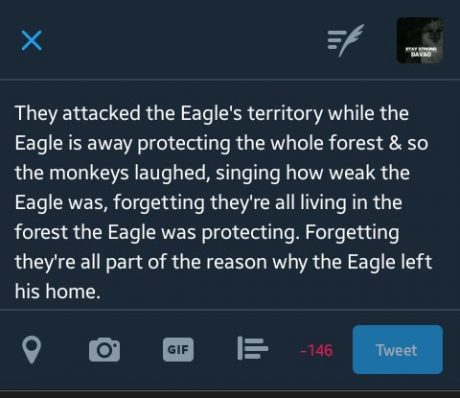 We are no longer just Manileños, or Davaoeños, or from wherever, delimited by our respective regions. We have always been Filipinos, and we have always needed to come together for a bigger purpose and a greater good. A threat like the Davao City incident is a concern for all of us; for once in a long time, under a promising leadership, we have a chance to actually realize just how much Filipinos can be stronger together.
Barug ta, Davao! Kauban ninyo ang tinuod nga desente!
[Photo courtesy: Asia Nikkei Review]
А вы, друзья, как ни садитесь, все в музыканты не годитесь. – But you, my friends, however you sit, not all as musicians fit.