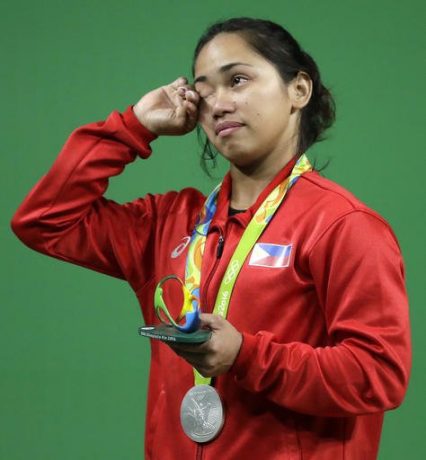 Give credit where it is due. No doubt weightlifter Hidilyn Diaz took whatever training conditions she could get, worked her ass off as hard as possible, and put it all on the line when it counted. The result? She got a silver medal at the Rio Olympic games.
To this we say, congratulations!
After celebrating, Ms. Diaz already has a future goal in mind: to get the gold at the next Olympics in 2020. She is already thinking of, "What's Next?".
The next question to ask is: What does the Philippines plan to do to support her goal?
Thing is, people learn not only from failure, but they should be able to learn from success as well. What conditions did Diaz train under? How do we replicate, and improve them? What are the current trends in the sport which she competes in? Where are the best coaches from, and how do we convince them to train our future talent? How can we replicate her success? How can we replicate…HER?
Hidilyn's goal of going for gold will be a lot easier for her, and the Philippines, if she has a more extensive (and well-funded) support system. It would be nice if the government could assist, but with them, money's usually a problem. If it boils down to assistance from the private sector, that'll be good too.
The point is, Filipinos need to show that we're there, every step of the way, with those who represent our country, and not just show up when they win and just take part in the celebrations.
What else can Filipinos take note of whenever the Olympics come around every 4 years? As someone pointed out on Twitter, perhaps Diaz's (and Michael Phelps') achievement should convince us to stop funding sports where we don't have a chance of winning. Sports where Filipinos are genetically disadvantaged in height and weight (such as basketball, for starters) ought to be de-prioritized; instead, aim for the ones where those same genetic traits are much less of factors.
Speaking of Michael Phelps, everyone's been talking about how Singaporean Joseph Schooling beat him for the gold in the individual race. As it turns out, Schooling had met Phelps when he was much younger, and had regarded the decorated swimmer as an idol. It is just as important to note that Phelps was ever the sportsman and was gracious in defeat.
Personally, what a cool story. All's well that ends well, right?
Well, count on someone among Filipinos to spoil what was otherwise a very touching moment in the games, however. After news of Schooling's win came out, local news outlets ran a story on Schooling's nanny in Singapore, who happens to be Filipina.
Someone I know pointed out that such a story was supposed to highlight how nannies are seen as 2nd mothers, and how they serve as an inspiration and role model towards their wards.
Alas, however, the bitchy thing called context kicks in.
The impression that many readers and commentators got from the articles – and I believe rightfully so – was that it was trying to fit in Filipinos as partly, if not wholly, responsible for the success of Schooling, no matter how tenuous the connection may be. It's not the first time it's been done too; during the Umbrella Revolution in Hong Kong, a report was filed by GMA on how the protesters were raised by Filipino nannies, and thus supposedly got their politeness from them.
Such blatant display of attention-seeking, epal, and kulang sa pansin have no place in the mentality of those who want to be winners. They let their accomplishments do the talking and work for them.
If the Philippines can pull off another medal in the next games, and most especially if it's gold, then what an accomplishment would that be. But, it requires hard work, discipline, and unsurprisingly, a desire to put quiet achievement over grandstanding.
Only time will tell whether the Philippines is indeed ready to win or not.
А вы, друзья, как ни садитесь, все в музыканты не годитесь. – But you, my friends, however you sit, not all as musicians fit.