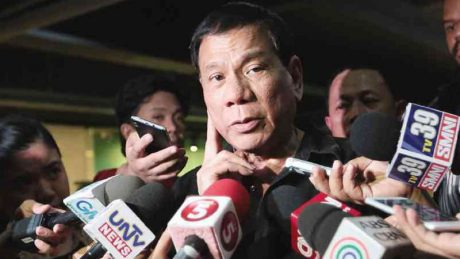 Around the time of its first 50 days, the presidency of Rodrigo Duterte's predecessor, Benigno Simeon "BS" Aquino, was beleaguered by the Mendoza hostage situation and its fallout. The incident resulted in the deaths of eight (8) Hong Kong tourists; BS Aquino never apologized for it.
The concepts of the "first 100 days", and more recently, the "first 50 days" were seemingly coined by "political analysts" to give body to the first impression of a newly installed government. As they say, first impressions last.
For its first 50 days, the Duterte presidency has faced incessant criticism for its approach against the war on drugs. A Senate probe on the alleged extra-judicial killings (EJKs) that have supposedly been a result of the anti-drug drive had 2 sessions; whether the probe will resume at some future date remains unknown. The takeaway from the probe was that both the drug problem and the occurrence of EJKs had existed even before the current administration took office. Unfortunately for the presiding Senator, Leila de Lima, it inadvertently threw the spotlight on the lack of results during her time both as Commission of Human Rights (CHR) chair and Secretary of Justice, the latter taking place during BS Aquino's term.
Now, even Duterte's supporters will willingly agree that his presidency has been far from perfect. In the same breath, they appreciate – that's putting it mildly – that he is going all-out in fulfilling the promises he made during his campaign.
The first 50 days gave us a glimpse into some of the inherent weaknesses of Duterte's presidency. It would do his administration a lot of good to learn how to compensate for these as soon as possible.
1) The Duterte presidency lacks an organized public communication apparatus.
Put simply, the Duterte administration is awful at controlling the narrative.
To be fair, that mainstream media was ever going to have a peachy relationship with his government was a pipe dream. The biggest media outlets here in the Philippines have long been perceived to be biased towards BS Aquino and the party he is associated with, the Liberal Party (LP). It hasn't helped that just before his term started, Duterte got into a controversy with media, as he called them out on corruption among their ranks.
One of Duterte's own personal tendencies is to ramble and to go on "unscripted" tirades. The media has taken advantage of this, and yet, the Duterte administration has no choice but to deal with them; they are the most visible and pervasive means through which the public can know about the goings-on of the government. While television channel PTV-4 and the Presidential Communications Operations Office (PCOO) have been designated as the direct means to inform the public, it has proven so far ineffective. Duterte has no press secretary; instead, official statements are released thru PCOO chair Martin Andanar and/or presidential spokesperson Ernesto Abella. It doesn't help, however, that some of Duterte's cabinet members, like Presidential chief legal counsel Salvador Panelo, apparently don't know the meaning of restraint.
Perhaps Duterte doesn't need a bloated communications team, complete with talking heads Peter-principled into their positions, but his own designated mouthpieces are not being as effective as they could be or should be yet. Unfortunately for them, neither the hostile press nor Duterte's detractors will be willing to give them breathing room. Any mistake will be magnified and taken out of context; that is an undeniable certainty that will plague the Duterte administration for some time to come.
Included in the need for control of the narrative is the nature of the stories that foreign media write about the Philippines. As tempting as it is to blame foreign media outlets for being partisan, in this case overwhelmingly negative of the Duterte administration, the root cause of any perceived bias is the nature of the sources they have here. In an unfamiliar environment, foreign media will go for sources that are easy to obtain and those that make themselves known. Both these desirable traits are being monopolized by the loud rattling can that is the LP and their mouthpieces.
2) The nature of Duterte's change is still apparently largely personality-based.
Even when he was still a candidate, I had the concern that Duterte's brand of change would be personality-based. Observers have taken note of the Duterte effect, a phenomenon where the force of his image moves people to "clean up" when they normally won't. Baka magalit si Duterte, lagot tayo. (Duterte might get angry, let's not do wrong.)
Which raises a simple question: what will happen to all that force for change, once Duterte himself is no longer in a position to influence? Can anybody succeed him without compromising his "fear factor" and hardline stances on criminality and corruption?
The answer so far is no.
Filipinos are a people notorious for not appreciating and understanding why rule of law is necessary, much less upholding it. Empirical evidence – Davao's own experience under Duterte – seems to point that they obey the law only when there is a certainty of getting punished. The catch is that a punishment anything less than death does not seem to deter the recalcitrant nature of Filipinos.
It's common sense, of course, that certain motivations do not work for everybody. Fear is one such motivation, and one that is applicable to Duterte's administration. In this case, the fear is that of the getting punished by the long arm of the law. All it will take to undo a climate of fear is just one unafraid man. Pretty soon that lack of fear snowballs.
The puzzle remains unsolved: how do you get Filipinos to appreciate the need to emphasize rule of law in their society, all without excessive reliance on a forceful personality to do so? It is one that the Duterte administration is seemingly not inclined to offer an answer to yet.
3) Popular support for the Duterte administration has its limits.
Despite having a 91% approval rating, the Duterte administration is still at risk of getting toppled. The LP should be mightily aware by now, that popular sentiment is against them, in no small part due to the bungling incompetence when they were the dominant force. Consequently, Senator de Lima and current CHR head Chito Gascon have name-dropped the International Criminal Court (ICC) and the United Nations (UN) in the hopes of getting Duterte removed by international pressure.
Tempting as it is to brush off the threat of foreign intervention, we need to keep in mind that the UN and ICC are entities highly susceptible to being hijacked and politicized by vested interests within its member states. The LP is second-to-none when it comes to politicizing issues.
All this points to a glaring characteristic of Filipino society that serves as Duterte's biggest obstacle: that popular support is rather useless unless it is backed up by influential forces, those among the powers that be. Why did, for example, former president Joseph Estrada get deposed by EDSA II despite winning the presidential elections? Why did Gloria Arroyo survive impeachment proceedings despite overwhelming calls from the public for her to resign (in no part influenced by, again, biased mainstream media)? Why is a Divorce bill still a far-away hope for Filipinos? Why is the Freedom of Information (FOI) bill, pending in Congress, hardly discussed anymore?
Let me borrow a few words from Manila Times columnist Ben Kritz to put it succinctly:
The Philippine voters are not the droids you're looking for, folks. It is an understandable offense to peoples' idealism, but it is what it is: There are powerful influences that make things happen — or not — in this country, and they are where your energies should be directed.
During tropical storm Haiyan, the ambag-ambag bits-and-pieces donations, while being helpful for the ultimate cause of the victims, were without a massive, efficient, and effective infrastructure complex which the US military, in its own aid operations, possessed. In the same mold, the masa need to get it into their skulls that their tingi-tingi support for president Duterte is not enough. They need a more influential voice, a bigger megaphone, a more organized, efficient, and effective piece of infrastructure through which they can counter the influence of the Yellow media. Where that's going to come from remains to be seen.
And no, making noise and spreading articles on numerous individual social media accounts does not really count.
Pointing out the weaknesses of the Duterte administration is, by no means, an indication that we want it to fail. Rather, those of us who are holding out hope for the Duterte administration want it to succeed where the Aquino administration, due to its own hubris, failed. If anything, the Duterte administration seems to show a capacity for a learning curve; what's more important is that, as benign0 has pointed out, Duterte has shown that he listens to the people.
As media personality Teddy Boy Locsin Jr. has opined, we must not waste Duterte's leadership, and perhaps the best chance of real change we've had in quite a long time. Part of taking advantage of this leadership is helping him realize where he needs to compensate. Our fate as a nation hinges on it.
[Photo courtesy: iRemit.com.au]
А вы, друзья, как ни садитесь, все в музыканты не годитесь. – But you, my friends, however you sit, not all as musicians fit.