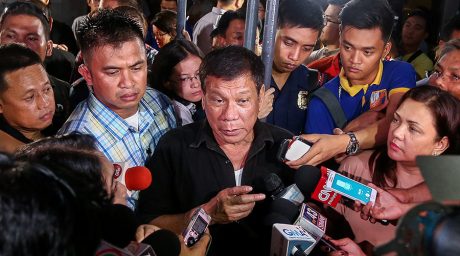 Leni Robredo is at it again. This time she is reportedly worried about the Philippines' international "reputation". This follows mounting coverage by the foreign media of the allegedly unusual high numbers of homicides occurring in the Philippines over the last several months. These killings supposedly coincide with President Rodrigo Duterte's "war on drugs". Many allege that this rise in homicides are a direct outcome of Duterte's promise to rid the country of the drug menace using all means — including violence.
Robredo's stand reflects the general character of many Filipinos who uphold a tradition of giving inordinate weight to foreign opinion and perceptions. We should, however, consider taking a stronger cue from a great thought leader closer to home — the late Singapore Prime Minister Lee Kuan Yew. In the early days as Singapore was in the middle of its legenday transformation from Third World to First, Lee was consistent in the way he pushed back whenever Westerners suggested that he take a more, well, Western approach to governance. Lee insisted that the character of his countrymen was different from that of the West. As such, it is in recognising this reality that he justified the use of a "hybrid" style of democracy that suited this setting.
The Philippines, in contrast, has always taken the path of aspiring to perfectly align with Western ideals — to the point of being almost dogmatic in its application of American style democracy to its development challenges. One pillar of Western-style liberal democratic idealism is the notion of "human rights". It is interesting to note that southeast Asian nations have, even to this day, been known for their spotty human rights record. The Philippines is no exception. Even in the middle of the his term, former President Benigno Simeon 'BS' Aquino III was copping pressure from Human Rights Watch (HRW) owing to his unimpressive efforts to deal with reported human rights violations under his watch. According to a Human Rights Watch (HRW) report issued in 2012, "The Aquino government has not successfully prosecuted a single case of extrajudicial killing or enforced disappearance, including those committed during his presidency…"
"President Aquino has not lived up to his promises to bring those responsible for serious abuses to justice," said Elaine Pearson, deputy Asia director at Human Rights Watch. "Concrete measures — rather than more promises — are needed now."
It's not surprising, of course, considering that even the solving of his own father's murder was something that BS Aquino failed push at a time when he was the country's most powerful man. But I digress…
Perhaps it is time Filipinos embrace the reality that theirs is not really a Western society (despite decades of trying to style it as one) and, as such, may not be a good fit with some aspects of the democratic ideal. Lee had exhibited exceptional foresight in standing by his principle of weaving a strong Singaporean uniqueness into the democratic governance he nonetheless strengthened as his country rapidly caught up with the West in development.
At the moment, the Philippines is, itself, in a similar situation. It is, to be fair, purported to be one of the best-performing economies in the region at the moment. But just because it is does not mean that this strong trend is not immune to the risks posed by underlying weaknesses in infrastructure, stability, and, yes, peace and order. The drug menace, in particular, is a serious one that has proven to be a strong contributor to the fraying of the fabric of society in the Philippines. It seems those who support the strong measures being implemented to combat the drug menace have a better understanding of the urgency at hand.
There is, of course, a cost associated with expeditiousness — specially when it involves taking some shortcuts and workarounds to the rigours of due process. Ultimately, however, all of life's decisions are all about cost-benefit tradeoffs. The cost of an expeditious winning of Duterte's "war on crime" may be a slight degradation of the Philippines' cherished democratic practice and its prized "reputation" amongst its peers in the free world. The trouble is, so-called "activists" take that cost out of the context the benefit — the potential for a drastic reduction in drug-related social problems and build the shrill campaign against Duterte we see today.
benign0 is the Webmaster of GetRealPhilippines.com.