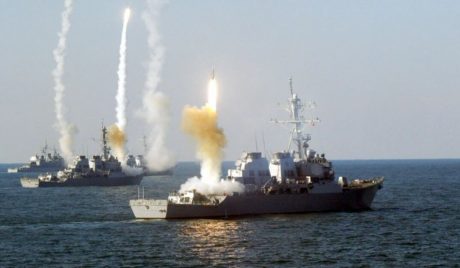 Incoming President Rodrigo Duterte has a lot to clean up after President BS Aquino leaves office this June 30. Besides traffic, political corruption, the Mindanao problem, power problems and typhoon rehabilitations, the incoming administration has a lot of problems to fix. And that includes Aquino's failed foreign policy towards China.
What Aquino did was take an aggressive and hostile approach towards the Chinese. He issued multiple press releases, and even spoke out against China during international conferences. This normally works, but China did not buy Aquino's bluffing. They knew that Aquino could not back up his words. The Chinese government saw Aquino for what he was — a weak, incompetent paper tiger.
It did not help that Aquino's American contemporary, President Barack Obama, was also perceived by China as a weak and incompetent leader. It's almost as if the Chinese did not respect those two. In fact, Obama has recently been overthrown by Russian President Vladimir Putin in a ranking of the world's most powerful people. It also does not help that the US is trillions of dollars in debt to China. While I do not believe that Obama is weak, perceptions are just as strong as facts. What mattered was how the Chinese viewed him.
While China was already beginning to build up its military in the early 2000s, they did not resort to actions such as taking islands in Philippine territory when Gloria Macapagal Arroyo was President and when George W. Bush was US President. It rests upon the Philippines and the United States to balance against China's growth in the Pacific region. But China will just keep pushing through until both countries have strong leaders.
The election of Rodrigo Duterte to the presidency is a step forward. So far, he has shown qualities of a strong leader. When he requested a few weeks ago that Filipinos be allowed to fish in the disputed areas, the Chinese acceded. Even though he has yet to assume office, China already respects Duterte, very much unlike the way they regard the incumbent.
What would happen next would also depend on who the United States elects as its next President. There is no reason to feel enthusiastic about Hillary Clinton because she will just continue Obama's foreign policy, the legacy of which is an unstable Iraq and Libya, a rising China, and a nuclear Iran. Personally, I am rooting for a Republican victory this November. While inexperienced in politics, Donald Trump has shown strong leadership qualities and has strategies to counter China economically. I feel like his business experience can help gut China without having to.
I believe that the Philippines must be able to defend itself without US help. We must build our military in order to defend our archipelago against Chinese intrusion. Also, I believe Duterte has to start pursuing an independent foreign policy. But, it is imperative that we work with the United States and other Pacific nations in order to cut China's legs from underneath.