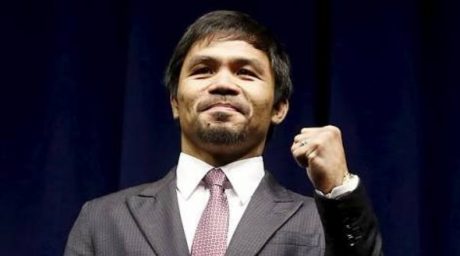 Let me guess…
You thought the match was over, didn't you? Did you think my threat about a round 3 was just that: a threat? Well, you're dead wrong! And if you thought that my last two articles was as far as I could go, you're wrong again! Because there's a lot more where that came from. A lot more, actually!
Welcome to round 3 ladies and gentlemen. I hope you've had enough rest because I'm sure you're going to wear yourselves out again.
Seriously, you idiots are some of the funniest people out there. There was this one woman who couldn't even defend her own ridiculous argument and, perhaps to compensate, decided to change her display picture which included that of her boyfriend as if she thought that would somehow make a difference. Then there was this guy who outright called me "evil" and simply started throwing Bible quotes at me as if trying to imply that Manny Pacquiao is some kind of living saint which, again, he clearly isn't. Funniest of all though was this guy or girl (not really sure) who implied I was jealous of Manny Pacquiao even though, truth be told, I'd probably be perfectly happy with being a humble storyteller with the woman I loved by my side. Oh well, idiots, I suppose, will be idiots.
But now comes the question: Why does Manny Pacquiao appeal so much to the Pinoy idiots who voted for him?
Well, some say that it's his dedication…
The only problem with that is that he's dedicated to his sports career rather than his political duties which raises the question: Why did he even tackle politics in the first place if he's not going to take it seriously?
Others say that it's his religious devotion…
Sure, the man knows his Bible verses. Unfortunately, as any good Christian will tell you, Bible verses aren't enough. Heck, even demons can sometimes quote Bible verses.
Then there are those who say that it's his philanthropy…
Well, I'll give him that. He's generous and kind to people. Again, unfortunately, as I've said before, the senate isn't about giving to charity and that one can always give to charity without having to be in politics.
The real reason ladies and gentlemen?
It's because they IDENTIFY with him. And no, it's NOT his good traits that they latch unto either. They don't really care about his generosity, kindness and determination. It's his NEGATIVE aspects they see which, to them at least, means it's okay for them to have it.
Yes, that's how the typical Pinoy idiot thinks. Their thoughts go along something like this: "Since Manny Pacquiao has it, then it's okay for us to have it too and therefore we should always support him no matter what he does!"
So what are these traits?
Well, here's three:
Narcissism
Truth be told, while Manny Pacquiao may present himself as a humble person, it's obvious from all his endeavors that he just wants it all. Now, his intentions may indeed be good but good intentions alone aren't a guarantee that a person will always be a good person and that his intentions will always remain good. All one has to consider is his choice of party-mates who are, for all intents and purposes, some of the most corrupt people in Philippine politics and the fact that he has not once called them out on their suspicious activities.
He is either simply too proud to admit that he is corruptible or he already is and is just using his apparent "goodness" as a front.
Your typical Pinoy idiot is pretty much the same.
The usual rhetoric of Pinoy idiots can be summed up in the words: "We will do what we want regardless of the consequences!"
They make it clear that they want it all regardless who they hurt in the process or how much they ruin things for the next generation. Just like Manny Pacquiao who has entered the senate thinking that he probably deserves the position even though he can barely focus on his job as a politician (as evidenced by his absenteeism and support and withdrawal of the BBL when he was still a congressman), many Pinoy idiots rush to make a decision that they all too often understand too little.
Irresponsibility
Here's something that really sucks. Before the election, Manny Pacquiao said that he would make less absences. Then, after the election, he goes on to say that he probably won't be able to attend much because he'll be focusing more on his interest in basketball.
Again, I can only repeat my question: Why did he even tackle politics in the first place if he's not going to take it seriously?
Unfortunately, the common Pinoy idiots didn't even notice this. Instead, thanks to their immature and irresponsible mindset, they simply see Manny Pacquiao as a solution to all their problems without them having to lift a finger! They see him as the savior who will somehow raise the Philippines and its people from poverty and defend it from its enemies even though the man's only real skill is in the boxing ring.
Hypocrisy
Sure, Manny Pacquiao is great at quoting the Bible and praying. However, if I remember correctly, boxing is perhaps one of the dirtier sports out there. Secondly, while he of course just loves using the LGBT community as punching bags, as already stated above, he has not once called out his political allies on their corruption. Worst still was when his party lost, he has now resorted to licking President Duterte's heels like a beaten dog.
And yes, Pinoy idiots are not so different. Sure, they make a show of being religious and wholesome. Unfortunately, these are all too often the same people who steal from one another like it's going out of style. These people who make a show of praying and throwing Bible quotes are sadly the same people who rape their own children or sell them into slavery, sexual abuse or worse. They even like to boast that "They are the only Christian country in Asia!" even though majority of them can't even be bothered to really understand the contents of the Bible.
[Photo courtesy Telegraph UK.]
I HAVE RETURNED TO LAY WASTE TO OUR ENEMIES!