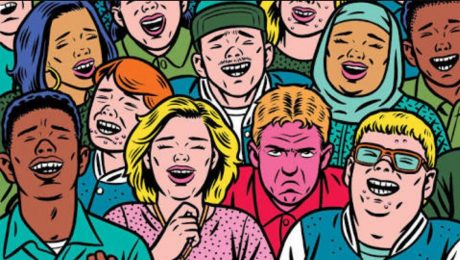 I remember writing an article about the way Pinoys need to change their comedy and this is more or less an extension or expansion of that article. See, besides annoying slapstick that seems more like cheap ripoffs of cartoon shows, Pinoy comedy is rife with stereotypes that would otherwise be deemed offensive in other countries and would easily earn one a good sized lawsuit or two and perhaps even a lynching from the people concerned. What makes things worse is that Pinoys can be so hypocritical in that they just love to make fun of other people but when someone, namely foreigners in their own comedy shows, turn the tables on them and make fun of them, they cry bloody murder and demand an apology.
So here are three stereotypes in Pinoy Comedy that need to be phased out or changed:
The Flamboyant Gay And The Masculine Lesbian
Granted, these stereotypes actually exist but they are never portrayed in a way that is fair or truly sympathetic. At the end of the day, these characters are just made to look like idiots who want to be the opposite sex with little else to them asides from their envy of the alternate gender. Rarely are they portrayed as actual people, human beings with their own feelings and interests, and are just depicted as perverts who are interested in people of the same sex.
The Dark-Skinned Native
Another offensive stereotype that is common in Pinoy Comedy is the depiction of Filipino natives. They are almost always portrayed as either primitive-minded people or outright savages with no real understanding of modern living. They are almost never portrayed as educated people who can be every bit as competent as anyone from the city. What's worse is that their short stature and dark skin is almost always shown as "ugly" and are often regarded as somehow less than human by the main cast.
People With Mental Disorders And Disabilities
Well, Pinoy media is already well-known for getting their facts wrong just about everything. In typical shows on prime-time TV, mental disorders are all too often downplayed or outright wrong. Instead of making these people sympathetic by portraying them accurately and encouraging people to understand them, they are shown as dangerous individuals who are either evil or possessed. In real life, these disorders and even some disabilities can be controlled using therapy but don't ever expect this kind of thing in the local media, especially in our brand of comedy.
***
Thing is, this is the kind of comedy that has little to offer people asides from developing their bigotry and ignorance. Indeed, like some of our commenters here, I long for the day when we'll have a smarter and less offensive form of comedy. Looking at the kind of comedy we have today, I can only say that the things we love to laugh at are all too often ourselves and that by bullying those people mentioned above, we only show that we are a nation of bullies who are deeply insecure.
I HAVE RETURNED TO LAY WASTE TO OUR ENEMIES!