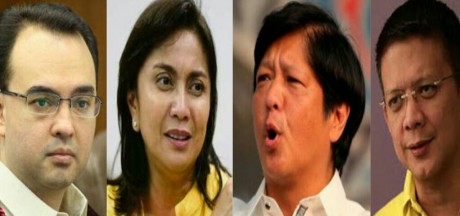 The one and only Vice Presidential Debates hosted by CNN Philippines became mostly about Senator Bongbong Marcos. If not for Marcos Jr, the debates would have been boring. It seems most people just want to hear from him and what he has to say. Well, except of course for the hecklers who kept interrupting him by chanting "Never Again".
The irony of what the members of the Never Again movement are doing escapes them. They complain about human rights abuses but are also quick to deny an individual's right to presumption of innocence and right to a fair trial. They are not even good at following rules. They kept heckling even when the rules from organizers were clear against heckling and interrupting the proceedings. They behaved like they were an audience in a gladiator ring – uncivilized.
The members of the Never Again movement do not want to listen to what Marcos Jr had to say because they are afraid they could be proven wrong. His rivals like Congresswoman Leni Robredo kept bringing up the victims of Martial Law even when their cases have already been settled. They didn't bother to understand what Marcos Jr was saying about the status of the settlement.
It turns out that the current government under President Benigno Simeon Aquino is the one delaying granting reparation claim. In the last two years since the law granting the compensation was enacted, hardly anything has been done.  It seems BS Aquino's law was simply for public relations purposes – to make him look compassionate to so-called victims of Martial Law. But this is only on paper and was not followed through by action.
Samahan ng Ex-detainees Laban sa Detensyon at Aresto or SELDA said the delay in granting the compensation "reflects how the Aquino government treats human rights victims then and now," as it noted that instead of diminishing, the number of human rights violations has increased in the waning months of the current administration.

It also pointed out Aquino has yet to name a replacement for former HRVCB member Chito Gascon, who is now chairman of the Commission on Human Rights, causing even more delays in the panel's work.
Leni Robredo came across as not well-informed about the status of the compensation claims of Martial Law victims. She just sounded like a broken record. She doesn't have anything much against Marcos Jr except for atrocities allegedly committed by his family during Martial Law. She is irrational when it comes to putting Marcos Jr down. Maybe that's from hanging out too much with an irrational crowd like the Never Again advocates.
The problem with Robredo is she is too beholden to the Aquino name. She keeps turning a blind eye to atrocities committed during Aquino's term. She promotes her platform and ideas on how to solve the country's problems while ignoring the fact that the country's problems worsened in the last six years.
At least the other VP candidates acknowledge the current government's shortfalls. Robredo may have good ideas but being associated with the Liberal Party is pulling her down.
Senator Alan Peter Cayetano acted like he was in a Senate hearing. He was acting like a mad dog spewing baseless accusations against his rivals. He spoke as if he is not corrupt. He probably thinks the public hasn't read the news item about the Commission on Audit asking both him and his sister to return unused pork barrel funds:
"Pursuant thereto, the unutilized/unused  PDAF funds for the period CY 2010 to 2013 from the legislator proponents of different projects in the amount of  P39,588,528.41 as of December 31, 2013 as shown in the Subsidiary Ledgers should not be disbursed and has to be remitted to the Bureau of the Treasury (BTr),"  COA said in its report.

COA said Alan has to return P21 million of the P44 million pork funds he gave to the city. The pork funds were for the purchase of 18 multi-cab units worth P9 million, construction of North Signal Village Health Center worth P5 million, financial assistance for indigent patients in Taguig City Hospital and Western Bicutan for P3.5 million, financial assistance to families in crisis worth P5 million, and construction of 5 multi-purpose buildings for P21.5 million.
Cayetano came across like a hypocrite. He is against political dynasties but is married to Taguig Mayor Lani Cayetano. He is also the brother of Senator Pia Cayetano. No wonder the voters do not like him. He is so unpopular in surveys even when he is already teamed up with Davao City Mayor Rodrigo Duterte, who has become second most popular Presidential candidate.
All the other Vice Presidential candidates were so boring. Senator Chiz Escudero is only popular because he is married to a beautiful young actress Heart Evangelists. There is nothing special about his ideas of governance. He is also into patronage politics. We recall that he was one of the senator judges who voted to impeach former Chief Justice Renato Corona even when as a lawyer, he should have known that the charges against him were trumped up and that information used against him were gathered illegally especially when Anti-Money Laundering Council divulged his bank accounts without Corona's consent.
Senator Trillanes spoke about his ideas like fixing the traffic problems as if it was as easy as installing another light rail transit. The government cannot even manage the maintenance of the Metro Rail System properly but he wants to add more of them. It's quite bizarre why Trillanes is running for the Vice Presidency when he knows he is not popular. He should still be serving his jail term for rebellion. The only reason BS Aquino pardoned him was because he was jailed during former President Gloria Arroyo's term. We all know BS Aquino hates Arroyo. Trillanes's enemy is BS Aquino's enemy.
Another Vice Presidential candidate who does not have a chance of winning is Senator Gringo Honasan. As much as he appears to have sound ideas, his charm with the crowd has faded. The sparkle in his eyes is gone. He doesn't seem relevant to the voters anymore. I doubt if any of the members of the audience actually listened to what he had to say. It doesn't help that he is associated with Vice President Jejomar Binay. Sometimes that's all it takes to lose. Just ask Mar Roxas who is associated with BS Aquino.
The VP debates are more entertaining than the Presidential debates. Frankly, the Vice President is not really going to make a difference in the policies of the President particularly when the President is from a different political party. But if Duterte wins and fails to curb criminality within six months as promised, he might turn over the Presidency to his Vice President Marcos Jr. Assuming the latter wins the VP. In a democracy, the voters will decide on that.
In life, things are not always what they seem.