It's about time we give Taglish, the bastardized version of Filipino/Tagalog, its rightful place and recognition in our society. Taglish (once perceived as a virus, and treated as if it were some kadiring cockroach) has now pervaded every nook of our existence. We use it practically everywhere – in offices, schools, pulpits, talk shows, live news, and political speeches; there's probably no point trying to bring down one resilient son of a bitch. So if you can't beat it – might as well throw in the towel and welcome it with open arms.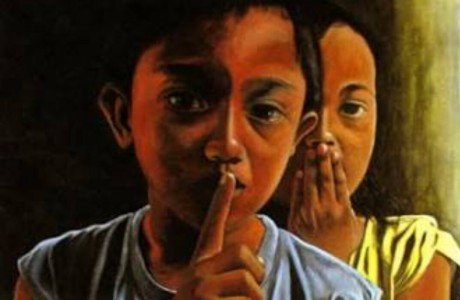 Besides, there's hardly anything pure in the Philippines anyways: a wild assortment of Chinoys, Aetas, Lumads, Igorots, Spanish/American Mestizos and every flavor of mixed-race variegated Homo sapiens in between, with a vast and colorful culture that speaks of our rich history under many colonizing influences and interactions with nations around us. Even our very food is a total mix up of everything under the sun – just look at the color of Menudo or Afritada. The symbol of our national transport system, the brightly adorned Jeepney, is a mix of the abandoned American general purpose (G.P. ="Jeep") service vehicle of WWII and Filipino "craftsmanship" and "ingenuity" kuno.
Well, since Taglish is here to stay, we should probably dress it up in coat and tie, spray some deodorant, and give it a signet ring by formally calling it "Modern Filipino" (or Mestizo Filipino).
The Bastard Who Became Ruler
In the historical archives of Israel, there was a story of a man named Jephthah, a bastard (son of a whore) who had been ostracized by the legal family members, but rose to prominence to become the ruler and judge of Israel, after the legal family called for his help to lead them to victory against their oppressors.
So has Modern Filipino (Taglish) emerged from the natural evolution of Pure Tagalog as it collided and assimilated with indispensable lingua franca English, which in and of itself is a massive agglomeration of root words originating from ancient European civilizations.
Modern Filipino = Tagalog + English
Modern Filipino is a superset language. We can also call it X-Filipino for "extended" or "expanded" (rightly fitting a bunch of banana-eating X-men "mutants"). It is therefore bigger than English itself because it combines two officially known languages into one. There are two ways to mix the two:
Alternating between two pure sentences. Tagalog. English. Tagalog…
Mixing both Tagalog and English words in the same sentence.
There is no point translating nouns and technical terms into some absurdly sounding Tagalized equivalent (stop wasting your time and effort people at Sentro ng Wikang Filipino; put your man-hours elsewhere) – it's just total malarkey! "Textbook", "revolution", "evacuation" and "acceleration" do not have to be dumbed down into Tagalog-sounding "teksbuk", "rebulusyon", "ebakyuasion", and "akselerasyon", respectively. (Let's not end up like the Japanese who have to re-spell "election" to "erection"!) Just use the English terms as is. Adjectives like "cute", "smart", "convenient" and "efficient" are all accepted as Modern Filipino words. Edi napakaconvenient diba?
So let's just give this a try – and see if Tagalog dissolves into oblivion once combined with a super-power language like English. Fellow contributor Add rightly summed it when he said "the weaker language will be swallowed by the stronger."
Schools Must Teach Modern Filipino Correctly
Verbs must be inflected correctly using conventional rules applied to Tagalog root words: submit becomes nagsubmit (past tense), magsusubmit (future), nagsusubmit (present progressive).  Other inflections… Kinoconnect, pinapaconnect, nagpaconnect. Let's practice forming some complete sentences:
Magtetake ako ng exam para makakuha ng driver's license.
Nagcrash yung bus dahil mahilig magtext yung driver habang nagdadrive.
Dinifine ng teacher ko kanina ang velocity bilang speed ng isang object na kasama ang kanyang direction (bale isa siyang vector).
So how do you like your new official Modern Filipino language? Sounds perfectly right, right? Malamang, this is exactly how you sound pag kasama mo ang iyong coworkers, kabarkada or classmates. Huwag kayo magalala, even I (pure English advocate as I am) am guilty of Taglish, este Modern Filipino. So we shouldn't be ashamed of it anymore. That's just how we have evolved to be. It would be hypocritical of any of us to deny we speak Modern Filipino, especially in casually conversing with friends over a cup of coffee.
I know spelling can be a nightmare though: should it be "nagsasummarize" or "nagsusummarize" or "nag-susummarize" (with hyphen)? I guess some rules just have to be invented as we go along. And whoever uses which rule most – wins!
Reaching Out to the Masses
One goal of institutionalizing Modern Filipino is to empower our people with English terms and vocabulary. Sooner or later, mapapansin natin ang ating mga kababayan tulad ng squatters, poor farmers, at katulongs will all be talking like any of us "intellectuals" here at GRP.
In fact, I'm a bit concerned that people are shying away from discussions here at GRP for the very reason that it seems the "elite" highfalutin English-speakers and foreign nationals have dominated practically all the discussions and exchanges. Kaya siguro maraming na-oOP (out of place).
I don't know – I could be wrong. Maybe the pure Tagalog speakers are just too busy with the crap TV shows, they just don't see the "fun" in reading articles and blogging in a language that causes them nosebleed. I've seen Grimwald publish articles here in PURE Tagalog before to reach the masses (I must admit masakit sa mata basahin); but not after Ilda (in the comments) expressed how she's not sold out with the idea. Maybe their views have changed.
I used to feel visceral revulsion (pandidiri) over politicians speaking in Taglish. But recently I have been watching lots of Digong DU30 interviews and speeches. I saw how he just kept code-switching between the two languages – at kung tutuusin, it's exactly how I speak in real life. So maybe, kailangan na nating harapin ang katotohanan – Modern Filipino is the new reality.
Tagalog Purists have lost the fight. Even the call to have pure English in formal/public events has fallen on deaf ears. The compromise – Modern Filipino (formerly called Taglish) – now sits on the throne as the undisputed de facto standard of verbal expression. Good luck with this communication tool guys; nawa'y magamit natin ito ng effectively para maka-reach out sa ating mga less fortunate na mga kababayan.
This Article is an Experiment
Don't get me wrong. I will not likely be writing articles here in this mixed-language mode much. Pag-writing/reading gusto ko kasi pure English ("sa pamamagitan ng" (by) is nakakaduling basahin). But if it's spoken vernacular – my tongue goes into Modern Filipino mode. And it's kinda condescending to talk to a fellow Pinoy in pure English (paring hindi natural). But I grab the chance to talk with foreigners to keep my tongue fluent (you can get big jobs actually if you have confidence in English, esp. combined with an American twang). So this article is just an experiment.
Marami siguro ang mag-rereact ng violently sa pag-lelegalize at pag-uplift ng bastadong Taglish. But that's reality – languages evolve. We are mixed to the core of our being as Filipinos – kailangan na nating iaccept and reality at magmove on (this debate can't go on forever). And this is probably the only way para ma-empower natin ang mga mahihirap with superior English vocabulary (which can free their minds) – kung maririnig nilang ginagamit natin ang mga key English words sa isang language na kung saa'y comfortable sila.
Mestizo, mestiza, menudo, afritada, …  and now a fitting mixed language called "Modern Filipino" to tie 'em all together. We can even call it "Philipino" to show we have gone beyond just accepting "F" and now have included "Ph" into the set of building blocks of our national language. As long as freedom-loving Pinoys are happy – sige na nga, Panalo!
Zealous revolutionary advocate of bringing back common sense for the common good in a land of dysfunctional and delusional zombies.