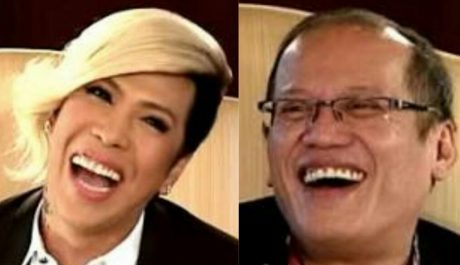 Okay, so I finally got to see the video wherein Mayor Duterte of Davao allegedly made fun of the tragic death of Jackie Hamill, the Australian missionary who was raped and killed in a prison back in 1989. I also heard more details of the tragedy and, from watching the video, hearing the man's later statements and reading the whole story, I begin to see another side to Mayor Duterte's alleged "rape joke". Now look, I'm no expert and I sure as Hell wasn't there to see the whole thing so my own views and opinions may seem biased or at least skewed.
Still, there are two things in the video that need to be expounded upon:
ONE: I don't think Mayor Duterte was really telling a joke.
TWO: People laughed anyway.
So what does this tell me?
Mayor Duterte isn't the one at fault here. It was you people who laughed when he was in fact talking about a very serious matter. It was you people who insist that it was just a joke and that we shouldn't take it seriously. It was you people who seemed to think that the rape and murder of a kindly missionary is actually funny and should be laughed at.
Anyway, enough about Mayor Duterte because this piece isn't about him at all. This piece is about you, ladies and gentlemen, my fellow dysfunctional Pinoys who seem to think that tragedies like the violation and butchery of other human beings are things to laugh about. Yes you, the same people who even struck a pose with stupid grins while being photographed in front of the bus in the Luneta hostage crisis or you sorry excuse for human beings who think that treating your children like animals by putting a leash and collar on them is funny or even "cute".
I've already said quite a bit about the immorality of the media and how it has warped us over the years into the dystopia we are today. However, the thing is, this isn't really just the media's fault, is it? This also has a lot to do with you, my dear stupid countrymen who seem beholden to the sick comedy in our country.
Here are three of them:
Offensive Stereotypes
Why do we like to make fun of people who we don't consider as "normal"? Why do we have to go out of our way to make them funny and even more ostracized? Why do we enjoy laughing at people who don't fit our standards of normalcy?
This is something I see all too often in our TV shows. Flamboyant and effeminate gays who all long to become women, people from indigenous places in the Philippines who are depicted as dumb and uneducated and then you have people who either have dark skin or simply don't match our standards of beauty whom are immediately labeled as "ugly". Would it hurt so much if they once depicted a masculine gay man with heroic qualities, a genius from our islands or provinces or a dark-skinned woman who is presented as a beauty queen.
In more developed countries, these kinds of stereotypes are generally avoided as they can easily hurt the feelings of some viewers. However, here in the Philippines, stereotypes in local shows continue to be the norm and are even outright supported.
Over-The-Top Slapstick And Bullying
Look, I don't mind a little slapstick comedy. In some foreign comedy programs like How I Met Your Mother, there's also quite a bit of slapstick. However, they're never really that mean with it and they show that everyone in the show is a possible victim. So yes, everyone in the show including the hero, or especially the hero, is a frequent victim of slapstick.
However, the thing with slapstick in the Philippines is that it can be so mean and outright brutal. Tying in with the above, I can't help but notice that more often than not there will be a side character who will possess some of the characteristics I mentioned above (i.e. homosexuality, country boy/gal, dark skin) who is made to be the frequent target of mean-spirited slapstick jokes. They single out people whom they think are somehow "different" and mercilessly ridicule them or worse, outright subject them to violence. It's almost as if our own media is telling us that making fun of said people is not just inoffensive but actually "normal". Worse, some of us even adhere to this kind of thinking and continue to make fun of others we don't understand.
Take for instance Vice Ganda who also made a rather insensitive rape joke against Jessica Soho not long ago. While that was even more despicable than Mayor Duterte's alleged "joke", there were still plenty of people who were willing to defend the insensitive comedian with the most flimsiest of reasons simply because they find his bullying of others "funny".
To make matters worse, when people finally get offended and react accordingly, perpetrators all too often hide behind lines like: "It was just a joke!" or "I was just kidding!"
Tasteless, Lewd, Cruel And Stupid Jokes
Another thing I hate about Pinoy comedy these days is that they tend to be intolerably stupid. Yes, you can call me an arrogant pseudo-intellectual because of this but I must say that comedy in the Philippines has devolved into annoying pick-up lines, lame puns and insults.
Whatever happened to jokes like the following?
Mokong: Let go of my brother and sister monster, or else!
Monster: Or else you'll what?
Mokong: Or else, I'll get down on my knees and beg! Please Mr. Monster let go of my brother and sister!
I don't know but that short dialogue still cracks me up to this very day even now that I'm actually quite angry.
So what happened to stuff like what I just mentioned?
Now they're replaced by jokes that are just plain lascivious like those made by that disgrace of a man Willie Revillame or attempts at looking cute like that Kathniel couple who sold themselves out to Roxas.
***
Okay. There, I'm finished. Bring it on butthurts!
I HAVE RETURNED TO LAY WASTE TO OUR ENEMIES!