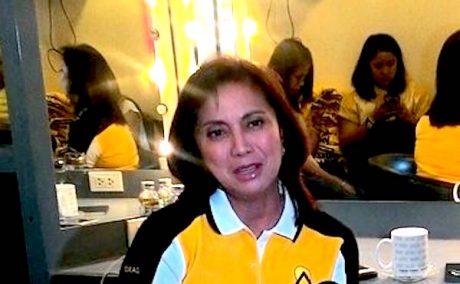 Watching Leni Robredo in last night's vice presidential debate deliver her closing statements voice quivering and on the verge of tears, I thought: Ok, if Chinese troops started parachuting onto Manila while Leni Robredo was VP, what's she gonna do? Cry and talk about her mommy issues?
But that is exactly what she's framed her entire pitch to Filipino voters on — how she set aside her mommy duties and "sacrificed" the wellbeing of her family to "serve" as Vice President. Those trite expressions of "sacrifice" mixed with crocodile tears, dramatic pauses, and sob stories about family ties have become standard fare in Philippine politics since the Queen of "Sacrifice" ascended the presidency in 1986 thirty years ago. Filipino leaders are no longer voted into office on the back of their strength. They are chosen because of their weakness.
It is ironic that Robredo's supporters now play the feminist card. The slogan "May the best woman win" now characterises her campaign. Robredo is, of course, the only woman in the VP race. Her supporters have foolishly made this her key selling point. Unfortunately, these armchair feminists have lost sight of the reality of what it means to be a woman trying to make it in a man's world. For a woman to make it in a man's world, they have to slug it out like men.
Robredo stood out amongst the VP candidates because, well, she was a woman acting like a woman. She was a stark contrast to the steely politics-hardened men she presumed to be "debating" with last night in that circus hosted by ABS-CBN dubbed with the hashtag #HarapanBise (literally "vice face-off"). On national TV and on Twitter where the hashtag "trended worldwide", Robredo attempted to push the same old buttons that worked wonders on the electorate back in 1986, and again in 2010 — a sorry spectacle that stood in stark contrast to her more manly rivals for the VP seat who kept things to the point, short and sweet, and relevant to the real challenges the Philippine state faces over the next six years.
There is, we need to remind Robredo, an army that needs to be motivated to fight two fronts — the chinks digging themselves into the nation's West Philippine Sea territories and Islamic and communist terrorists carving out turf in the hinterlands. Robredo needs to be reminded that there are deals to be made with Northeast Asian taipans who, again as reality makes a bitch about, would rather clink whisky glasses with penis-equipped business partners in black suits. And if her running mate Mar Roxas is to be made an example of, she also needs to be able to ride a motorbike into the eye of a storm to usher hapless soon-to-be calamity victims into the basement to hunker down for the night.
I'm not saying that women cannot do all of those things. The thing is, dyed-in-the-wool feminists themselves talk incessantly about a need for girls to grow balls bigger than mens' to make good on their efforts to champion The Movement. Funny, isn't it? Women's rights "activists" themselves point out that women need to be anatomically like men to win against them. Robredo, took the other path in last night's "debate", however. She made her being a mother her main argument as to why she ought to be the vice president of the Philippines.
Who then is the real sexist here?
Suffice to say, her rivals will never be mothers. You need a uterus for that job. What Robredo's rivals do have are balls — real flesh-and-blood balls and not the "steel" ones that form part of those quaint metaphors traditional feminists have reduced to a laughable cliché.
In the bigger scheme of things, the whole problem with the Philippines is that it has, for the last 30 years, failed to man up. It is no longer man enough to face the Chinese. It is not man enough to take responsibility for the idiots it elected to lead it. It is not man enough to compete in the global business world on its own terms.
The last thing the Philippines needs are leaders who, themselves, cannot man-up.
What does it take to man up? You need to think like a man to understand what that concept really means.
benign0 is the Webmaster of GetRealPhilippines.com.