Okay, before I begin, I want to cite three incidents found in the Bible, specifically the New Testament, since a lot of you just love to use it to justify your wrongdoings, bigotry and general stupidity…
Scenario 1
Okay, Jesus had just recently begun His career as a preacher in the land of Israel. A lot of people were impressed with the way He spoke, preached and carried Himself. It was then that people began to believe that He was the chosen "Messiah" that would lead the Jews to a brighter future. Soon, thousands upon thousands of people followed Him, believing that He would save them all from their troubles.
SUPPORT INDEPENDENT SOCIAL COMMENTARY!
Subscribe to our Substack community GRP Insider to receive by email our in-depth free weekly newsletter. Opt into a paid subscription and you'll get premium insider briefs and insights from us daily.
Subscribe to our Substack newsletter, GRP Insider!
Learn more
But then, one day, Jesus saw how many people were following him and decided to confront them about their intentions.
"Hey, why are you folks following me?" Jesus asked them. "Are you following me because you think I'm going to perform miracles for you? That I'm going to amaze you with miraculous spectacles? Well, I'm sorry because that's not why I'm here. If you guys just decided to follow me because you want entertainment, then I'm sorry to disappoint you because I'm not here to entertain you."
When the people heard this, almost all of them left leaving only a handful of people who would go on to become Jesus' disciples.
Scenario 2
Jesus had just recently performed a miracle wherein he fed thousands of hungry people. Realizing that other people might come looking for him because of this, he took his disciples and ran, or rather rowed away, across the Red Sea to where people might not be able to pursue them. This wasn't because Jesus didn't want to help people anymore. This was because he knew that people would only want to rely on him rather than on themselves for food.
Scenario 3
I'm sure you guys know this one.
When Jesus entered the city of Jerusalem, people were overjoyed at his arrival. They went nuts, bringing with them palms which they waved in the air towards the man like it was nobody's business. They hooted and cheered Jesus' name and probably partied really hard after that and, more likely than not, telling their own stories of how they came close and touched the Messiah. Of how they came to greet and welcome the savior of the Jewish people, much to the derision of their rulers, especially the Romans whom they saw as foreign oppressors.
But then, the scribes and pharisees came out of the woodwork and accused Jesus of blasphemy. "Heretic!" They cried, saying that his words and actions would destroy the foundation of their religion and nation. They had him arrested and planned his brutal execution. After Jesus was tried and condemned as a "heretic", the same people who welcomed him into Jerusalem cursed and spat at him when he entered the city again, this time as a prisoner to be killed. They followed him as he dragged along his cross in the streets of Jerusalem, hurling both insults and stones until he was brought to Mt. Calvary to be executed through crucifixion.
***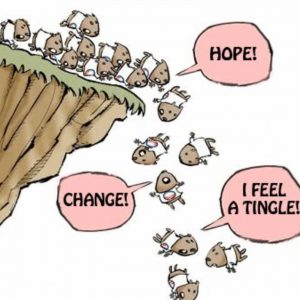 I was born a year after 1986 and wasn't around to see the big revolution everyone seems to be clamoring about. However, I can't help but notice that while those in high positions during that year remain in high positions, nothing ever really happened to those who did all the work in the crowded streets of EDSA. Indeed, based on what I'm told, the big church leaders like Cardinal Sin (the man should really change his name, if you ask me) just gathered up people to protest for "People Power". At first, they probably just came because the people in charge were going to give them money. But then they saw that more and more people were doing it and they thought: "Heck, if you can't beat them, join them!"
And the rest is pretty much history…
Bandwagoners. They're everywhere in this day and age. Being a "nerd", I'm often ambivalent towards the people who follow a given fad because it's the cool thing to do. After all, after a fad passes they go back to their normal, largely indifferent selves and go after something else. Sure, with all the hype that superhero films are getting these days, everyone seems to want to be an expert on comic books and video games. However, trust me ladies and gentlemen, when all this excitement blows over in the next decade or so, comic book and video game nerds will go back to being nobodies to common people who will just find them "weird" again.
However, while I'm often amused by pop culture bandwagoners, I have no love for political bandwagoners because they have no real "loyalty" to their chosen candidate. Besides, politics isn't entertainment, that's another thing that majority of Pinoys simply don't get. Sure Captain America and Iron Man might entertain people, but they're just entertainment. However, the ongoing debates between Mar Roxas, Jejomar Binay, Grace Poe, Rodrigo Duterte and Miriam Santiago aren't just entertainment guys, they're the people who're going to rule over this country for the next six years. What's worse is that there are those of us who just see the upcoming elections as just one big "cockfight".
A good way to see the kind of bandwagoning mentality our countrymen tend to have is why nobody seems to be interested in supporting Senator Santiago just because the surveys (which are really biased anyway) says that she has little chance of winning the election. Also, I can't help but notice that a lot of people might be clamoring for Duterte right now because he will bring change to the Philippines but I can only wonder if they will continue to support him if he starts cutting back on the activities they find enjoyable such as littering, cutting in line and causing all kinds of traffic regulations. Indeed, I often worry that a lot of these rabid supporters of Mayor Duterte will suddenly turn on him once they realize that he isn't going to put up with their dysfunctional behavior. Just putting this out there guys…
I HAVE RETURNED TO LAY WASTE TO OUR ENEMIES!