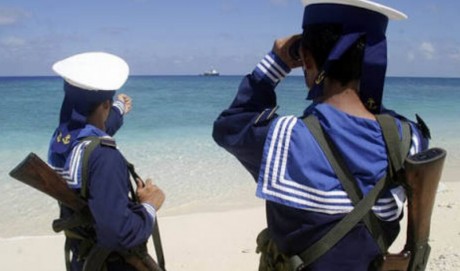 I suppose most of you here already know the news that yet another sizable chunk of Philippine territory has been seized by the People's Republic of China. They took it without any kind of resistance and, from the look of it, they're likely to take more if we, the common people, don't take it upon ourselves to do something and soon. Indeed, more likely than not, if the Chinese military were poised to take over our country, there is so little hope for us in stopping them without suffering terrible, terrible casualties. But then, one has to remember, that there was a time when we were not just capable of defending ourselves as a sovereign nation, but also lauded as one of the more progressive countries of Southeast Asia.
But what happened?
Long story short, while we were always largely dependent on the United States for a lot of aid, we at least knew what we wanted all those years ago and we understood well what our priorities were. However, today, it's a different story. Granted, our selfishness and clannishness are somewhat inherent in our culture but, at least in those days, people could put those aside for the greater good. Nowadays, it seems that everybody is just out for themselves and their immediate family and would gladly screw over just about everyone else if that would benefit them.
In these difficult modern times the Philippines is barely a blip on the global community's radar. The only thing pulling for us are people like Manny Pacquiao and Lea Salonga who afford us some degree of pride but not much else. At the end of the day, some foreigners don't even know we exist as a country and, even if they did, they wouldn't bother to remember us unless we get nuked or something.
You see ladies and gentlemen, nobody takes us seriously especially the Chinese because we, as a people, don't take ourselves seriously. Yes, I am aware that we don't need to be all uptight but what I'm saying is that a lot of us are no longer just "taking a break" from our collective problems but are instead actively running from and refusing to face them. All you need to do is take one look at our media and the people who actually obsess over the shallow entertainment it provides and you see where the problem lies.
The grim truth is that Filipinos simply don't want to face the problem that is now staring at them in the face and would rather go crazy over trending fads like celebrity couples, noontime shows and silly vegetable men. While I mentioned that there's nothing wrong with escapism, we seem to indulge in escapism to the point of being delusional. For many of us even, the news regarding China's recent conquest of our territories are irrelevant compared to the showbiz garbage spewed by our local channels which many of our less-informed countrymen are more than happy to lap up.
Indeed, it's sad to note that the only platitudes our authority figures can offer to our frightened countrymen is: "Don't worry America will help us!"
It is this mindset, ladies and gentlemen, that has led to the Philippines' further ruin. Until we can learn to face our problems instead of blatantly avoiding them, then I can guarantee that our problems are just beginning. Remember always that "positivity" isn't about ignoring the negative but learning to work with or around it.
I HAVE RETURNED TO LAY WASTE TO OUR ENEMIES!