Recently, Martial Law became the topic because of my alma mater, Ateneo, coming out with a statement claiming that vice-presidentiable Bongbong Marcos is revising history. My question is, what historical revisionism is being done? All Marcos said in effect is, let people decide for themselves what they want to believe. There's no revisionism in that. There's also the assumption that the younger Marcos is part of the group that deserves to be punished for torturing and killing Filipinos back then. But he was also a kid that time and would have no knowledge of how to make Martial Law work for him. His father and the government officials at the time, including Juan Ponce Enrile and Fidel Ramos, were calling the shots.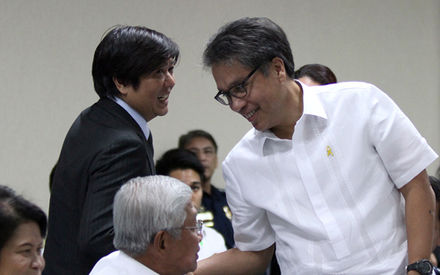 They're probably thinking of the alleged connection between Imee Marcos and the murder of Archimedes Trajano. I have been shown an article from 1992 where a U.S. court found the Marcos father and Imee liable for this, but was also told a Philippine court voided the case. There is also the picture where it is alleged that Bongbong Marcos was in fatigues because he wanted to bomb and kill ordinary people. I would say that's someone's opinion. It was more likely that he was preparing to defend his family because of the coup d'etat that Enrile and Ramos mounted at the time, the event that was the actual start of Edsa 1 (I wonder if people even remember that there was a coup d'etat at the time, and that there was a firefight at the channel 9 tower where a soldier was killed; "bloodless revolution" my foot).
I can guess what they're actually thinking. They believe is that letting Marcos go free supports impunity. This is thought of as absolving the perpetrators of their crimes and letting justice stay unserved. So Bongbong Marcos running around free angers them.
Let me just repeat one thing that fellow blogger Ilda said before: the Marcoses are back because the Aquinos welcomed them with open arms. Also, as our esteemed webmasterBenign0 wrote, serious allegations have to be run through a court of law. Otherwise they are just hearsay, the legal term for tsismis, something which still has the capacity to damage people.
If they claim that jailing Marcos is symbolic, it would be a false symbol. It is like how I explained the case of former president Gloria Arroyo; people want a symbolic scapegoat to be punished, but will let all the others doing the actual corruption run free. It is not a victory, it is defeat.
Let's say they indeed convict Marcos and get him jailed: what will it effect? Will it solve our economic woes? Will it make people's lives better and easier? Perhaps it will make people feel better. But people feeling better does not solve problems, it only masks them. And once the effects set in, people will stop feeling better. As the saying goes: you can jail the killer, but it won't bring the murdered loved one back.
There is also a clear double standard. Why don't the Ateneo people make a statement condemning the two Aquino regimes, as they have atrocities committed in their name too, such as the Mendiola Massacre in 1987 (which before I mistakenly believed was Marcos era) and the recent SAF 44 murder by insurgents? Thus, many other accusations fly that the faculty were bought, if not deceived.
As my title says, all this distracts us from the real issues affecting us. Among those issues are the problems brought up by our new blogger Cynicmandirigma, who highlighted the absurd difficulties in handling the paperwork for his business. There were so many anomalies in his experience that he advised people to flee the country instead of doing business here (I even surmised that the government people want more Filipinos to become OFWs, which will mean more money to pillage as "tribute"). That in addition to a crazy problem some months back with receipts when many business people have had new receipts printed, only to learn that the BIR still considered them invalid. Then this case of car plates from the LTO. I remember seeing a post that claimed the monumentally delayed car plates from the Land Transportation Office were now being made outside the country (maybe China), the claim being made by the former contractor (GJB). Presidential mouthpiece Edwin Lacierda denied it (see picture below). But now, why are the car plates in Customs if they're made locally? And more. This bureaucracy isn't the result of Martial Law, but a continuous buildup of corrupt practices in government that started in the Cory era.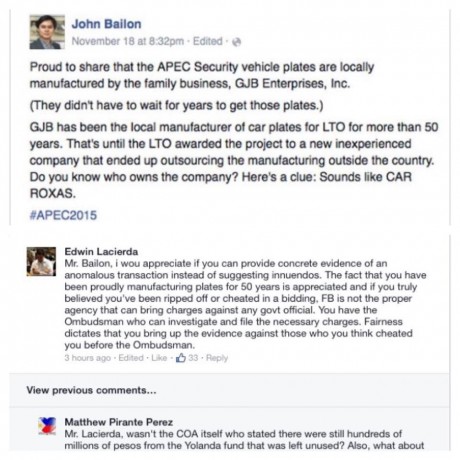 If people are afraid that Bongbong Marcos will impose Martial Law once again, I say that's silly. Martial Law implementation is a group effort, Bongbong can't do it alone. Back then, it required the help of Enrile, Ramos and other people to implement it. Don't forget even business and civil society leaders back then supported Martial Law. Today, no one would support that, because they know how dangerous it was. But anyway, business and civil society leaders will support whoever is in power, and the corrupt politicians will jump to whoever's the ruling party, so they can continue their shenanigans.
If ever martial law is feared, there's even more reason to fear Rodrigo Duterte doing it (despite his flipflopping on the issue). And some people who want martial law imposed again have this as reasons: asshole drivers on the road; the rocks being thrown by kids at cars on C-5; rise of crime in the cities and the brazen nature of it; and more. The loss of patience leads to people having greater acceptance for more drastic measures.
That helps lead to the point raised about why Marcos is getting popular; it's because the Aquino regime today is a failure. It's corrupt, too. So the people who realize the failure, if they have a black-and-white view of things, will switch to the perceived diametric opposite. And about the 2016 elections: does anyone even wonder why the choices are so none-of-the-above (NOTA – I remember that TV ad back then)?
I'd say people are really wasting their time calling for Marcos to be held liable if they are not calling for the current Malacanang seatwarmer to be liable as well. There are other things to talk about, such as the problem with the business process that cynicmandirigma wrote about, and other things. And, seriously, no one with the power or influence is even talking about the Chinese incursion in the Spratly Islands and other islands in the West Philippine Sea. They're just leaving the soldiers in the BRP Sierra Madre to rot.
Let me just say the painful but obvious truth about the real issues: Filipino culture itself is corrupt. We complain about politicians getting in unqualified family members and friends into posts, but we do that in ordinary life. We complain about politicians stealing from public funds and resources, but don't ordinary people do that to companies, schools, organizations and other funds as well? And having people killed through assassins or killing someone you hate, don't ordinary people do it too (just look at the news these days)? Truly, as was asked before, aren't our leaders a reflection of ourselves as a people?
The country's greatest enemy is its own people. Unless we, the people, fix our habits and behavior, we end up the ones dragging our country down.
I believe, as my cohorts here do, that what Filipinos embrace as their culture is what actually pulls the country down. And those who seem to be anti-dictators, who may also believe themselves to be "heroes," are the real dictators.