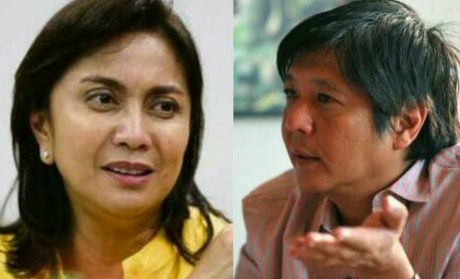 Bongbong Marcos being the 'wrong' choice for Vice President does not make your preferred candidate the 'right' choice. That does not make Rep. Leni Robredo the 'answer'. She has not demonstrated that she is capable of assuming the mantle of the vice presidency of the Philippines.
I have to speak out against this. This is stupid. This is moronic. This is a clear example of the oversimplification of political discourse. This is one of the reasons why our political and democratic institutions are stunted. People talk about 'educated voters' but when the so called 'educated voters' subscribe to this kind of thinking what then? What is the difference between 'educated voters' and 'uneducated voters' when their arguments are anchored on emotions? Hell, I'd wager that those insulted for being 'uneducated voters' know more about the REAL Philippines than many of those who proclaim to be 'educated voters'. The 'uneducated voters' are the people who bear the brunt of the often painful consequences of the decisions of the elite. They are the ones who can see, taste, hear, smell, and feel poverty. They are the ones who are most attuned to the pulse, the heartbeat of the Philippines – not those insulated in elite enclaves and especially not those living in the developed world, far away from the REAL Philippines.
SUPPORT INDEPENDENT SOCIAL COMMENTARY!
Subscribe to our Substack community GRP Insider where you can opt to receive by email our more comprehensive and in-depth free weekly newsletter GRP Mail. Consider also supporting our efforts to remain an independent channel for social commentary and insight by sponsoring us through a small donation or a monthly paid subscription.
Subscribe to our Substack newsletter, GRP Insider!
Learn more
Why can't we muster the will to discuss, in great detail, the issues that truly matter – not the issues that ivory tower academicians enjoy discussing over expensive coffee, but the issues that matter the most to the majority of struggling working class Filipinos?
How is necropolitics the 'answer'? Why is it that many Filipinos are compelled to vote for people with recently deceased relatives? Do they magically acquire the perceived capacity for governance of their dead relatives? Do they become possessed by the spirit or spirits of their dead relatives? How is perceived 'sincerity' the 'answer'? How could anyone consider 'good intentions' enough to constitute the 'answer'? Will 'sincerity' and 'good intentions' miraculously bestow upon you a keen appreciation of statecraft and political science? Will these attributes bestow upon you invaluable insights into the political economy?
The vice presidency is not for amateurs. If you were disgusted at Nancy Binay getting a Senate seat, why then are you changing your tune now? Is it because she doesn't have a 'respectable' last name? Is it because she does not look 'right' to you? We need people who can put together national-level plans and implement them properly. We cannot afford to waste time while the Vice President learns the ropes of executive national-level governance.
Good intentions' and 'sincerity' are nowhere near sufficient attributes or qualifications for the second highest position in the land. You can't solve the many ills of our country with 'good intentions'. You can't sincerely wish your country out of worsening poverty and deepening inequality.
We need a leader who can chart a clear course of progress, development, and unity. We need people with actual platforms that have actual actionable plans and programs. We need a leader who has extensive experience navigating the complex sociopolitical landscape of the Philippines.
Robredo supported the Bangsamoro Basic Law (BBL) of the Aquino administration despite its unconstitutional provisions and its bilateral – not multilateral, framework. She supported the proposal to increase SSS pensions but flip-flopped the moment Malacanang put forward its opposition to the measure. She even went so far as to claim that Malacanang had a point. She defended the veto of a bill she supported.
We need people who can think, two, three, four, five steps ahead. We need a Vice President who can lead.