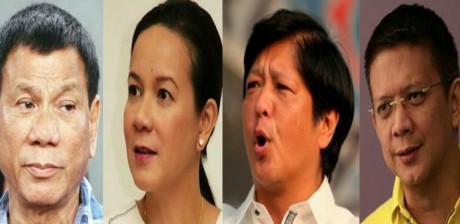 With roughly a month to go, I guess many of you have already "cast in stone" the names of who you plan to vote this coming May 2016 presidential elections. But just a final word of advice from someone who's "been there done that": Don't waste your vote guys! You will only regret seeing your vote go down the drain for having supported a highly qualified yet clear loser. Surveys are showing it's gonna be a homestretch battle between the Yellow Camp's spare tires and the Iron Camp's visionary intellectuals. The final gladiatorial showdown will be Grace vs. Rody and Chiz vs. Bongbong (the links clearly showing them to be on top of the charts). So you might as well dismiss the others to be nuisance candidates, like those distracting flies annoying you during a picnic at the beach.
Survey Says
If you've tried betting in a horse race as a clueless newbie before, it can be quite disappointing. Things happen so fast with just a few thoroughbreds going neck to neck at homestretch and the rest of the pack lagging hopelessly behind. It's either you wished you had a time machine, or wished you could change your bet on the fly during the final leg of the race.
But thank goodness political elections are not like horse races. You can actually cast a pretty informed intelligent vote based on the most winnable/viable candidates as we approach D-day by simply looking at the surveys. And in elections, you can change your choice and make a final decision based on who the leading contenders are in the crucial "last 2 minutes."
Surveys being sample tests have some margin of error, which is why they often say there is a statistical tie between two candidates. It's much like getting a sample of water from a pond and counting the bacteria; you can make pretty accurate conclusions about the rest of the pond simply based on the small cup you scooped up – weather it's safe to drink or not.
So why waste your vote on MDS when she is clearly and consistently way down on all surveys? Ask yourself: if I had the chance to change my bet during a horse race, would I choose the horse that is at the No.5 position with only 5 seconds left – well yeah, fat chances can be miraculous. But use your logic man! What's your God-given common sense in your coconut for?
Just because MDS is the most qualified both intellectually and in experience doesn't mean she's the one to vote. Unfortunately, this is a democracy (not a meritocracy) we have here where popularity is a huge if not the main factor. You have to fit your vote in with all the other voters – most of which are bobotantes who don't think as intellectually as you do.
More detailed surveys show that each candidate actually leads in their respective region, whether it be NCR/Balance Luzon, Visayas or Mindanao. Many in Luzon prefer Poe because they may be happy with the status quo (Luzon receiving the Lion's share of the pie), but mostly left-out disgruntled people in Mindanao want change – which is why they back Duterte. The polar opposite difference these two stand for was recently highlighted in Ilda's recent article.
Radical Development and Unity for the next 30 years
You who are familiar with my posts here at GRP all know that I'm for Iron Rule to bring back discipline and for the eradication of the two great evil twin towers in Philippine politics and society: corruption and incompetence. It just so happens that Rody DU30 and what he stands for almost perfectly aligns ("almost" because I still want Algebra in schools) with my own personal wish-list "platform" for this country:
changing the oligarchy-protecting constitution to allow better services and more jobs to come in,
moving away from Manila-centric development,
restoring the use of English in public communication,
raising up real home-grown industries involving advanced materials and technology,
stamping out criminality and the utter lack of discipline in every level of society – which are reflections of the Pinoy's poverty-inducing dysfunctional squatter mentality.
As we see the curtains close on the 30-year reign of the Yellow camp (led by the triumvirate of Pinoy zombification: Cory, Kris & PNoy), the country is ripe for a big transition into a new 30-year era, moving along the same path taken by Singapore – a goal that can best be achieved through tough leaders with real backbones, unquestionable intellect and lofty visions, considering how lame-duck dysfunctional Pinoys have grown to become under the sham Yellow democracy they have enjoyed for some time now.
Joining Forces for the Common Goal
In conclusion, those of you supporting MDS should just add your weight onto the winnable candidates of Iron Camp. By uniting to lump all our coins together to back a candidate that represents our best chances for radical change in this country, we can tip the scale of the balance in favor of our common desire for real and lasting change.
I'm quite positive we are headed to become a Singapore-class state; it's just a question of "when": do you want to take a hundred years? – well go ahead with Poe-Escudero. But if you're in a hurry like me (coz I still want to be alive to see the day), let's back up winnable (I mean winnable!) iron-fisted visionary intellectuals. Enough is enough! This time, the next 30 years should be for the Filipino masses who have suffered for too long, not just a few happy dudes in coats and ties enjoying their red meat and wine as they watch the carnage from their ivory towers.
Zealous revolutionary advocate of bringing back common sense for the common good in a land of dysfunctional and delusional zombies.