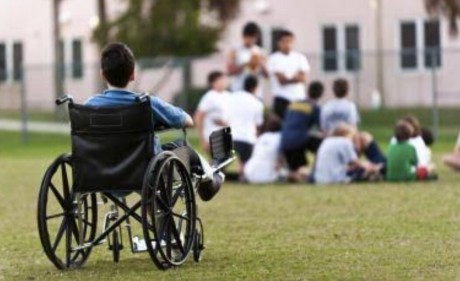 "They're not like you, why do you still hang out with them?"
This was a question directed at me by a vendor near the entrance of our school when I was hanging out with the "special needs" students who wanted to talk to me about aliens and UFOs. These "special needs" students were deaf-mutes and, while they could only communicate through sign language and writing, I enjoyed their company and their enthusiasm for various hobbies. At the time, I was just another high-school student (and a really lazy one at that) and I just smiled at the vendor lady who sold corn and cheese in a cup and told her I didn't at all mind the fact that communicating with my new friends was somewhat challenging because what mattered to me was their company and friendship. However, only later would I understand the full implication of corny cheese/cheesy corn vendor's question.
"But they're not one of us…"
This deplorable statement is something I all too often hear not just in dumb local programs but in real life societies as well. Granted, Pinoys aren't the only people in the world who like to discriminate but I was hoping that for a society that claims to be "globalized" we should be more tolerant and accepting of people who might be in some way different to us. I mean aren't we all human beings, after all?
Sure, we seem accepting of foreigners and the like but usually only if they look good, are rich or have a lot of good things to say about the Philippines. However, we are quick to condemn foreigners for criticizing the more negative aspects of our society and treat them like children of the devil. What's worse is that we like to maltreat our fellow Filipinos who are either less fortunate than us or don't quite fit our standards of beauty.
The incident I described above is not the first time I encountered this kind of behavior among our countrymen, mind you. I saw it when I was in college and how many students tended to look down on our janitorial staff at the time. I saw it in the way wealthier people speak in a condescending and annoyed tone to waiters and waitresses in fast-food outlets when their orders aren't served quickly enough. What's even more sad is that I also hear a lot of equally negative talk from some poor people who regard the rich as corrupt enemies who they come to believe to be responsible for their own poverty. Yes, that's right, apparently there are people out there who actually believe in the poor=good and rich=evil dichotomy that is often found in many typical Pinoy teleseryes.
I don't know if it's the result of the often misleading ideas and concepts put forth by our local shows or if it is in fact inherent in the very culture of our country. Almost always, even in the smallest sectors of our society, there are always those who seek to divide ourselves even further.
Ladies and gentlemen, I think I've mentioned before that I belong to an international gaming community. A short list of our members include, but is not limited to: A German working student, a friendly but bored American housewife, a Dutch supermarket cashier, an American company supervisor who loves X-Men, a Hong Kong company supervisor who's eagerly awaiting the release of the latest Berserk anime, a Brazilian fitness trainer and aerobics instructor, a Japanese marine biologist, an African-American marine who seems to obsessed with the anime K-On, a female American soldier with supernatural experiences, a Jamaican hotel manager who's afraid of ghosts, a Trinidadian dentist who worries too much, a Russian engineering student with a grim sense of humor, a Canadian maintenance man and conspiracy theorist, a Singaporean who utterly detests durians, a Texan deputy who doesn't like being stereotyped as trigger-happy, an Israeli chef who's fascinated by Filipino food, an Egyptian banker with a thing for cats, a Mexican short-order cook who specializes in spicy food, a Canadian military veteran who looks after his pesky grandchildren, a Scottish principal and of course, let's not forget, a certain perverted Filipino internet troll. And these are just the most prominent members of my community and doesn't even include the regulars who show up each day to run quests and blow off steam and stress but don't talk much to be very memorable. While we may all be different from one another, it goes without saying that we enjoy one another's company as we adventure together on various MMORPG worlds. Our respective backgrounds have little to no bearing on how much we have fun and, while we may have heated discussions from time to time and we may need to kick out the occasional bigoted or mean-spirited member, some of us go as far as to calling ourselves a "family".
In our society, where we're "from" often has more significance than where we're headed or what we can do. At the end of the day, we prefer measuring people by the outdated and often biased standards rather than their capabilities and what they can contribute to society as a whole. At the end, we forget the simple fact that we are all equals as human beings and that it is all too often we ourselves are the cause of so much fear, suspicion and hate between one another.
If we want genuine change in our country, I think it's high time we learned to both respect and accept one another as brothers and sisters in our beloved country for are we not all sons and daughters of the Philippines. Unless we can abandon our clannish ways and learn to be more tolerant of people who may not enjoy the same way of life we have, then our doom is assured as we will never be able to unite as a nation and overcome the challenges of the modern world together. I hope to one day see all Filipinos, regardless if they came from Ateneo de Manila, St. Louis University, University of Santo Tomas, UP Baguio, UP Diliman, Columban College Barretto, Metrosubic Colleges Inc., Sacred Heart Elementary School, Hogwarts School of Witchcraft and Wizardry, Shibusen, Schola Progenium of the Imperium of Man and no matter if they work in the PNP, the AFP, various government institutions, large companies or corporations, office buildings, supermarkets, traditional markets, gyms, fast-food outlets, sanitary engineering, sewer treatment plants and gay bars will have equal voice in our society. Let us move on ladies and gentlemen, not as individuals, clans and factions, but as a unified country for all Filipinos!
I HAVE RETURNED TO LAY WASTE TO OUR ENEMIES!