Manny Pacquiao is in an unenviable position right now. He has just faced all sorts of backlash in response to his statement that "homosexuals are worse than animals." Nike has recently dropped their contract with him. His Senate run seems in peril. To the LGBT (lesbian, gay, bisexual, transgender) community in the Philippines, all seems right with the world now.
The single greatest icon of Pinoy Pride is now indelibly cast as a homophobe. It's the end of the world!
Or is it?
If one evaluates the prevailing mood based primarily on the social media activity, one will get the conclusion that Manny Pacquiao is finished in the Philippines. Reception to him and his actions, including his "apology", has been dominantly negative. The cat simply cannot be put back in the bag anymore.
The question is, however, does the sentiment on social media necessarily represent that of the majority of the Philippines?
Despite attempts by the social media crowd to portray itself as liberal, progressive, and all that stuff, Filipino society largely still remains ignorant, intolerant, conservative, stubbornly attached to their bibles, and generally apathetic and uncaring of what "hipsters" think.
In other words, the numbers just don't add up.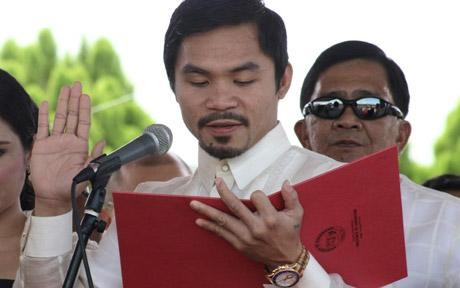 The "hipsters" or "activists" are now busy engaging in a campaign to convince the rest of the Philippines not to vote for Pacquiao because of his stance against the gay community, his stance against the RH bill, and his general lack of qualifications for any government post, for that matter.
Since when, however, did Filipinos ever use platforms or positions held by candidates in order to evaluate whom they'll vote for? Filipinos vote with their heart, their feet, and their stomach. In other words, they'll go for the one who makes them feel good, and will have some sort of "compensation" for them in exchange for their troubles.
It's all about numbers. Manny Pacquiao has them in his favor. To millions of Filipinos, he is the single source of Pinoy Pride that props up any semblance of "self-esteem" they have. To millions of Filipinos, he is the Pambansang Ninong (National Godfather) who will bestow on them and share with them the fruits of all his winnings. To millions of Filipinos he is an icon not just for his boxing skills, but for standing by his religious beliefs in the face of criticism against them.
The gay community and the "activists", quite simply, do not. To millions of Filipinos, gays and other LGBT's have no moral ascendancy simply because the Bible says so. It doesn't help that, as some in social media have pointed out, among those who have spoken out against Manny, Vice Ganda of ABS-CBN gives off a hypocritical vibe because of his past jokes focusing on GMA reporter Jessica Soho.
If I were Manny, I would simply paint myself as a victim of "religious persecution", and as a victim of a conspiracy by the "mayaman hipsters" to impose their beliefs on the masa. And it will work. It is a ploy Manny can use to get the numbers to virtually guarantee and secure his seat in the Senate.
If Manny starts losing all his other contracts, where do you think he'll get the money to continue being the Pambansang Ninong?
If Manny Pacquiao wins – and he most likely will – the Filipino people, through him, will be sending an undeniably indelible message to gays and to all the "activists":
That those who criticized and castigated Pacquiao can all go to hell, (the Bible, somehow, somewhere, supposedly says they will anyway) and;
They can all go f*ck themselves. (which is, to the ignorant and "uneducated", what gays essentially do)
It will be the ultimate irony to see that the actions of these so-called "activists" will in fact accelerate the very thing that they don't want to happen. Despite their "progressiveness", the Philippines will most likely continue its further slide into backwardness. All because of the noise they made.
[Photo courtesy: The Telegraph]
А вы, друзья, как ни садитесь, все в музыканты не годитесь. – But you, my friends, however you sit, not all as musicians fit.