So much for "Pinoy Pride".
The real surprise was that a lot of people were actually caught off-guard and were taken aback by what Manny Pacquiao said. You'd think people expected some suave, smooth-talking sophisto who can weasel himself out of a relatively difficult question on national TV. He may be a good boxer, but everyone knows verbal sparring isn't exactly the man's top selling point.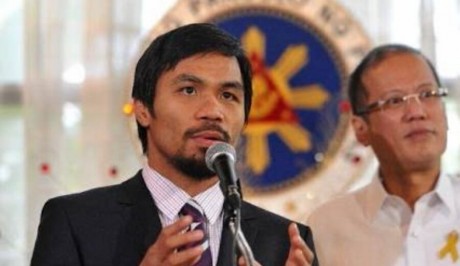 Just take a look at the man's main occupation and background.
He's a professional boxer. From the Philippines.
Those two factors alone ought to give a very clear picture of the man's conditioning even if fundamentalist Christian dogma wasn't even thrown into the mix.
Boxing leans towards — for lack of a better word — homophobic sentiments. It is a brutal sport. Not only must a boxer train to change his body into a weapon, he needs to hone his mind to develop a killer instinct to subjugate his opponent no matter what. Even female athletes of the sport are encouraged to act like alpha males and leave their original gender roles behind because, despite the din of gender equality and feminist rhetoric, it is still a man's world. In a way, that training regimen and conditioning is similar to boot camp. And anyone who says homosexuality is not frowned upon in that environment (the Armed Forces) should logout of Facebook  and start living in the real world. Just because it's not right does not mean it's not a reality. Just because fraternities "banned" hazing does not mean it's the reality in every secret initiation rite.
And he's from the Philippines — a place where supposed liberal thinking and freedom of speech is patterned after the American style of democracy and liberty. But underneath the liberal and "free-thinking" posturing of a small minority of "social media activists", the greater population is still stuck in a time warp set in the dark ages. Where skin color, sexual orientation, and exotic features are still the prime fodder for cheap thrills and laughs. Where it is exacerbated by rabid fundamentalist dogma and lack of access to proper education. Where 'bakla' 'jokla' 'bayot' 'Nognog' 'tutong' 'tibo' 'chekwa' 'mabahong Bumbay' et. al. are part of everyday, mundane conversations.
Pacquiao is simply a product of his environment. And to expect him to suddenly transform into some politically correct, articulate man of the world is unrealistic and naive. I've read a comment somewhere about how 'un-statesmanlike' his conduct was based on that interview.
Well who made a "statesman" out of him anyway? Can you really blame the horse that Caligula appointed to a top government position? Where was the national outrage when he announced his desire to run for public office? Or even just dipping his fingers  on professional basketball? Did we not give him a free pass because he was, after all, our "Pambansang Kamao" and uplifted "Pinoy Pride"? Just one statement that pales to what any jerk on the street can come up with and everyone's suddenly up in arms in indignation.
We put a jackass in position and cut him down to shreds for being a jackass in that position.
Perfect.
[Photo courtesy Yahoo! Sports.]
Worker in a private sector hive.