Thanks to science fiction like Terminator, Dr. Who and Metropolis, mainstream human culture runs the fear that if robots rule the world humanity will be exterminated. This perhaps reflects the fears of workers towards robots replacing them. It's helped as well by that recent video of the Atlas robot being pushed over by a researcher, which is being passed around with the joke warning that robots might rise in rebellion against us. That's the theme of many works, such as the groundbreaking play R.U.R., Blade Runner, Captain Power, Bioman and lately the movie Chappie. And this genius little thing from Flight of the Conchords.
However, I am a skeptic of that belief. That's why I'm glad that someone finally came out with an article criticizing the portrayal of robots as a threat to the human race. I personally believe that if robots became our rulers over us, they would do better than we would. I turn to the recent article about robot cars to support that notion.
In that article, it was noticed that the robot cars tended to run into a lot of accidents. But the reason is not what people would assume, that robot cars are dumb or malfunctioning. No. Actually, the robot cars followed the rules. The actual cause of most accidents were the human-driven vehicles that don't follow the rules! Thus, in this situation, the robot cars are doing right, and the humans are doing wrong. So this hints that the cause of most problems in the world is humans. It made me think: if robots followed rules perfectly, what if they were in charge?
I recently put up on Wattpad a short story I wrote more than a decade ago. It's about a robot traffic cop that discovers a lot of social ills starting from its encounters in the street. I wanted to make the point in that story that if robots ran things and humans just followed, things would be better. I reckoned that even with human-like AI, robots would maintain better computational processing of information and would be more logical and reasonable. I would say robots would be more efficient in doing things like making sure a criminal is guilty before executing, remembering facts accurately, transferring important information very rapidly, and others.
Of course, people would recoil and say, "Oh how inhuman! If we just follow rules like robots, we're nothing but machines." Not so. Such a comment reflects the stubbornness, narcissism and egoism that are among the significant causes of world problems. We've seen how polluted the Earth has become because of human carelessness, and how many wars and famines have resulted from human greed, and how over-dramatic people are because of their ego. In accident investigations, majority of accidents have been traced to human error (such as that recent brouhaha over the Mitsubishi Montero). Even when mechanical problems are factored in, these could still be traced to human negligence. When you look at all the mistakes stupid humans make, robot rulers (like that robot president in an episode of Astroboy) seem more welcome.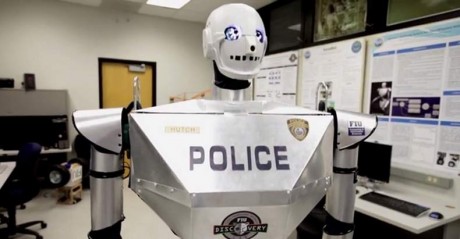 Of course, this is all fantasy at the moment, a pipe dream – although there have been strides to make some real robot cops, even just for traffic enforcement as seen in the article's featured picture (Isaac Asimov would be proud). The robots are simply "meter maids" or similar, only giving out a ticket for minor violations. They won't be armed yet (but one wishes they would). The alternative to this is simply for us humans to fix our attitudes. Cut down the egoism and me-first attitudes that make us asses to everyone else. Otherwise, humanity has only itself to blame for the problems it complains about.
Perhaps, as the Conchords sing, when robots rule the world, there will be no more unethical treatment of elephants too.
I believe, as my cohorts here do, that what Filipinos embrace as their culture is what actually pulls the country down. And those who seem to be anti-dictators, who may also believe themselves to be "heroes," are the real dictators.