And there you have it ladies and gentlemen, the LP has built a museum to commemorate the alleged "successes" of the EDSA Revolution. The Aquino family, their partners and supporters seem to hold the EDSA Revolution in a high regard, considering it their greatest success as it supposedly freed the Filipino people from the "tyranny" of the Marcos regime. The Aquinos are also considered responsible for the current "democratic" form of government in the Philippines today and their supporters seem to believe that we owe them the kind of "freedom" we are said to enjoy today.
Well, I'll leave it up to you what you want to believe. Thing is, I've repeated myself many, many times here in GRP but it seems that some of you continue to cling to your delusions and would rather eat the sugar-coated crap fed to you by the media than the bitter but nutritious vegetables more intellectual people are putting on offer. For instance, note how the LP and their allies in the media are going all out in destroying the reputation and credibility of Senator Bong-Bong Marcos, the son of former president Ferdinand Marcos for fear of him gaining vice presidency in the 2016 elections. According to President Aquino, Senator Marcos will probably be just like his father and eventually become a dictator. Of course, I can also cite President Aquino's great grandfather who sold the Philippines out to Imperial Japan during WWII but I know some of you out there aren't interested in listening to that, are you?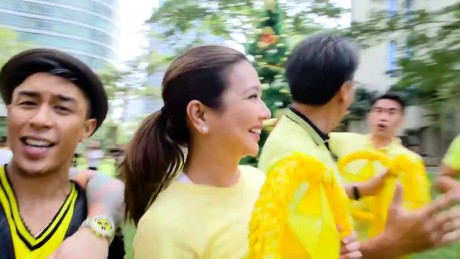 Anyway, this article will be discussing what the EDSA Revolution really brought about in the Philippines today based on my own observations on society at large…
The Government Has Become A Mafia
Okay, to be honest, even in American history, mafias or crime syndicates grow powerful enough to become influential on a political scale. One can sometimes note old black-and-white pictures that depict a governor or mayor shaking hands with a criminal kingpin back in 1920's-1950's America. However, in the Philippines, it is all too often the mafia themselves who become part of the government.
Of course, what can we expect from a country that considers popularity as the number one qualification for becoming a leader? Indeed, it is thanks to this mindset that people who are clearly unqualified for their position manage to become powerful and influential individuals. As long as a person has charisma and is on good terms with the media, their intellect and their true intentions (which are all too often selfish) become irrelevant to the voting populace.
Indeed, one can note how the factional attitude of Pinoy politics resemble all too much the feuding families of warring gangs in the United States back during the 20's. Rife with nepotism, deception and petty rivalries, both Pinoy politicians and criminal organizations both competed with each other and were all too ready to resort to violence to get what they wanted. Doubly so for their supporters who all too often saw them as saviors and protectors who, at the end of the day, were just being used and were deceived by their acts of "goodwill" which cleverly hid their much more sinister aspects.
Filipinos Have Become Dumber
Okay, you guys can always contradict this statement but here's something I noticed:
When I ask slightly older people about Herman Melville's Moby-Dick, here's their usual reaction:
"Is that the one about the whale?"
"Oh, the one with that handsome man, Gregory Peck, I think his name was."
"Wait, is that about that crazy captain who got all his men killed just because he wanted revenge on some fish?"
Now, contrast this with the reaction of typical Pinoys born in the 90's onward:
"Ew, you're such a pervert!"
"Sorry, I don't watch porn."
"Why do you love porn so much?"
Okay, so maybe Moby-Dick is a poor example but take note the difference between the mindsets, attitudes and knowledge between the people in the decades that followed the EDSA Revolution. I can note that majority of people who grew up during the Marcos regime and the next few years that followed are often well-read and have quite a few good stories to tell. From the 90's onward, most of the stories people tell one another are often tasteless and heavily cliched. Sure, this doesn't apply to everyone but the ratio between well-read people and fandumb people has become quite staggering in the past few years.
It can be noted that while the regimes that followed Marcos might not be as censorship-heavy, the current media might as well be considering they only air the shallowest of shows and the dumbest of ideas. They reduce historical events and philosophical discussions to "theme park" levels, meaning everything is just black and white or good or bad instead of choosing a more realistic and accurate approach. This leads to silly beliefs and expectations and leads people to vote for people based on what they seem to be rather than what they stand for.
Our all too often biased media combines well with the poor education our children receive to ensure that they think like children for the rest of their lives. People tend to dismiss foreign animated programming as childish but, more often than not, they usually have more to offer emotionally, intellectually and, sometimes, spiritually. At the end of the day, while we may be numerous as a people, Filipinos as a whole become less productive every year.
We Have Become A Laughing Stock To The Global Community
Truth be told, the Philippines has always been dependent on foreign aid to bolster our military. However, there was indeed a time when we were respected by other nationalities. Of course, while this can't be attributed to the Marcos regime alone as President Magsaysay certainly did a lot to improve the country as well, one can still note that the Philippines before the EDSA Revolution was still somewhat better than after it.
When once the Philippines was considered a good example of progress and prosperity, our country is now better known for being a country full of prostitutes, slaves and terrorists as well as a haven for monstrous pedophiles like Peter Scully.
***
So really ladies and gentlemen, don't forget to thank Tita Country for these three "blessings" she brought upon us!
I HAVE RETURNED TO LAY WASTE TO OUR ENEMIES!