Thirty years after  Ferdinand Marcos, Sr. was ousted from his seat of power, the miasma of anxiety has grown thick over the possibility of his JUNIOR occupying the second highest post  in the Executive branch of government. For the past two years, the #NeverAgain hashtag appears in social and mainstream media, grabbing at each opportunity to make it a trending topic.  Edsa People Power hits its THIRD DECADE and news feeds are choking with nostalgia over all that culminated in the Ramos-Enrile led Fiesta revolution. #Edsa30, Wow! and yet another Marcos offering a new strain of flu shot to a cancer resurfaces in the NATIONAL political arena.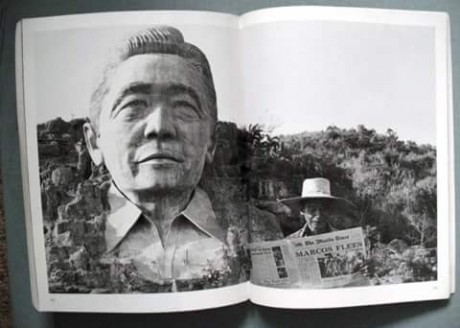 Photo was lifted from the book :
"People Power: An Eyewitness History" courtesy of John Anthony Macaranas
SUPPORT INDEPENDENT SOCIAL COMMENTARY!
Subscribe to our Substack community GRP Insider to receive by email our in-depth free weekly newsletter. Opt into a paid subscription and you'll get premium insider briefs and insights from us daily.
Subscribe to our Substack newsletter, GRP Insider!
Learn more
THREE DECADES since the bloodless revolution. THIRTY YEARS! What an opportunity to blot out a name equated to dictatorship, plunder, greed and abuse. The Filipino people had THREE DECADES to render an influence, powerless. THIRTY YEARS. THREE DECADES. What happened?
Indeed, "Those who forget the lessons of history are condemned to repeat them." and guilty is the people who has little appreciation of our rich past, the plight of our country should then come as no surprise.
Lo and behold-
For the price of mineral rich ancestral lands, Marcos is imbrued with the crimson blood of Macli-ing Dulag and other indigenous peoples and for the same reason, is the incumbent Aquino tainted with that of the blood of the Lumad, some as young as 13 years old. Just recently, a church sponsored Davao evacuation camp for Lumad refugees was torched by unknown riders.
The Marcos administration looked away at the injustice done against the doctor of the masses, Dr. Juan Escandor, whose skull was seen stuffed with briefs and plastic bags upon exhumation. In 2011, another doctor was killed for his conviction. Dr. Gerry Ortega's voice against the mining in Palawan was silenced. He was assassinated in broad daylight and four years later, the suspected masterminds, who  are detained after eluding the local immigration for 4 years, dared to declare candidacy for the coming elections!
Has there been any remarkable difference in the system, pre and post the bloodless revolution?
Marcos has the Escalante Massacre.
Cory had the Mendiola and Luisita massacre.
Arroyo has the Maguindanao Massacre.
PNoy has the Mamasapano Massacre.
Drenched in blood is our recent history and we are not even at war!
Oh, how about the scams that I previously wrote in my Eid Al-Adha 2013 article:
The Coco Levy Fund Scam of Marcos, Danding and Enrile.
The Bataan Nuclear Power Plant Debt: A project that was protracted from the Marcos, Aquino, Ramos, to Arroyo.
The Cory admin's Operation Big Bird.
The PEA Amari Scam (Ramos Administration),
The Textbook Scam (Estrada Administration).
And of course! The PDAF/DAP scam of "Ma'am" Janet Napoles with Enrile and the senator son of Estrada, among others.
The prostitution of the country does not end with the lies of our politicians and the guile of oligarchs, cronies and monopolies. It starts and replicates tenfold in each Filipino who exclaim empty pride yet fail to understand the responsibility of one's nationality.
What has become of Filipinos that we are so self-entitled, that we dare act like lords and masters oblivious that our privileges are imbued by the blood from forgotten wars.
What has our beloved country become when wars and revolutions are not waged with ammunition but with supine and manipulation.
We had been made into drones by a slanted media and brittle faith.
There are soldiers at the forefront, made to believe that they are protecting the sovereignty but in reality, are expendable pawns for the economic gain  of a few.
Our future generations  are sold for a dime dozen all over the world.
We wear blinders to child labor, Forced labor, workers who are underpaid and overworked. Our environment wasted by the indolent.
Proud to be Filipino says many, but I ask,
what has been done lately to claim that pride?
We celebrate the "freedom" born of the Edsa People Power but the oldest of issues – poverty, corruption, impunity, patronage politics – are left unaddressed even THIRTY YEARS AFTER Imperial Manila's People Power.
And now, a Marcos no longer whispers but bellows.