Why? Because, for now, China is where all the money trails lead to. It is becoming the biggest consumer market, the biggest source of high-rollin' gamblers for Manila's sprouting casinos, the biggest buyers of real estate all over the region, the biggest markets for our mineral products, and the biggest source of capital for our capital-starved economy.
Well guess what: today marks this year's Chinese New year. So, yeah, EVERYBODY is chanting Kung Hei Fat Choi like it's the Lord's prayer today. Kulang na lang rosary beads. Indeed, the term is even "trending" on Twitter. Apparently, millions of people the world over woke up this morning and counted tweeting the term among the priority items in their morning get-up-and-go routine. Talk about pa-in.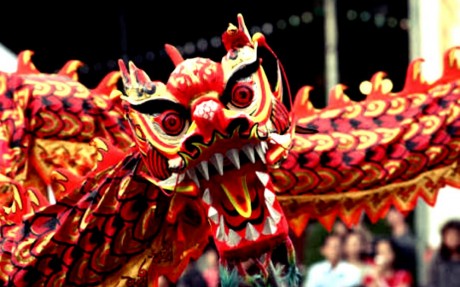 SUPPORT INDEPENDENT SOCIAL COMMENTARY!
Subscribe to our Substack community GRP Insider to receive by email our in-depth free weekly newsletter. Opt into a paid subscription and you'll get premium insider briefs and insights from us daily.
Subscribe to our Substack newsletter, GRP Insider!
Learn more
The world adores China — because it is a place to manufacture iPhones for a fraction of the cost to have good old-fashioned grain-fed Americans churn them out. And — get this — they now own Volvo cars! As in the company that makes Volvo cars. That's right, the pride of Scandinavia is now a trophy on the shelf of some Taipan in Shanghai.
You think that's great? Think again. Today's venerable Japanese and Korean brands all had home-grown Japanese and Korean names. China, on the other hand, is on a fast-track shortcut campaign to own the world's great brands rather than create new ones. Maybe "Made in China" will be a mark of prestige someday when the term has redeemed itself after being associated with poisonous baby formula, formalin-laced vegetables, baby toys coated with lead-based paint, and mutant tilapia. For now, I wouldn't hold my breath.
And, oh, maybe Filipinos forgot that little "issue" of the Divine Land's all-but-complete annexation of the South China Sea. Ayun. Happy Chinese New Year for real, folks!
Don't get me wrong. I don't really have an issue with the Chinese-Filipino community. They actually rock! They built Greenhills shopping center which is still going strong as a kind of a little 1950s version of Hong Kong at the heart of Metro Manila where contraband shipped direct from Zamboanga, fake LVs, and pirated DVDs can be had really cheap — thanks, of course, to the "taxes" paid to the NBI and the Pasig City police.
There's also all those malls that dot the archipelago from Babuyan Islands all the way down to trendy Cotabato City: SM "supermalls", Lim Ket Kai, Gaisano, Robinsons, Puregold, Ever Gotesco, etc. All good in the way they provide airconditioned oases for millions of humidity-beaten Filipinos across the land. And the wondrous variety of the merchandise! They mirror the wondrous variety of the products of the industrial might of the People's Republic of China, I'm sure.
I'm also a big fan of Corinthian Gardens, Valle Verde, and Greenmeadows where all the fancy Christmas lights adorning these awesome mansions are sights to behold during the silly seasons. On the other side of the river is, of course, Manila's classic Chinatown in Binondo where doing walking tours on actual outdoor streets is still feasible — because there is so much authentic culture to soak up from ordinary street life there.
I guess it's really no surprise that my fellow contributor Zaxx sees the Chinoys as the Philippines' only real hope. On one hand, you've got most of the economy owing its value to this exceptionally entrepreneurial community. On the other, you see the menace in their rise that we and the rest of the world are a nervous audience to.
Kung Hei Fat Choi!
And do remember: There can be only ONE China (cue in Queen's 'It's a kind of magic'…). 😉
Frustrated artist doing geek for a living.