The recent outrage over Manny Pacquiao's statements about the LGBT community is just a media-covered exercise of something that every Pinoy—educated or otherwise—live with and even practice on a daily basis.
Pacquiao simply represents the groupthink of Filipinos. And, unfortunately, Filipinos are among the biggest anti-LGBT group of people in existence. Just take a walk and observe how most people treat and interact with homosexuals (especially gays) in a mundane, everyday setting and one can deduce that even in that aspect, Filipinos are still stuck in the dark ages.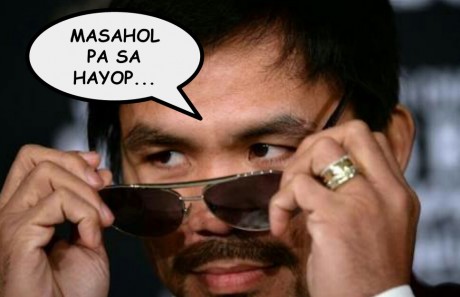 Even the seemingly pro same-sex marriage "netizens" who proudly trumpet their support and wave their rainbow profile pictures in support (daw) of the movement are not exempt from hypocrisy as well. It's not uncommon to see colleagues post their support for same-sex marriage and make fun of a cross-dresser over lunch. Note that these are college graduates working in international companies that have, and enforce equal opportunity to all people regardless of race, class, religion and sexual orientation.
"Equality for all" in social media on one hand, gibbering like hyenas with the barkada on account of some ill-dressed drag queen resembling Conan The Barbarian on the next. For some reason, that glaring dichotomy, along with a nasty predisposition to racist sentiments based on a person's color or nationality, paints a disturbing picture that is in stark contrast to the supposed open-minded and liberal posturing of a lot of Filipinos in various social media platforms. The support has become nothing but a glib fashion statement lapped up by a lot of people for 'likes' and 'RTs'.
It also does not help that the most prominent gays that are given a lot of media attention in the country are a) comedy reliefs b) comedy reliefs with a slightly elevated social class because of their wealth and c) comedy reliefs because of wanton disregard of people's perceptions about their actions and self-image. It's not that they don't have rights to act the way they want, but in a place where it's already an uphill battle for acceptance despite being an upright individual with a modicum of self-respect, you'd expect famous/media representatives to exert a bit more in terms of restraint and class. Of course when one says 'transender', does not necessarily mean just the male homosexual and lump it in that one category to make a generalization. But  it is undeniable that as far as popularity and media representation are concerned, the gays are still pretty much the more popular faces of the said movement. And that for every one Danton Remoto, there's a hundred Vice Gandas.
But still, this is the Philippines we're talking about. Where parents spoil their kids and still get surprised why the ungrateful brats don't respect them when they grow up because they were given everything. Where religion and "morality" are given the most premium in selecting the politicians they elect, but balk when said politicians interpret the Bible in the same literal way they do. Where prominent gays capitalize on shock/slapstick comedy then complain when people cannot separate performance from reality. Where politicians are elected and re-elected simply because they're famous in a field that has nothing to do at all with legislature. Where outrage fads are, well, simply fads that will be conveniently forgotten the moment a juicier topic for grandstanding presents itself.
The problem isn't Pacquiao, despite his ignorant comments. The sooner people realize that, the faster we can get out of the rut we have so long been stuck in.
Worker in a private sector hive.