Mr. Rodrigo Duterte, what the hell, man? Why swear at the Pope?? He's, well, the Pope! You had a good thing going there for a while. And then you had to swear at Pope Francis. Jesus Christ. I know you've got an army of Dutertards who will follow you to hell (specially now that you swore at the Pope!). But there's still this business of running for President of the Philippines that you got into. And for that, you need votes — votes from people who worship the Pope!
Swearing at the Pope is like swearing at Maine 'Yaya Dub' Mendoza or Vice Ganda. Or Joey de Leon. You just don't do that when you are running for President of the Philippines, Mr Duterte. I don't get it. There's just so many other people you can swear at in the Philippines that you can choose from.
Just on my drive to work this morning there was a bus driver and a couple of jeepney drivers that, I swear, I'd line up for an hour each just to yell my choice expletives in their faces. Then there was this call center chick in the mall during my lunch hour walking while fiddling on her iPhone 6 who almost crashed into me. I swear I'd pay ten thousand bucks for the chance to sit opposite her on a small table and watch her eat that phone (including that pastel-colored case it was encased in) for dinner — and maybe another ten grand to watch her shit it out the following night. And how about that idiot in the Subaru ahead of me on my way to my parents' place last night? His ride was fitted with low-profile tires and lowered suspension and took five minutes to gingerly get over a speed bump in our subdivision. Here, let me fix your precious car up with a baseball bat, dipshit! Those tricycles occupying an entire lane while queueing for their next fare? Mowed down with machinegun fire and bulldozed into a pit I dug up with a backhoe I rented the other day if had it my way.
All of those morons I observed just over the last 24 hours firsthand.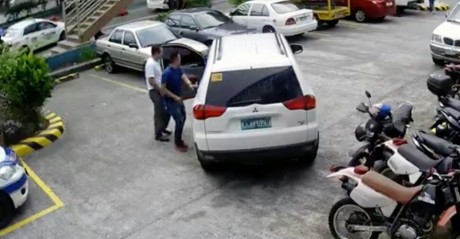 Just one more rant about something I didn't experience today but saw on my Facebook timeline the other night. How about those three moron drivers who each unsuccessfully tried to park that big white Mitsubishi Montero in that now-viral video? Tangina talaga. Add stupid people to the list of people who I'd pay good money to put a boot up their asses. That obnoxious SUV was probably bought with OFW money by probinsyanos who bought their drivers' licenses from the LTO yesterday. Imagine if instead of those motorbikes and cars parked in the vicinity, that vehicle plowed into hapless pedestrians. They wouldn't stand a chance. Not from some frigwit who couldn't tell a brake pedal from an accelerator.
Bili bili ng Montero, e parang mga unggoy naman mag-drive.
See, Mr Duterte? There's just so many other people and things to direct your macho irreverence and vigilante brand of "cleaning" things up here in this country. There's just so many discourteous, disrespectful, inconsiderate, stupid, and downright crooked Filipinos to choose from. I'm quite sure the Pope is none of these. But no. You chose to swear at the Pope nonetheless.
I saw this word in the GRP comment threads a while ago — idoltards. Nice! Nowadays, it is no longer followers of President BS Aquino who monopolize the honor of being given a tard suffix to their advocacy brand. Every one of those idiots who follow politicians with Taliban-like zeal today deserve to have "tard" added to their camp's brand. Noytard, Dutertard, Poetard, Martard, Binaytard, Miriamtard. Y'all behave like idoltards! An entire electorate of idoltards. Sweet. Welcome to Philippines 2016 suckers!
[Photo courtesy Top Gear Philippines Facebook Page.]
Frustrated artist doing geek for a living.