"Because to take away a man's freedom of choice, even his freedom to make the wrong choice, is to manipulate him as though he were a puppet and not a person." ― Madeleine L'Engle
If Grace Poe were Cinderella, then you might soon be in a situation where you will be forced to marry one of her two ugly sisters — Mar Roxas and Jojo Binay.
The Comelec En Banc's decision on Poe's cases seems to have been deliberately put out at the eleventh hour.
With the year end holidays in full swing, Poe only has a day and a half to get  the Supreme Court to stop the Comelec from striking her name out of the list of presidential candidates.
For the moment, Poe is still in the list of presidential candidates according to Comelec Chair Andres Bautista.
ABS-CBN reporter and political talk show host Lynda Jumilla agreed with me when I likened the Comelec's decision to how a libel complainant's lawyer sometimes gets a court to issue an arrest order on Friday afternoon. This leaves the subject of the arrest order little or no time to post bail because most courts would be closing or have already closed by then. If bail isn't posted, the defendant would most likely spend a weekend in jail and probably suffer a great deal of trauma as well as embarrassment.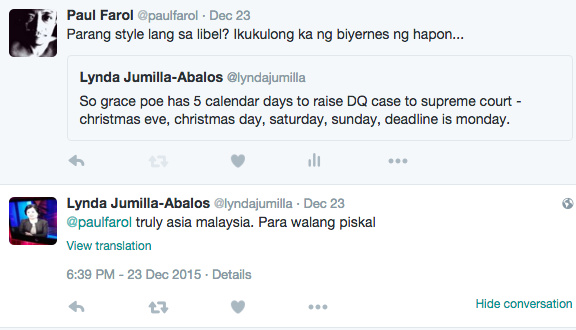 But in the case of Poe, certainly, no crime has been committed but the consequences of the Comelec striking her name from the list of Candidates for President might as well be a death sentence for our democracy.
Because, what kind of democracy is it where the people's choices have already been picked out for them? It's a sham, that's what it is, one as fake as Roxas' credentials and one as dubious as Binay's integrity.
In fact, this reminds me of how Roxas cornered a weary and beleaguered Tacloban City Mayor Alfred Romualdez in the aftermath of Yolanda, pressuring him to formally cede control over this city or face the consequences. Roxas essentially told Romualdez, who was shaken by the horrible devastation of his city, that is was either his way or the highway.
Roxas is as much as or even more of a bully than Binay.
In Poe's case, the Comelec headed by Bautista, muddled the handling of Poe's cases so badly that it further bolsters the idea that the supposedly independent constitutional body is complicit with the administration's plan to control the electorate's options.
Every move that the administration and its candidate, Roxas, has made so far seems so consistent with Robert Greene's 48 Laws of Power.
"According to the 31st law of power, one of the best deceptions is giving your adversaries the freedom to create a choice. By giving them options, they feel like they are the ones who are in control but are actually falling into your hands."
On Christmas day, the Manila Times called out the Comelec's behavior:
…we think the Comelec, especially its Chairman Andres Bautista, has handled her case in a shockingly sloppy, unprofessional way. Regardless if the decision was correct or not, the behavior of the Commissioners, and in particular, Chairman Bautista, causes us great concern for the credibility of the conduct and outcome of next year's elections.
Putting it in another way, Bautista acted like Pontius Pilate on the eve of Christmas. Although a friend vouches for his integrity, in the case of Poe, he seems to have failed miserably and dovetailed arguments that goes against Poe's candidacy.
He cleaved to the position that Poe lacked the residency requirement for a candidate for the Presidency, basing the decision purely on the information in Poe's certificate of candidacy. Senator Chiz Escudero, in an interview on ANC, pointed out a Supreme Court decision where it said that what out weighs the information on the COC is proof of actual residence with intent to return and actual physical presence in the country or district.
Escudero said, "there is a Supreme Court case involving former Congresswoman Imelda Marcos of Leyte wherein she wrote in her COC, one (1) year and 10 months, the requirement is I think two (2) years. Clearly it was short by a few months. But the Supreme Court said in that case involving the actual COC for the position she was running for and not in this case wherein they merely citing a COC for a previous position. The Supreme Court said in that case, that it is not the material statement she wrote in her COC that will bind if you can prove your actual residence with intent to return and actual physical presence in the country or district where you are running for."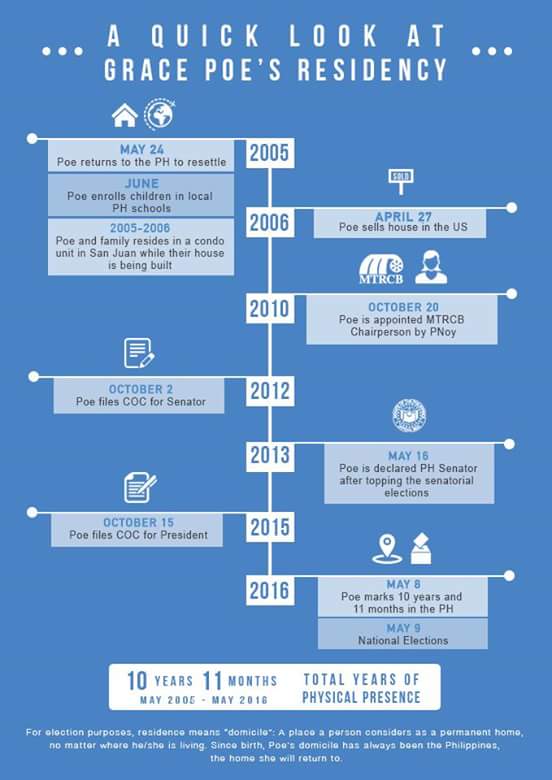 Bautista also dovetailed the line which says that foundlings are stateless and proving, therefore, that Poe is not a natural citizen.
JP Fenix traces this point of view to one of Binay's lawyers, JV Bautista:
"But by using that view as a general principle applied to all foundlings is totally unacceptable. By their very circumstance an abandoned child is disadvantaged not by their choice and for Bautista to label all of them this way – as people who have less rights and privileges as regular folk – for the plain and simple reason that it gives their side a political and personal edge is the lowest of the low. (And I say personal because all of them – VP Binay, his family, Bautista, Tiangco and the rest of their UNA allies – have been raising their personal fortunes and futures on the political career of Jojo Binay)."
Furthermore, Lawyer Katrina Legarda, a leading expert on family law, contends that Poe is a natural citizen:
Poe is presumed a natural-born Filipino citizen, they said, based on international and domestic laws on human rights, rights of a child, and adoption, among others.

They highlighted the 1954 United Nations Convention on Statelessness, the1948 Universal Declaration of Human Rights, and the 1989 Convention on the Rights of the Child (CRC).

The first two declare the right of a person to a nationality; the third highlights the right of a child to acquire it immediately after birth.

The 1987 Constitution states that the "generally accepted international principles" are adopted as part of the law of the land, said Legarda.
Out side of the Comelec En Banc's decision, many wondered why Bautista's Comelec did not consolidate the cases against Poe's candidacy.  A journalist friend who covered the courts and the Comelec extensively for two decades says that it's possible that Poe may have to secure two TROs instead of just one.
What is even stranger is what seems to be Bautista's Magnum Opus in the form of a 53 page "concurring and dissenting" opinion. Could it be that the man is racked by guilt? Could it be that he found himself lacking both the backbone and balls to resolutely get behind the decision of the Comelec En Banc?
Manila Times columnist Yen Macabenta dressed down Bautista:
But the stark reality was plain. Bautista was dumping on the decisions that the Comelec commissioners had reached, deliberated, debated, and finally voted on collectively and unanimously.

He was publicly holding up under doubt the decision of the commission.

He was publicly sympathizing with Senator Poe on her predicament.

A Comelec with resolve, judgment and integrity

Did some people talk to Bautista to wring from him this agonizing act of abdication?

Does the man have no spine to lean on when he has to make a difficult decision?

Does the Comelec, with seven commissioners, not have enough members to interpret the Constitution and its mandate to Comelec properly?

I find these thoughts unpleasant to entertain because as a nation, we stand today on the verge of a watershed election in our nation's history.

This is a time when we truly need an election commission that can effectively manage and administer national elections.

We need it to act with resolve and show its judgment, fairness and integrity.

It needs a chairman who not only can chair meetings, but can lead our principal institution for suffrage.