Warning this essay includes graphic descriptions of bodily fluids discharged in public places. Reader discretion is advised.
I use public toilets and I piss on the seat,
I walk around in the summertime saying "How about this heat?"
I'm an a$$hole (He's an a**hole, what an a**hole)
I'm an a**hole (He's the world's biggest a**hole)
You may call me elitist after reading this , I do not care. You may call me judgmental after reading this, I do not care either. By calling me judgmental , you yourself are being judgmental. Ladies , today I will take you to a place that is most likely alien to you. Except female janitors and the more adventurous among you. I am taking you to the heart of the men's room.
Ladies you are fools if you shake a man's hand here in the Philippines. At least after reading this. The following you are about to read and see is true. Please don't bother arguing. This is based on years of living here and using the facilities in my various offices and in the malls.
What you see here is a urinal. It is a simple device. Just step up to it. Zip down, discharge till you completely drain your lizard then zip up and boom you are done. As simple as it sounds in the psyche of the pinoy male it is simple in theory yet very high maintenance in terms of execution. This is coming from years of experience but many of the males that choose to use the urinal do not choose to use this application illustrated below that is found is many of the public men's rooms.
Why they ignore the bathroom sink after they have handled their junk prior to taking a whiz is beyond me. Ladies again do not bother shaking a pinoy male's hand. You know where it has been and it is not pretty. That is male on female crime. Now let me give you an example of pinoy male on pinoy male crime. Again something that will not occur to most ladies but is still a reality none the less. Some pinoy men with reasons known only to them do not utilize the aforementioned urinal to relieve themselves. They choose to instead to use the exact same process on the toilet that is enclosed in a stall. Now when last I looked the toilet is there in the men's room because it can accommodate certain bodily functions that the low maintenance urinal does not. One of the big problems with doing that in this culture is the standard equipment that usually comes with the toilet as you can see here.
Notice there is no separate hinged plastic seat. All you have there is the one piece ceramic. The same piece of ceramic that you are forced to sit on should your body demand more than a simple discharge of fluid. Males in this sense are not as blessed as the females where it is the same body position no matter what mode of bodily waste disposal is required at any time. So it does not matter how old you are if you are a woman. This idea may never have occurred to you since the dynamic is something you will never see in your life. American women complain about men that leave the toilet seat up but this level of inconsideration is something else entirely. There is no toilet seat to leave up. Talk about first world problems.
I have been to the so called first world and not everything there puts our local comfort rooms to shame. I remember taking my much younger cousin to a professional baseball game. I was in my mid twenties and he was six. We to use the facilities in between innings and as you can imagine that is when the men's room is packed. The urinal there had no partition it was just a wall with drainage. Similar to what you see here.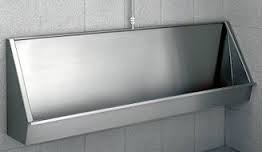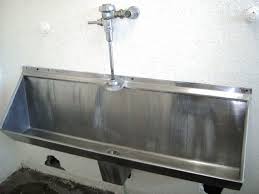 I decided to go since I probably had an adult beverage but then my cousin did something out of left field (pardon the pun). While I was doing my business he decides to park himself about 9 o'clock from my vulnerable urinating self and looks up. And in a crowded men's room he says in a tone of voice completely without malice " you have a big birdie." I survived that.
One other observation I have is that the less masculine occupants of the mens room will refuse to use the urinal. 100% no fail . I have no idea what that says about them but it says something.
I will never for the life of me comprehend the choice of a man to whiz into the bowl without the aid of a seat when he has the choice of discharging into the urinal. What is wrong with limiting your usage of the actual toilet when a #2 is what you need to do?? Don't these guys sit on the throne themselves? Have these guys never heard of do unto others as you would want done to you? What is it about pinoy men that they feel their urine has to be in contact with the skin of other people? If that is not pride I don't know what is. It would be nice to call this toilet humor but this is not very funny. In fact it is disgusting. My point is some pinoy men are not nice to their fellow man. You can call me elite, snobby, sosyal etc. But at least you will have no problem shaking my hand.
Putting a very sharp needle into the balloon known as Pinoy Pride since 2012.