I wonder if people remember Pearl Harbor. I get the feeling not too many do. When Pearl Harbor was bombed by the Japanese Empire on the 7th December 1941, what did America do? They got together and bombed back — not just Imperial Japan but Nazi Germany as well. America set their entire military-industrial complex to the task of joining — and winning — a war that, at the time, looked like one that they may have to fight alone if necessary.
What happened since?
Political correctness took over. Apparently, nowadays, things are solved by prayer and "diplomacy" even when the problem involves an enemy that upholds an irrevocably perverted sense of what it means to pray and be diplomatic. Americans are now a fat, smartphone-addicted bunch of motorheads who had surrendered their freedom to a dependence on Arab oil and cheap Chinese manufacturing. They had all but surrendered their sovereignty to Big Private Corporate and, in the process, paved the way for an irreversible haemorrhage of their most prized technologies and manufacturing prowess to the Enemy all in the name of the gods of the Corporate Bible — "productivity", "market share", and "shareholder value".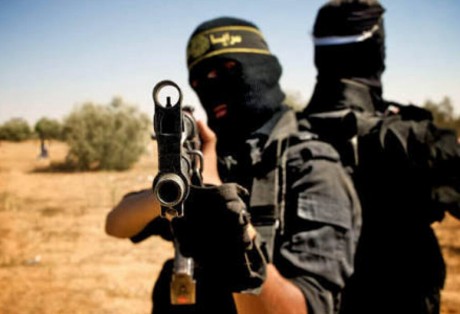 We like to celebrate how World War II turned out. We won. Why did we win? Because America and her allies won. They won it not by using "smart bombs" supposedly designed to "minimise civilian casualty" but by carpet bombing entire cities to send their strategic message across. There was a cost to winning that war that we seemingly are not willing to bear today. Nonetheless, history will bear witness to the fact that they won because they knew where to draw the line and say enough is enough.
The argument today is that the world is now a "different" place. It's now "more complicated". The enemy now is, I read, a stateless entity that lacks borders and territory to defend and that, unfortunately, the militaries of the West, we are told, remain designed and organised to fight old-fashioned gentlemen's wars involving battles for territory and mutually-agreed "war rules". There is also talk about the war being not one that is being waged by states but one being waged between different ways of life.
Is it just me, or do all of those come across as mere excuses?
If I recall my history right, World War II was also a war between ways of life. Nazi Germany and Japan wanted a world in which the concept of a superior race underpinned a people's right to dominate the world. How is today's Enemy's claim to a right to rule the world different from that??
Indeed, perhaps the weakness, indecisiveness, and lack of resolve to take action we are seeing in the West nowadays coupled with the softened and gentrified way it now regards its enemies may be just another dab of grease added to that contributed by the aging and declining population that is hastening the once mighty European civilisation's journey to the graveyard of has-been empires. The disturbing pattern is not lost in historian Alfred McCoy who is cited in the Huffington Post article Dead Empires: How China May Overtake the U.S.
McCoy describes the Chinese strategy to break through the encircling ring of American bases to reach — and control — its markets and resources directly. As U.S. officialdom has already noted with some alarm, China is aggressively seeking to assert dominion over the South China Sea between it and Japan and the Philippines. It has been dredging landfill to create airbases on the unoccupied Spratley Islands, and has demanded that U.S. and other aircraft overflying the area obtain Chinese permission. But that's just the eastern end. McCoy presents maps showing China's massive investments in infrastructure to link it westward overland to the rest of the great Eurasian heartland. While U.S. railroads and bridges crumble, the Chinese are building a dense internal network of sophisticated high-speed high-volume railroads, plus oil and gas pipelines. These will connect up with transcontinental railways and pipelines, crossing Kazakhstan, reaching Moscow, and from there to Hamburg, Germany on the Baltic Sea. Another corridor will connect through Pakistan to the Arabian Sea, and yet another across Myanmar to the Indian Ocean. Meanwhile, the Chinese are making huge collaborative investments with these neighbors and with willing partners in Africa and Latin America. McCoy sees the TPP as Obama's last-ditch effort to contain China.
Just like the Islamic State (and other terrorist organisations) are coming back to bite the West using the very weapons gleefully sold to them by the West's private enterprise, China itself is marshalling technology sold to it by the West to seize the world from it. Both civilisations also have disaporas that are well-entrenched in the very societies they are now competing with for world domination.
In simple terms it comes down to this straightforward reality:
Our enemies want to win. We and our allies, on the other hand, just want to get along with them.
To our enemies, winning means beating us. That's a big disconnect in the assumptions about how the world works that we hold fast to. In that light, it is quite evident who between the two sides stands a greater risk of paying the higher price for failure.
benign0 is the Webmaster of GetRealPhilippines.com.