"We stand with France now, in the firm belief that the light must never dim in Paris."
Statement issued by Noynoy's office.
Coming from the office of President of the Philippines, pardon my French but this is complete and utter B.S. It makes zero sense for Noynoy to condemn the attacks in Paris November 13 2015 when he has been publicly slobbering on Moro Islamic Liberation Front (MILF) chief peace negotiator Mohagher Iqbal for a while now. Of course the Philippine government in their infinite wisdom deal with them as legitimate legal entities and not as armed marauders who assault civilians like their ISIS brethren . Does any of them pay any taxes? Besides Iqbal who is drawing a government salary under an assumed name? Let's see you try that in your work. Makes zero sense to condemn Paris attacks and yet treat BBL as anything other than a slap in the face to any innocent life ever taken by any religion fueled terrorist on our shores. Let's negotiate with thugs who are unaccountable for their heinous crimes and give them billions of taxpayer money, land and allow their laws to override laws that apply to the whole country. That is really deep intellectual stuff. Of course vote for Lobredo and Roxas who believe 100% in all of this.

You have to stand for something or you will fall for everything. I will slowly list what the MILF and the Philippine Government want you to fall for. The BBL at its core believes in expunging all the past sins of the MILF like they were never ever committed. Sins committed against unarmed men , women and children all with no warning. Yet you all are horrified by what happened in Paris.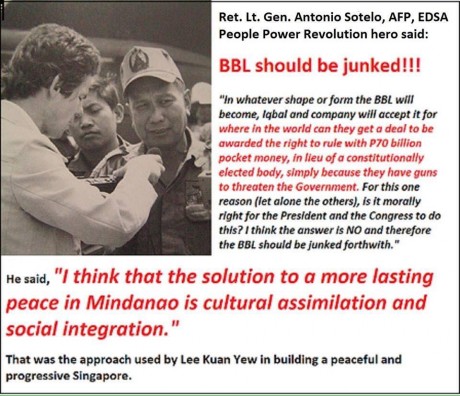 Nothing's good that uses bad
The heat goes on and it drives you mad
Scornful thoughts that fly your way
You should turn away 'cause there's nothing more to say

Who are the two poster boys for the BBL? One was a career traditional politician without a single law to his name despite a dozen years in Congress and in the Senate. Every "innovation" under his watch has been unconstitutional . The other a man who admit he uses several aliases who wants you to trust him and his vision for Mindanao and the Philippines. When asked he can't even provide a Philippine passport. He represents a very well armed group who have been alleged to perform a host of atrocities. I believe it is fair to judge a man by what he has done. You really believe these two will come up with a peace deal of any substance??? I would give better odds to Vice Ganda beating Ronda Rousey in the octagon.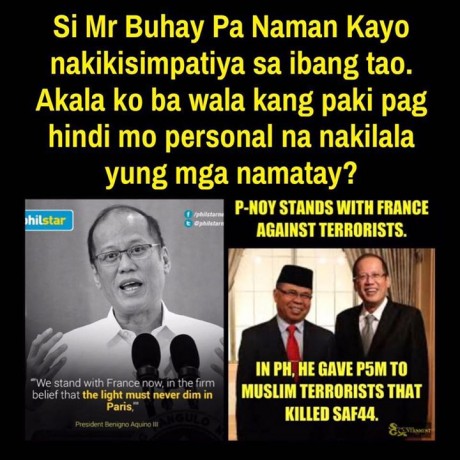 "Sparky , don't be gay!"
Stan Marsh to his dog.

The BBL is a deal co authored by terrorists. I have no idea why anyone would believe that it would not address terrorist values and ideals. I don't know how you bridge that gap? How you cross that divide between the Paris terrorists and the local ones. Just like Stan Marsh can not order his dog Sparky not to be gay, how any of you can believe the well armed outlaws that the MILF are will just stop being terrorists at the drop of a dime must be living in some fantasy land. Noynoy does not hide his affection for Iqbal or whatever name he is using today. I am supposed to trust him when neither he nor his mother was able to unmask who killed Ninoy Aquino.
In the wake of the terror in Paris, the MILF reaffirmed its rejection of violence.
"This is unacceptable. The MILF rejects acts of terror against humanity and all peace-loving peoples,"
Read more
Let me guess the MILF just spends your days playing mah jong and sipping ice tea. You operate in a region where civilians are bombed and nobody gets brought to justice nor do you volunteer finding out who perpetrated this acts if it indeed was not you. You have no idea who commits the atrocities. Who do you think you are with your no idea? Joseph Abaya ? Your group that rejects violence yet is armed with sniper rifles worth half a million pesos. Let me guess, it just a phallic status symbol.

Noynoy and Iqbal / Abas want you to believe the BBL is good for you and your country. Noynoy based on the last five years couldn't tell you about the constitution even if you gave him a Grade 7 social studies textbook. Noynoy by all appearances obfuscated his role in the events that lead to the deaths of the Mamasapano 44 . Yet we are supposed to believe him that he stands with France. Iqbal is like Austin Powers, International Man of Mystery. Yet we are supposed to trust them when they say they resent the attacks on Paris. Yet we are supposed to trust them when they say the BBL is the road to peace. I trust them as far as I can throw Franklin Drilon.
Putting a very sharp needle into the balloon known as Pinoy Pride since 2012.