The recently-concluded Asia Pacific Economic Cooperation (APEC) summit in Metro Manila proved that to get the best results out of the Philippines' premiere metropolis, its residents need to be excluded from major events like these. This is quite ironic considering the theme of APEC Manila 2015 was inclusion — getting as many ordinary Filipinos in on the benefits that economic cooperation is supposedly delivering.
Thus, Metro Manila, as host of this affair, should have, itself, embodied this spirit of inclusiveness. Instead, unfortunately, it exhibited the opposite.
What does Manila need to become to transform into a truly inclusive urban community whose residents share every aspect of what their city has to offer? To answer that question, we need to be able to imagine.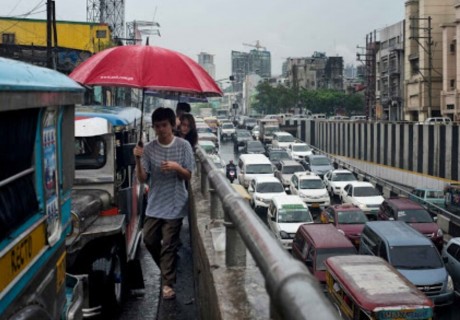 Imagine a city without gates and fences.
We'd be a true urban community where every Manileno is equally entitled to travel any road in their city. At the moment that is not the case. Entire swathes of Metro Manila are fenced in and fortified by armed guards — which means the rest of us are sentenced to using roads that weave around these exclusive enclaves.
Without those gates, perhaps Filipinos both rich and poor will learn more about real respect for community. Rather than reserving our respect for our immediate backyards and clique of friends, we will be compelled to extend this respect to the bigger community — because, as a broadly-open community without gates and fences, our personal stake in ensuring the quality of this community is bigger than any one circle or clique.
Only then can Manilenos feel genuine pride for their city — because we truly become an urban community where each individual has an equal stake in the wellbeing of every square metre of it.
Imagine a city where pedestrians — not motor vehicles — rule.
Most Filipinos, after all, do not own cars. Why then should motorists rule the city? And, in that light, why should the city be subject to foulups in air quality and congestion accounted for mainly by motor vehicles? That leads us to an important question: Why are sidewalks in the city routinely jackhammered to make way for ever-widening roads and parking space?
Perhaps it is time that ordinary Filipinos take their city back. When we say ordinary Filipinos, we are talking about the average commuter — people who truly have skin in the game as far as building a truly great city. Until pedestrians rule Metro Manila, Filipinos cannot claim to be proud of a city that subjects their most ordinary citizens to the worst effects of urban congestion. Pedestrians and commuters bear the brunt of Manila's worst aspects and private vehicle drivers have no right to complain — because private vehicle owners have a choice to leave their vehicles at home. Commuters and everyday pedestrians, on the other hand, don't have that same variety of choice.
Imagine a nation's capital without squatters.
Squatters are illegal residents. Yet they occupy prime locations all over Metro Manila. They account for some of the reason Manilenos build fences around their communities and homes — because they are surrounded by people who do not have as strong a stake in the community as legal tax-paying residents.
Without squatters infesting Metro Manila, city dwellers can accord one another respect as co-community members rather than regard one another with suspicion and revulsion. For as long as a big chunk of our cities' populations are accounted for by illegal settlers, there will be no true urban communities composed of mutually-respectful members.
* * *
Implementing the right measures to build truly world-class stuff in the Philippines is hard enough. Doing so without an ability to imagine our destination makes the task doubly impossible.
It is, indeed, a journey worth taking. Manila, despite its veneer of modernity, remains a medieval city at heart with its aristocracy still cloistered in walled enclaves while the peasantry toils outside. Our transformation into a true 21st Century community is long overdue. Until then, Metro Manila will be nothing more than the sad national embarrassment that it is today.
[Photo courtesy Bloomberg Business.]
benign0 is the Webmaster of GetRealPhilippines.com.