I switched my entire household's telecommunication needs to Telstra back in 2007. Today we enjoy about 300 GB of home internet data piped in by cable (not DSL) that is channeled to all our computing and home entertainment devices using a WiFI router provided as part of the package. We also have several mobile devices on the Telstra mobile data network each one of which is allowed at least two gigabytes of data traffic volume per month. As the incumbent telco in Australia, Telstra is on top of both its service and the infrastructure on which these services are delivered, which is why it rocks.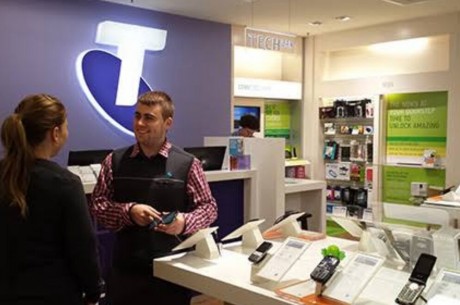 There really is nothing like the service and reliability of the incumbent service. As such, the entry of Telstra into the Philippines is really not the biblical event many Filipinos look forward to. Rather than rescue hapless Filipinos from the pathetic Internet and telecoms services they get from their existing oligarch-controlled service providers, Telstra will simply become just another one of them. Until it builds its own infrastructure network (which could take decades), it will be delivering its services using the same installed network of cables, transmission towers, and copper wires that Globe, SMART and all those other crooked telco companies use.
Unlike the place it enjoys in Australia as the incumbent telco provider, Telstra will be just another infrastructure renter in the Philippines competing with the others for precious bandwidth and joining them in negotiating mainly with the incumbent Philippine Long Distance Telephone Company (PLDT) for favourable wholesale rates. Indeed, if Telstra enters the Philippine wholesale market for data and voice bandwidth, it will place additional demand on existing finite infrastructure capacity that may have the effect of putting further upward pressure on wholesale prices (which get passed on to end-consumers of course).
But Telstra can differentiate itself on one main thing that it is already good at in Australia — customer service.
In Australia, Telstra has vastly improved its relationship with its customers over the last eight years I've been with them. With every fault or issue you report to Telstra, you get a reference number and a means to contact the same analyst you spoke to in subsequent follow-through calls. Most imoprtant of all, after the conclusion of every service case, you also get an automatic text message following up on any feedback you might have on the service you were provided and the quality of the way you were attended to (you can respond to the text message by SMS as well).
In this way, customers are assured a robust feedback loop between themselves and Telstra's customer service organisation — which is a far cry from the sorry criminal culture of plausible deniability applied by Globe and SMART when dealing with their customers.
Why does Telstra, despite enjoying a virtual monopoly over telco services in Australia, even bother to be nice to its customers? Because it is the right thing to do. It is that simple. That is the culture in Australia where people actually respect one another.
If you get no respect from Globe and SMART, it is because no such respect likely exists within their respective corporate cultures to begin with — at least nothing like what is ingrained in Australian society and, as such, manifest in the corporate culture of a telco titan like Telstra.
So Filipinos should welcome Telstra with open arms for the right reasons — that is, if they actually make it to the Philippines (a different story more to do with politics). But let's not count chickens before they hatch. The underlying issue in the telco space in the Philippines is, as always, infrastructure — not enough of it and not enough quality management around it.
benign0 is the Webmaster of GetRealPhilippines.com.