They say life begins at 40. This may be the case for these 3 beautiful Filipina actresses who all have one thing in common, they are all working mothers who are currently not married. Ruffa Gutierrez and Kris Aquino marriages ended in annulment and the only woman who has not walked down the altar is Gretchen Baretto.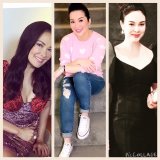 When I was working in Harvey Nichols, Knightsbridge, news travelled fast that the beauty queen of the Philippines — and, not to mention, 2nd runner up of Miss World 1993 — Ruffa Gutierrez was in store. Unfortunately, I didn't have the pleasure of meeting her however I did see her dad Eddie Gutierrez, who I must say was a very handsome man.
Based on her Instagram, Ruffa is forever looking glamorous without a messy hair in sight, not to mention very smitten with her French Israeli boyfriend. Her ex husband was a Turkish businessman so it seems that she's got a thing with Mediterranean men. She once said that she prefers dating younger men, as they are more fun to be around and for a woman in her 40's I think she is stunning and one would think that she's only in her 30's.
Gretchen Barretto has a 21 year old daughter with her partner of over 20 years billionaire businessman tycoon, Tony Cojuangco, who she always refers to on her Instagram posts as "MyTony". Barretto is often referred to as the "mistress" as Tony, who is 20 years her senior, is still legally married to his first wife, even though his ex wife is now also in a different relationship. Tony is the nephew of the late President Corazon Cojuangco Aquino, making Kris Aquino and Tony second cousins.
Gretchen seems to be having the time of her life travelling back and forth from Manila to London where her daughter is studying. She would often visit her as if London is just an hour away from Philippines. The air miles she must have clocked up! She often posts pictures of expensive restaurants she's dined in London wearing designer outfits. The latest news is that her daughter Dominique will represent the Philippines at the exclusive Le Bal Debutantes in Paris. This exclusive ball is invite only so she must be really proud that her daughter was chosen to attend. Money is no object for sure as it looks like Vivienne Westwood will design the gown Dominique will be wearing.
My favorite out of the three is Kris Aquino as I think she's so down to earth with her kids and career being the main focus in her life right now. Before following her on Instagram, I thought she was maarte because of the way she talks but now I realize Filipino language has evolved over the years. Aquino just speaks the way majority of Filipinos who are on TV do, a mixture of Tagalog and English, "Taglish", which can be annoying!
Her posts are mostly about what she has been up to with her children and her TV career as well as home made food she's cooked. She keeps it real by putting posts of her without make-up sometimes. Nice to see that she looks just your regular average Jane without make up. Makes you realised that make-up and photo editing makes a big difference. Even if she's not well she posts it! To some they say it's too much information.  Sometimes she gets comments that she should do something about the "laglag bala" scandal but Filipinos should realise that she's just the sister of the president and she's not in politics!
Ruffa Gutierrez should just enjoy being with her current boyfriend. I can only guess that her mum doesn't approve of the relationship because he's younger and thinks Gutierrez is the only one supporting him. I also think that if her boyfriend is a Caucasian her mum will not have a problem with it as it seems Filipinas have a weakness for White men with Western nose. However, I think she deserves to have her fun after her nightmare marriage. Kris Aquino is just simply enjoying her successful career and giving her kids all the attention they deserve from a loving and caring mother. As for Gretchen Baretto, it's probably best for Tony Cojuangco not to put a ring on her finger as maybe once this happens, things could change. Remember that Kris Aquino and Gretchen Barretto had rings on their fingers before.
My final thoughts about these three women in their 40's are that they are all amazing, beautiful, independent and look amazing for their age. These are the modern faces of Filipina women where marriage is not necessary any more to make a woman complete and happy. They are all happy and content at this stage of their lives.
Just want to write now & again whatever comes to mind.