New Year is just around the corner. To most this could be a new hope, new dreams & a new beginning. For the Philippines, 2016 marks the year to vote for a new leader who they see fit to run the country. Will 2016 be the year Philippines can finally break free from it's corrupt politicians and feuding clans to control the country & hopefully rise again to become a nation free of corruption?
Will they choose wisely or just be swayed to vote for familiar names and faces because they are celebrities or have a particular family name.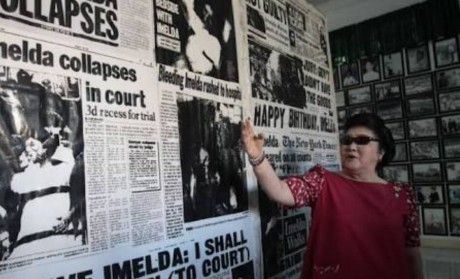 To be a Philippine President, the minimum age is 40 so Pacquiao doesn't qualify yet but he will be running for Senate. Is this just an excuse for him to have that so called experience to be in politics so that once he reaches that magical age of 40 he can run for President? It wouldn't surprise me if he does run for it in a few years and actually win! As after all he's the beloved Manny Pacquiao pinoys love and idolize.
There's Ferdinand "Bongbong" Marcos Jr the son of ex President Ferdinand Marcos Sr who served the Philippines from 1965 to 1986. It is believed when Marcos Sr was in power the debt rose from $2 billion to $30 billion. Is it because his wife was too busy spending money on extravagant things such as a rare 25-carat pink diamond recently found amongst Imelda Marcos' collection, valued at approximately $5 million? Marcos Jr is hoping to run for Vice President in 2016 and it is believed that his mum isn't happy with his lack of ambition for aiming for the presidency. However, maybe this is just his style to gain power and when the time comes when he eventually runs for President, his mum can then be proud of him.
There's the current president Benigno Aquino III, whose father Benigno Aquino Jr was a also in politics but was assassinated whilst Marcos was in power. Then there's his mum, Corazon Aquino. She was the first female President of the Philippines and the first female president in Asia.
My theory is if these clans or so-called "celebrities" like Pacquiao fail in their political prospects, no doubt they can easily dictate that their children run for power instead. It is obvious that you can get far in the Philippines simply by having the right last name. Take Manny's first son, Emmanuel Pacquiao Jr., if Pacquiao's hopes of presidency fail, then I'm sure Emmanuel can easily fill that seat. Ferdinand Alexander Marcos III. I don't need to expand who he is. The name says it all.
The current president is a bachelor with no kids. I find it surprising and rare for a Filipino politician to not have fathered kids by different women. So who will carry on the Aquino name? Is this the end for them? I think not. His sister Kris Aquino is considered to be the country's First Lady and her 8 year old son James Carlos Aquino Yap Jr is already considered a celebrity.
That's why I like the slogan these 7,107 islands are using to promote tourism "IT'S MORE FUN IN THE PHILIPPINES" because this is the only country where the country is being run by celebrities and being monopolized by these so called "clans" like the Marcoses, Aquinos & maybe Pacquiaos.
As most pinoys would say "BAHALA NA ANG DIYOS" Amen.
Just want to write now & again whatever comes to mind.