The age-old adage "garbage in, garbage out" rings out in every Introductory Computer Programming class across the nation. Yet the Filipino, narrow-minded as he is, is unable to apply the same logic to his very own everyday life.
There is a covert conspiracy with the major players of the economy in cahoots to siphon from the common Filipino his hard-earned money by offering in exchange – junk. The Filipino (in his signature self-destructive fashion) is naively oblivious of the fact his appetite for junk will eventually take a very high toll on him and Philippine society.
Junk Food and Drinks
Many Philippine food and beverage companies advertise and sell junk. Just observe how half of what fills up your grocery basket is addictive unhealthy garbage, and Filipinos are all lining up in fast-food chains gobbling up oil, lard, sugar, salt and preservatives at toxic levels. Filipinos are essentially digging their own graves with spoons and forks.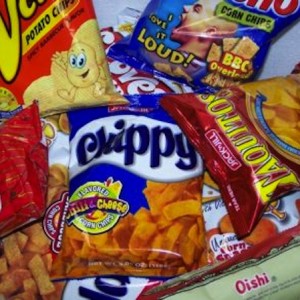 Pinoys get duped to believing heart-clogging margarine is good for your body by making you taller. The Pringles tagline chant goes "Once you pop, you can't stop". True indeed – chemicals on the junk that these conglomerates peddle are specially formulated to make you get hooked (as in nicotine/drugs) to crave for even more, all in the name of the game called "profit" at your health's expense.
Filipino food can hardly be lined up with the great Asian cuisines like Thai, Japanese, and Vietnamese sought after by the health conscious. Reason is: Filipino dishes are basically filled to the brim with vein-clogging kidney-damaging ingredients. Adobo, a reason for Pinoy pride as a dish that made it to the English dictionary, is meat floating in a concentrated concoction of oil, fat and salt.
The national beverage Coke, along with Tang and Zest-O, to quench the thirst of our youth is like drinking a cup of pure liquefied processed sugar. Just the artificial taste should raise red flags in the Pinoy's coconuts that these are loaded with ingredients that are likely to be carcinogenic (cancer-causing).
Junk-Promoting Media
Our media makes a killing earning from ads made to subliminally program viewers to buy these deadly "products" while making a mockery of the Filipino's intelligence (or whatever's left of it) by showing a ripped-fit fair-skinned actor/actress consuming burgers & fries loaded with grease, carbohydrates and salt, the levels of which should turn any hypnotized victim into an obese pimples-riddled freak.
Filipino media content itself is mostly junk that continues to dumb down the zombies which make up the majority of this nation's voters. As one commenter (Nick Tambolero) once heard Vic Sotto himself confess in their show "Yumaman kami ng dahil sa  katarantaduhan" (we got rich by fooling around) – now that's straight from the horse's mouth.
Filipino
chismis
(gossip) shows hosted by every form of pervert feed Pinoys what's the latest in the private lives of their showbiz stars, singers and athletes, to which they are so beholden to. Who cares??? Why do you have to swallow all this useless junk-shit information?
And the Filipino wonders why everything in their society is so corrupt and perverted, with the cities and country sides looking like a glorified junk shop. Filipinos have taken in so much junk through every open hole on their heads to the point that whatever originally good thing (like democracy) the Filipino lays his hands on turns into junk itself.
Junk's Toll on Health and Society
Finally there's the whole medical and pharmaceutical industry taking their bite at the Filipino's meager income by "caringly" providing treatment to fix what the former batch of sharks (food and media) have inflicted on the body and mind.
The moment you enter into this world till your last breath, the "powers that be" (oligarchs, corporations, government) all churn you through their gigantic processing machine called the Philippine economy to suck in as much juice as can be wrenched from you – their voluntary hapless victim. At the end of the production line, you are faced with skyrocketing medical bills brought about by all the accumulated junk that's messed you up (cancer, heart ailment, kidney trouble, etc.).
Then ask why a Pinoy can't save money for capital to start a business. Well he used all of what he could have saved on junk, and even had to borrow more money in the process.
In 2013 there were more than 27,000 suicides in Japan. Pinoys may be unable to fathom this Japanese mentality/behavior due to the Pinoy's inherently self-preserving me-first culture. But did you know that by consuming all the junk offered left and right, Pinoys are basically committing slow-motion suicide?
Say NO to Junk
The Apo Hiking Society's hit song goes "American Junk – get it out of my system". It's high time we take this song and replace the first word with "Philippine" instead.
Like smoking, it may be difficult to abruptly stop consuming junk, but at least we should take the effort to slowly curtail the volume of junk we take in. While doing our groceries, or choosing food in a restaurant, let's think: "Only take in as much calories as you can burn" knowing that anything beyond that will reside as belly fat.
Well people, it's a free country – we all have the right to choose. Shall we simply follow the bandwagon in succumbing to harmful cravings like all the other Filipino zombies around us munching their junk food, listening to junk music, and watching junk programs?
Or can we break free from the spell and turn to the side of reason and logic to finally think of what's genuinely good for us? If we can't even tell what's good for us as an individual, how can we be trusted to know what's good for Philippine society as a whole?
It will take old-fashioned iron-clad resolve and discipline to say "NO" to junk, but you will likely reap a good reward to see yourself live out a long productive life well into your 90's. Wouldn't it be great to sit in your rocking chair as an old lolo or lola sipping a cup of tea, reflecting on how you contributed to making this country great again?
Zealous revolutionary advocate of bringing back common sense for the common good in a land of dysfunctional and delusional zombies.